GBA a big stage for art, sports and tourism
Share - WeChat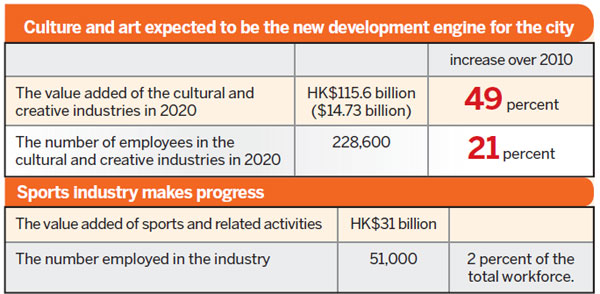 Leaders in the cultural and sports sector have urged the newly established Culture, Sports and Tourism Bureau to map out a development blueprint and leverage the synergy of the Guangdong-Hong Kong-Macao Greater Bay Area to unleash the sector's potential.
Ahead of Chief Executive John Lee Ka-chiu's maiden Policy Address, Ma Fung-kwok, lawmaker and president of the China Federation of Literary and Art Circles Hong Kong Members Association Ltd, suggests that the Hong Kong Special Administrative Region government take the initiative in setting up a resource-sharing center in the Greater Bay Area to manage, utilize and share art resources, including stages, props, costumes and venues, among the 11-city cluster.
However, he said that land is scarce in Hong Kong, leaving the city with few choices in hosting cultural and sports events. But large-scale sports activities could be organized in the Greater Bay Area, boosting tourism and enhancing the appeal of cities in the region.
Hong Kong can also try hosting the opening or closing ceremonies for the upcoming National Games, which will be co-hosted by Hong Kong, Macao and Guangdong province in 2025.
Kenneth Fok Kai-kong, who represents the Sports, Performing Arts, Culture and Publication Functional Constituency in the Legislative Council, sees the Greater Bay Area as a region fit for promoting sports tourism. He would like to see a monthlong "Guangdong-Hong Kong-Macao Greater Bay Area Water Carnival" held in Hong Kong to attract global travelers to the city.
Fok says the new bureau reflects the SAR government's determination to promote industrialization of culture and sports, and its role of a facilitator and promoter. This will analyze the strengths of Hong Kong's cultural and sports industries, set clear development directions, and precisely allocate resources to make and enforce policies.
Ma urged the government to review the current state of cultural industries in a comprehensive and detailed manner and draw up a blueprint for the sector's overall development.
Agreeing there should be an overall report on Hong Kong's status in arts, sports and tourism, Zhao Dongxiao, vice-president of Sino United Publishing Holdings Ltd - one of the city's largest publishing conglomerates - says formulating policies must be based on objective data and the actual situation.
In his view, arts - after finance, trade and shipping - will become another international identity and development engine for Hong Kong with the 14th Five-Year Plan (2021-25) positioning Hong Kong as a hub for arts and cultural exchanges between the Chinese mainland and the world.
Zhao expects next week's Policy Address to place heavy emphasis on art development.
Ma agrees that Hong Kong has an advantage in cultural exchanges as it's the only city in the country that has set 18 Hong Kong Economic and Trade Offices worldwide - 14 overseas and four on the mainland - to foster economic and trade ties between the SAR and other places.
He calls for cultural officers to be appointed, and for turning the Economic and Trade Offices into Economic, Trade and Cultural Offices. The officers could help organize cultural events in Hong Kong to promote local culture and take it to the world, or bring in world-class art.
Yan Huichang, artistic director and principal conductor for life of the Hong Kong Chinese Orchestra, says the new bureau can help centralize and integrate cultural resources that have been handled by various bureaus to turn Hong Kong into a cultural hub.
He says that with the cultural hub role bestowed by the nation's 14th Five-Year Plan, Hong Kong can expect to see closer cultural interaction with the mainland and more good art projects in various places in the world. More good art projects in Hong Kong could also take part in competitions on the mainland.
In the long term, the SAR government should improve its policies by offering talents more housing allowances.