A 58-year-old auntie takes to the stage, just for fun
Share - WeChat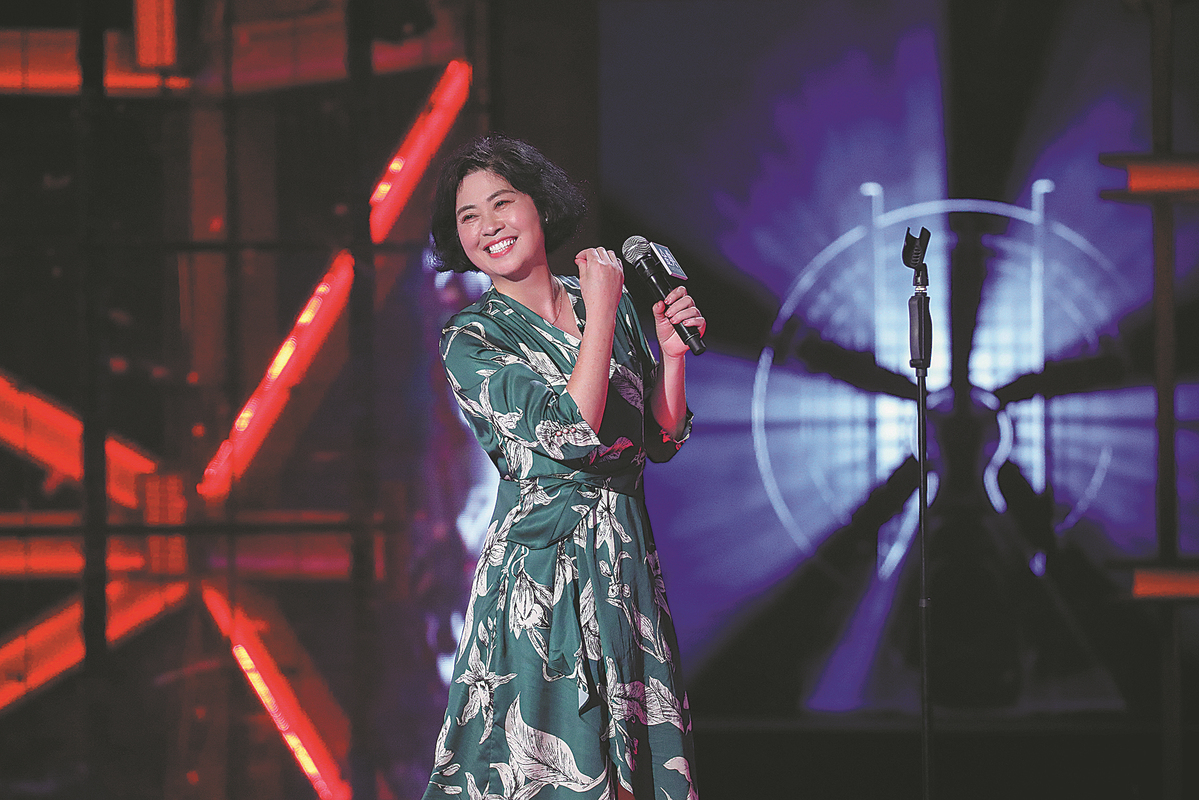 "I think it's the duty of the comedian to find out where the line is drawn and cross it deliberately", George Carlin, one of the great US stand-up comedians said. Luckily there is no line drawn for a stand-up comedian's age, or we would have missed the refreshing performances of Huang Chuyan, stage name Huang Dama (Auntie Huang in Chinese), a 58-year-old comic who retired from her management position at a large business group in Changsha three years ago.
Her act in the ongoing fifth season of Rock& Roast, the stand-up contest co-produced by Tencent Pictures and Xiaoguo Culture trended online. Now Huang's video counts and likes lead in the variety show's WeChat Video Channel account. And the topic "Huang Dama" has been viewed more than 33 million times on Weibo. Huang never expected that she would be so popular. She says she just did it for fun. "For me, performing a stand-up routine is exactly like singing Karaoke or going public square dancing for others. It's just that I choose a newfangled hobby and took to a somewhat foreign stage for someone my age."
Besides she hopes to break some stereotypes by venturing into the spotlight. "People will see that seniors can do all things and have endless possibilities. In addition to playing mahjong, taking photos with silk scarves at scenic spots, and babysitting grandchildren, we can also be humorous and do stand-up," she says.
Huang did not start to do stand-up until two years into her retirement. Even though a big fan of Rock& Roast and other stand-up comedy programs, she did not think about doing stand-up herself. Then one day during an offline show in Changsha, she found that regardless of whether the comic's performance was funny or not, the audience remained supportive and applauded generously. The idea of performing suddenly hit her. "At least, I will not be as nervous as they are," she thought.
Looking back, she believes her relaxed mindset has helped her fight all the way to the stage of Rock& Roast. She says candidly, "I am financially free. I have a lot of free time and am spiritually independent. I don't do stand-up for either fame or money, just for fun and fondness of this form of art."
Yet Huang was not born as optimistic and cheerful as she is now. "The most important thing is we should change our mindset because our thinking determines our actions, and actions lead to results. We can improve ourselves through reflection on our own or others' experiences, as well as books," she says.
Although she made it to Rock & Roast and won the round, seemingly with ease, Huang says that she has not much talent for stand-up. "It takes learning, talent and sensitivity to become a very good stand-up comedian. What looks easy on stage and is over in a few minutes actually takes time and effort. It's a lot of hard work off stage," she says with obvious veneration for the art.
And the fame and popularity have also made Huang anxious. "Because the audience's expectations of me have risen significantly while my skill and capacity have not changed for the better," she says wryly.
And she admits frankly that the biggest difficulty she has run into since beginning performing stand-up is to write a really good joke. She says, "A really good joke should inspire people to think. A joke that one can easily laugh away and never touches anything deeper in the mind is not a solid one."
Huang advises young audiences to bring their parents to watch stand-up comedy. "Because at any time and for people anywhere at any age, a good laugh is always needed. Seniors should be open-minded enough to try a little adventure and try new things. This could bring them some unexpected fun and huge satisfaction," she says.