China-Kazakhstan economic links expected to see rapid development
Share - WeChat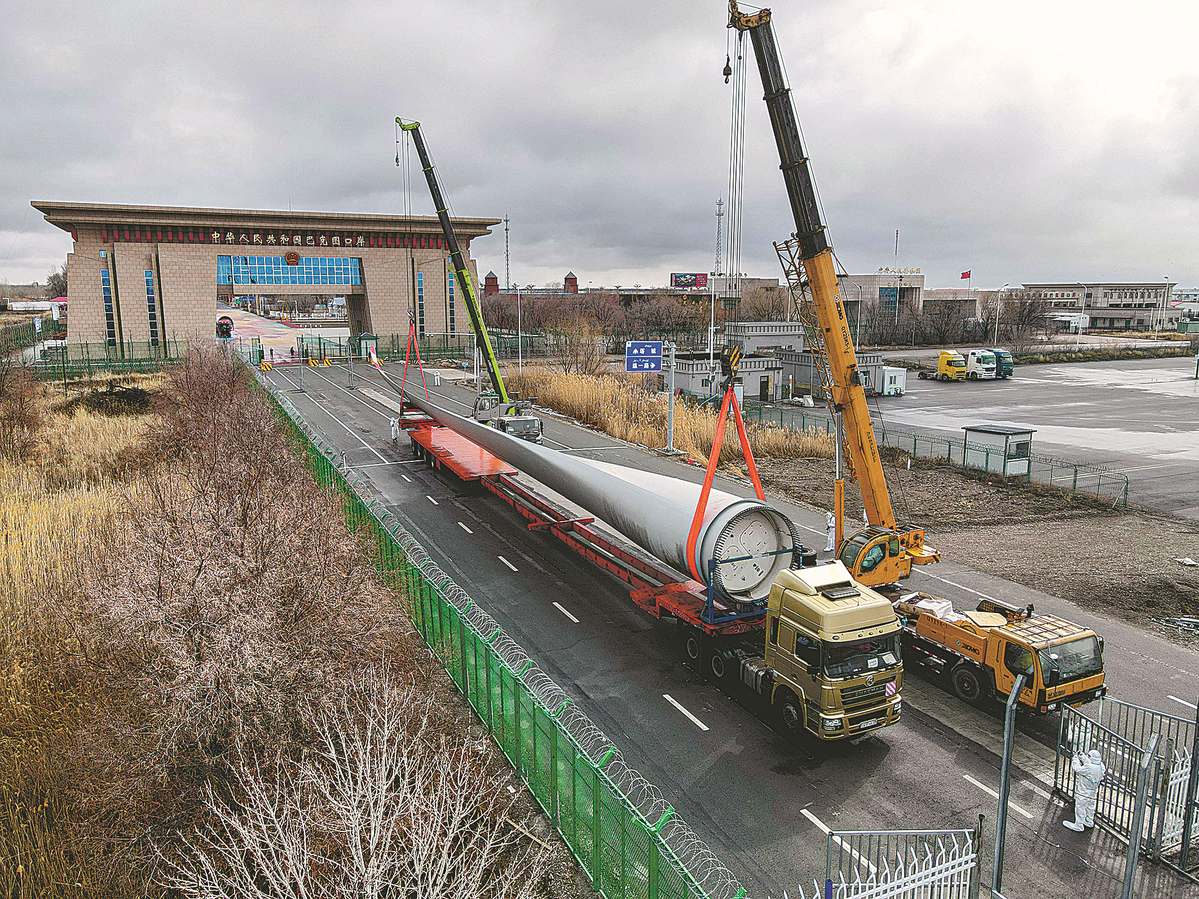 China-Kazakhstan business cooperation is expected to experience rapid growth in the coming years, as both countries actively promote regional connectivity, the growth of foreign trade and energy-related projects to further boost their business ties, said experts and government officials.
They said that the two nations, which are marking the 30th anniversary of the establishment of diplomatic ties, have helped to ensure the stability of production cooperation in the Eurasian region and the smooth operation of the China-Europe freight train service, while also effectively addressing global energy security challenges.
With improved connectivity projects such as the Trans-Caspian International Transport Route and new railway express services, the two countries should further strengthen the synergy of their development strategies, and expand new areas for cooperation, especially in the fields of 5G, big data, digital finance, cross-border e-commerce and green energy, said Zhou Lei, a researcher specializing in regional economic development at the University of International Business and Economics in Beijing.
"The enhanced rail and road transportation networks between China and Kazakhstan will bring a win-win situation as China has huge demand for imports from the Central Asian country. It will boost the job market and industrial upgrading in Kazakhstan," said Tian Dewen, deputy director of the Institute of Russian, Eastern European and Central Asian Studies at the Chinese Academy of Social Sciences in Beijing.
China's trade with Kazakhstan expanded nearly 70 times from 1992 to 2021, with the value of exports and imports jumping from $368 million in 1992 to $25.25 billion last year, according to the General Administration of Customs.
Thanks to their complementary trade structures, the two countries saw bilateral trade soar 19.3 percent year-on-year to $17.69 billion in the first seven months of this year, while China's imports from Kazakhstan surged 38.5 percent year-on-year.
Crude oil, natural gas, mineral and agricultural products are Kazakhstan's main shipments to China, which mainly exports manufacturing equipment, steel, vehicles, electronics, textiles, garments and household appliances to Kazakhstan.
China and Kazakhstan, which were among the first countries to jointly pursue cooperation in terms of the Belt and Road Initiative, have implemented a series of projects with strategic significance, bringing benefits to their peoples and setting a convincing example for the international community, Sultan Kinzhakulov, commercial counselor of the Kazakh embassy in Beijing, said at a recent forum.
For instance, China International Water and Electric Corp, a subsidiary of State-owned China Three Gorges Corp, delivered the construction project of the Turguson Hydropower Station to its client in Kazakhstan last August.
Located on the Turguson River, the station has a total installed capacity of 24.9 megawatts. It is the first cascade power station in the country and the first project related to China-Kazakhstan hydropower cooperation under the framework of the BRI, according to the company.
Li Ziyue, an analyst with BloombergNEF, noted that Kazakhstan, as China's third-largest pipeline gas supplier-after Turkmenistan and Russia-plays a key role in ensuring domestic gas supply, especially as liquefied natural gas prices have surged to record highs this year.
Apart from reinforcing infrastructure and energy cooperation with China, Kazakhstan introduced a visa-free entry policy for Chinese citizens in July. This allows them a continuous visa-free stay in the country for up to 14 days for business and travel purposes, as the Central Asian nation hopes to further promote direct contacts between businesses and better utilize its potential for international tourist visits.