Time to feel mellow
Share - WeChat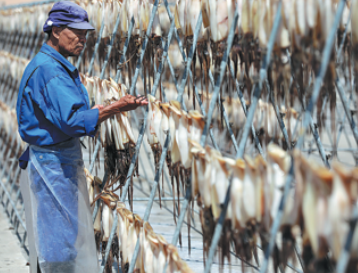 White Dew Festival is held in Wenzhou, Zhejiang province. In its Cangnan and Pingyang counties, people collect the "10 whites" on this day in which to simmer black-bone, white-feathered chickens or ducks. It is said that they can nourish the body and remove arthritis. The "10 whites" are 10 kinds of herbs and plants with the word "white" in the name, such as white hibiscus, which in turn literally corresponds to "white dew".
In Nanjing, Jiangsu province, people have a custom of drinking white dew tea. From the beginning of the term to mid-October, it is a good time for the growth of tea trees. Due to cooler weather, water vapor condenses on the tea tree at night. At this time, the white dew tea leaves are mellow and fragrant. White dew tea is different from spring and summer tea. After a whole summer, the tea seems to have taken on the season's unique taste. The white dew tea is neither as fresh or tender as spring tea. It is not brewed, nor as dry and bitter as summer tea, but has a unique sweet and mellow fragrance.
It is also a season of harvest. In the countryside in Jiangsu and Zhejiang provinces, every year when White Dew arrives, every family uses grain to make wine for entertaining guests. People often bring white dew rice wine to the city for sale. White dew wine is made from glutinous rice, sorghum and other grains.
White Dew season also sends the wild geese to the south. At this time, the birds will migrate to the south, and prepare to hoard food for winter.
White Dew signifies transience, but at the same time it gives people room for imagination, a poetic feeling that reminds people of life, says Guo the folklore expert. "Although it is short, we make the most of it and cherish the season in the present moment. In some certain sense, it answers the Chinese philosophical creed that 'transience is eternity'," he says.
"The inspiration it gives us is that life is short, we must seize the moment, enjoy our life and our profession, and enjoy the simple details of life. It's a time to seize eternity, to appreciate the beauty of life; to conjure up the image of dewdrops being condensed into frost. Let us live up to our time, our youth and our lives, so that when you look back, there are no regrets."