Time to feel mellow
Share - WeChat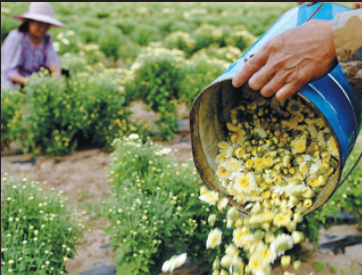 The ancient Chinese described it as "dew condensed into piteous whiteness". In the White Dew season, the temperature varies widely between day and night. The vapor in the air condenses into small water droplets at night, which attach themselves densely to the stems, leaves and petals of flowers and trees. The sunlight in the morning accentuates the crystalline flawlessness of the droplets. The ancients have brought this beauty of White Dew to the page.
It is mid-autumn, yet the sky looks higher with fewer clouds; the air is crisp with a gentle breeze skimming through the leaves. Lush green vegetation and blooming flowers, however, cast their last splendor of the year; the moon's full round orb shines high in the night sky, draping its velvety light over everything.
Life on Earth both flourishes and begins to wither. White Dew is a turning point, and with every footstep of this poetic solar term, the weather will gradually turn cooler.
Folklore expert Guo Wenbin recommends soaking the feet at night "with moderate warm water for about a quarter of an hour, until your body is slightly sweaty".
"Using the special function of Yongquan acupoint, a point on the bottom of the foot, enables us to reduce dryness and tonify the kidneys," he says.
Most Popular