Folic acid advised during pregnancy
Share - WeChat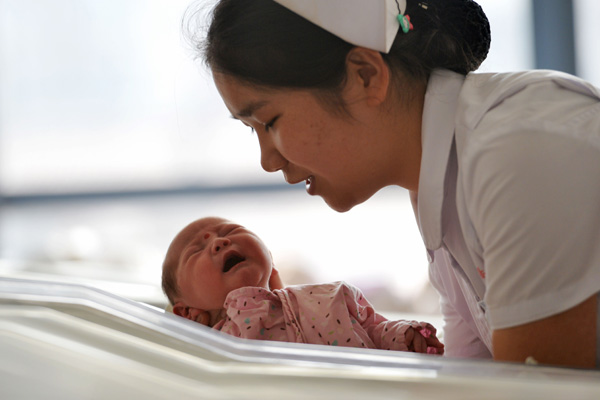 Couples preparing for pregnancy should take proper and regular folic acid supplementation to reduce the risk of their children developing congenital heart disease, according to a recent study by researchers from the Children's Hospital of Fudan University in Shanghai.
The study, which was published in the Annals of Internal Medicine on Aug 23, found that higher maternal folate levels before or during early pregnancy were associated with a lower risk of CHD in their children.
The most common congenital defect in the world, CHD affects about 9 in 1,000 newborns. While prenatal and postnatal screening, diagnosis and surgery have been fairly successful in managing the condition, strategies for primary prevention are still limited, said Huang Guoying, president of the Children's Hospital of Fudan University in Shanghai, who led the research.
According to World Health Organization guidelines, folic acid supplementation is recommended for women of reproductive age to prevent neural tube defects. China has promoted folic acid supplementation since 1993.
Over the past decades, some studies have suggested a possible association between the level of maternal red blood cell folate and CHD, but the role of the former remains unclear, Huang said.
"Prior studies on the association between pregnancy folate levels and the risk of CHD have been conflicting. Many of these studies measured serum folate levels, which can vary under real-time circumstances and hence is not reliable, rather than red blood cell folate, which is recommended as the gold-standard measure by the WHO," Huang said. "Moreover, most studies are retrospective, rather than prospective."
In 2015, the research team started to establish the Shanghai Preconception Cohort, which enrolls couples preparing for pregnancy and women who have been pregnant for no more than 14 weeks. Maternal red blood cell folate was measured before and after conception.
Researchers evaluated 197 mothers who had children with CHD, and 788 matched controls without children with CHD from 29 maternity centers in Shanghai. The team found that the former had lower median red blood cell folate levels than the latter.
Further analysis also suggested higher target red blood cell folate levels than currently recommended for neural tube defect prevention may be needed to achieve primary CHD prevention and warrant further study.
During the research, Huang and his team also noted a grim fact-despite many years of promoting folic acid supplementation as an effective prevention against birth defects, most parents-to-be do not adhere to the recommended supplementation plan.
In Shanghai, less than 10 percent of women preparing for pregnancy and less than 5 percent of their male counterparts have a red blood cell folate level above the threshold of clinical sufficiency, Huang said.
"It's clear there is still big room for improvement when it comes to the primary prevention of CHD in our country," he said.
As president of the Shanghai hospital, Huang has been leading research on the prevention and control of birth defects, especially congenital heart disease.
In 2014, Huang's team established a noninvasive protocol for the rapid screening of CHD in newborns. The protocol has since been adopted across Shanghai and promoted nationwide, benefiting more than 12 million newborns, according to the hospital.
The team has since moved on to research primary prevention measures for the congenital defect.