Typhoon Ma-on lands in Guangdong
Share - WeChat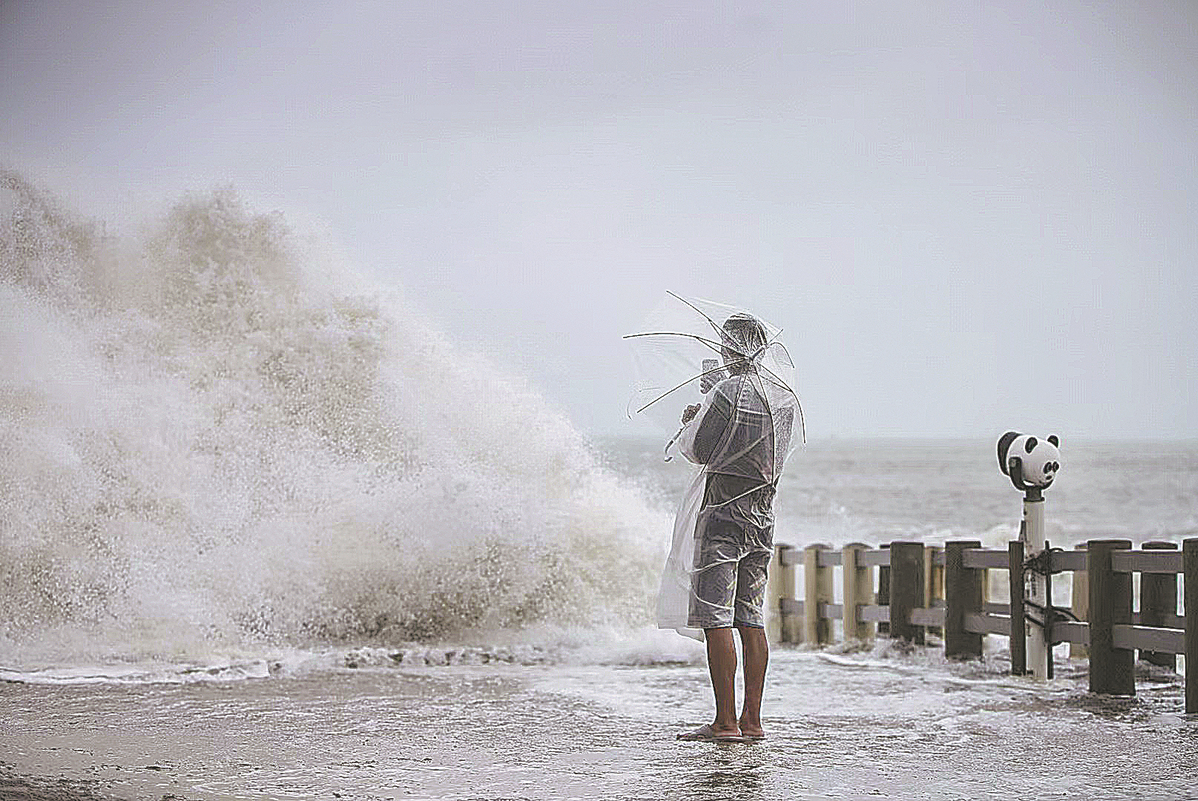 Storm disrupts traffic, leaves southern areas waterlogged as warnings issued
Typhoon Ma-on, the ninth typhoon of the year, made landfall in the coastal area of Dianbai county of Guangdong province on Thursday morning, bringing heavy rainfall, especially in the west of the province.
Ma-on made landfall with gales of around 119 kilometers per hour. After its landfall, the typhoon moved northwest at a speed of about 25 km/h, passing through the city of Maoming in Guangdong. The typhoon entered the Guangxi Zhuang autonomous region on Thursday afternoon, with winds decreasing.
Affected by the typhoon, southern Guangxi and western Yunnan province are expected to have high risks of geological disasters, the Ministry of Natural Resources said.
Before landfall, the ministry activated a Level IV emergency response, the least severe in a four-tier system, for possible geological disasters triggered by the typhoon.
Cities across Guangdong, especially those along the eastern and western coastal areas and the Pearl River Delta region, all issued emergency alerts for flooding.
Several sections of expressways in Maoming and nearby Yangjiang and Zhanjiang cities in Guangdong were closed, according to the local traffic police authorities.
Flood control and drought relief authorities in Guangdong have dispatched three working groups to Maoming and Zhanjiang cities to guide the flood-control work, with various materials including reinforcement frames and sandbags already being placed in advance in the western areas of Guangdong.
A total of 162 reservoirs exceeding their designated water levels during the flooding season had been verified in the province, according to the Water Resources Department of Guangdong.
The China Meteorological Administration said typhoon Ma-on arrived at Bobai county of Guangxi at 3 pm on Thursday after it decreased to a severe tropical storm.
Railway services linking Guangzhou to northern and southwestern China, as well as Shenzhen to eastern parts of the country, resumed on Thursday morning, as the typhoon waned in the Pearl River Delta region, according to Guangzhou Railway Group.
Entry and exit services at Hengqin Port in the city of Zhuhai, which neighbors Macao, also resumed after the typhoon passed.
Traffic on the connecting line to the Hong Kong-Zhuhai-Macao Bridge and the temporary construction bridge of the artificial island at the Zhuhai port also resumed on Thursday afternoon, according to the local traffic police authority.
Urban Haikou saw more than 150 millimeters of rain on Thursday due to the typhoon, which left part of the Hainan provincial capital waterlogged.
Ten flights at Haikou airport and two more at Sanya airport in Hainan province were canceled on Thursday.
Earlier, ferry services in the Qiongzhou Strait and operations at three ports in Haikou were suspended from 8 pm on Wednesday.