Educational camping gains on after-school tutoring
Share - WeChat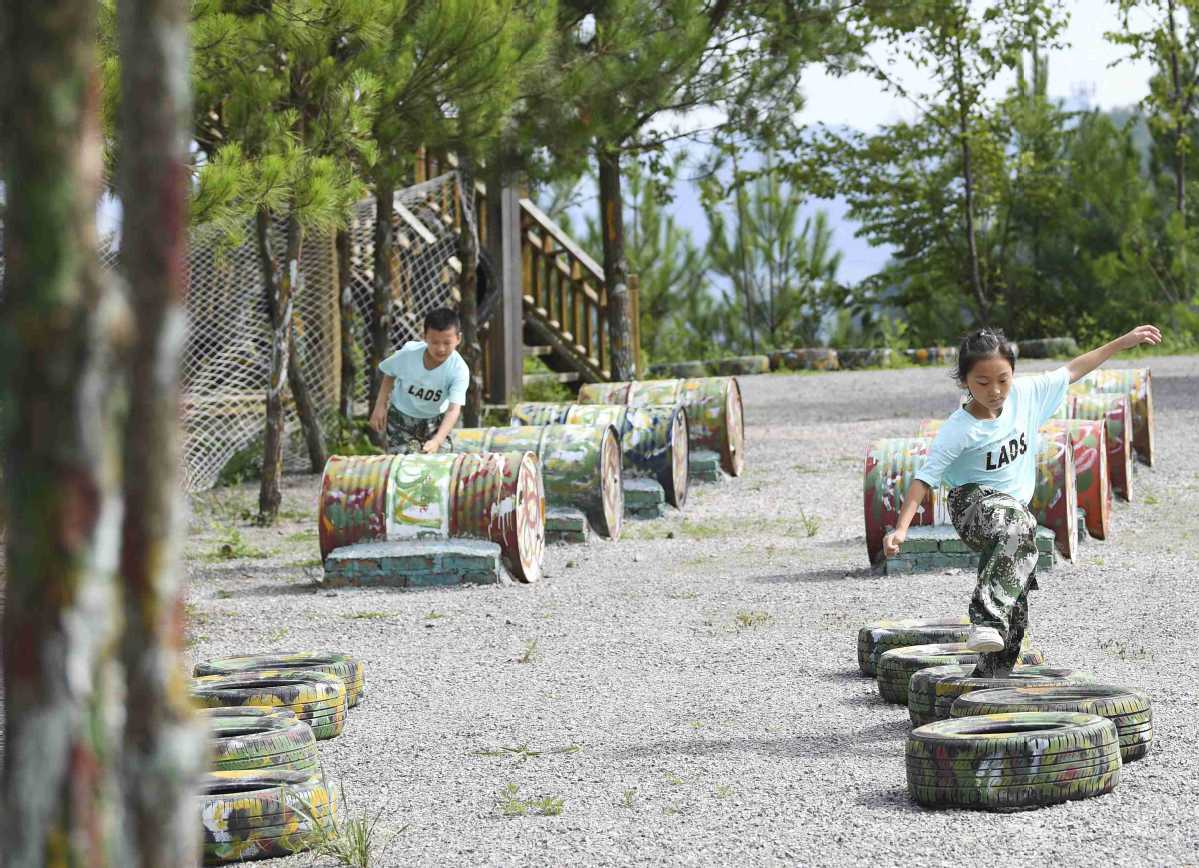 Restructuring spurs startups with eye toward more holistic teaching
Carrying a mattress on her shoulder, a tent on her back and a chair in her hand, 29-year-old education camping entrepreneur Ge Yue climbs a mountain in Chongqing in 40-degree weather, lugging everything up herself to save on labor costs.
As hard as the hike is, Ge feels more excited than tired as she gets ready to set up the next camping activity for a group of pupils.
"We saw almost full bookings during the summer holiday, with orders mainly from schools and tour groups. It was far beyond our expectations, considering we are just a four-month startup. We are lucky to tap into the growing need for education camping in the domestic market," said Ge, who co-founded Chongqing-based education camping startup Starry Woods with Li Kun, whom she met during an outdoor activity event. They were later joined by Zhang Chen, who worked until he acquired the money to buy in.
As the government tightens restrictions on after-school tutoring businesses and COVID-19 has restricted tourism, education camping is emerging as a burgeoning trend among parents in China who seek programs that can educate, entertain and take care of their children during holidays and weekends.
According to a report by the Extramural Education Think Tank, over 80 percent of parents surveyed said they would prefer to cultivate children's comprehensive abilities rather than focus only on test scores. Therefore, experiential education such as camping is gaining increasing popularity among them.
Meanwhile, more families are willing to increase their spending on education camping, the report said.
The report said that education camping, unlike traditional education programs, focuses more on experiential learning, as well as enabling participants to play purposefully and build self-esteem through creative activities, such as games and sports. The goal is to help young people build confidence, become more independent and improve their social skills.
"Many parents that I have contact with believe that spending more time in nature, doing physical activities and socializing with others are good for their kids, as many children today are hooked on electronic devices," Ge said.
The EETT report estimated that, buoyed by growing demand, China's education camping market is likely to surpass 100 billion yuan ($14.6 billion) between 2023 and 2028.
Qi Ming, a 41-year-old mom of two elementary school children in Beijing, said that she and her husband are "happy to find a place where our kids can have fun and learn, especially when we are busy working and have no time to take care of the kids during holidays".
Qi spent nearly 50,000 yuan on an outer-space-themed bilingual tutoring summer camp of 13 days for her two children.
"The kids are eager to go outside after self-isolation measures due to resurgence of COVID-19. They were excited to have a fun learning experience that they couldn't get from schools. They also made new friends."
She said the camp staff's educational backgrounds and work experience were important to her. "We want our kids to learn and have fun, but we first need to be certain that the staff is professional enough to ensure our kids' safety while out in nature. There are increasing numbers of education camping businesses in China with different qualities, making it hard to choose."
According to data from Tianyancha, a Chinese corporate information provider, there are about 43,000 companies that run businesses related to education camping or outdoor activities. Among those, about 39 percent of education-camping related companies have registered capital lower than 1 million yuan, and over 70 percent were founded in the past five years.
The number of education-camping related companies in Guangdong province surpassed 5,700 as of last month, topping the country and accounting for about 13.5 percent of the country's total. Jiangsu and Anhui provinces followed.
According to Duojing Capital, an investment bank with a focus on the education sector, China's restrictions on after-school tutoring businesses have restructured the entire education industry, with education camping being a focus of the business transition. Those that have successfully transitioned their businesses have faced new challenges like innovating products and ensuring participants' safety.