The sound of rural music
Share - WeChat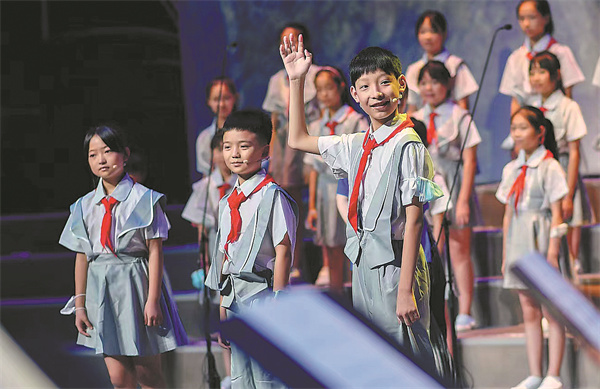 The choir of Dongfanghong Primary School was chosen to perform in Beijing because it won the first prize in a competition hosted last year by WeSing, the online karaoke platform of Tencent Music Entertainment Group.
The choir was awarded a song, titled New Hope, which sort of became the school's anthem. The competition organizers visited the campus to make a music video too. New Hope was once again performed by the schoolchildren at the Beijing concert on Aug 14. The vice-headmaster admits that he didn't expect the school choir to win the online contest, let alone perform in Beijing.
Born and raised in a small village in Renshou county, Leng joined the primary school as its first and only music teacher after he graduated with a major in music education in 2009.
"The school's infrastructure was very poor. There were no musical instruments. Nevertheless, the kids loved to sing and I became their coach," he recalls.
In 2010, the school bought its first piano for 10,000 yuan ($1,465).It was a big sum for a small rural institution, but Leng, who back then made just 1,200 yuan a month, pitched in and ensured money didn't hinder music lessons. Buoyed by the enthusiasm of his students, he founded the choir in March 2019.
Fourth grader Gu Keyu was among the children who joined the choir that year. Leng noticed that Gu had a knack for singing, but was extremely shy. He usually stood in a corner and crooned to himself. The teacher decided to employ confidence-building measures, so that Gu could sing out loud and proud.
The boy lived with his grandmother while his parents worked in the city. Rehearsing with the choir every week was among his favorite things. Leng encouraged Gu to learn new songs at school and then record them on his grandmother's phone back home. The strategy helped. At the Beijing concert, Gu, who graduated from the school this summer, was one of the choir's lead singers.
"Today, I feel so glad to see him (Gu) sing onstage with unwavering confidence. There are many like him. Choral singing gives these children a shared mission and inculcates them with a sense of collective responsibility to achieve it. They feel confident and proud when they learn to sing a new song together," Leng says.