New zone of creativity
Share - WeChat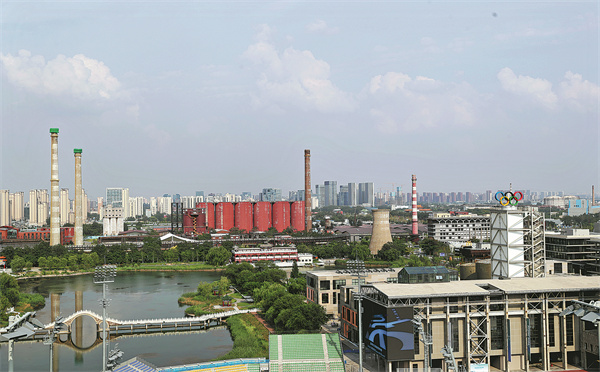 If you like to explore culture, architecture and food on a short niche tour, a one-day getaway in western Beijing's Shijingshan district seems to be a good option. The district is working hard to protect its antiques and intangible cultural heritage, and to present them to the public.
Opened last year, the Beijing Eight Imperial Handicrafts Museum is dubbed "the city's most mysterious museum" by people online, because of the difficulty in making an appointment due to its daily visitor limit. The wait, however, is worth it.
During the Ming Dynasty (1368-1644), a special office was established to manufacture utensils and tools for the daily use of the imperial family living in the palace.
The office lasted through to the end of the Qing Dynasty (1644-1911), when the craftspeople had to leave the palace. They gradually developed "the Beijing Eight Imperial Handicrafts".
This refers to gold lacquer inlaid, filigree inlaid metal art, cloisonne, ivory carving, jade carving, carved lacquerware, Beijing embroidery and palace carpets.
Today, each of the eight handicrafts is listed as China's National Intangible Cultural Heritage.
Examples of these exquisite imperial handicrafts are on display at the museum.
Visitors will be amazed by the complicated and auspicious patterns on a mahogany box inlaid with gold lacquer, an ancient piece of ivory carved with small figures showing different vivid expressions, and various cloisonne items such as utensils.
At the handicraft workshops, some of the artworks are carefully arranged to present a view of the ancient lifestyle to which they belong. Visitors can also observe closely how these delicate artworks are carefully created.
"These handicrafts demonstrate traditional Chinese culture and aesthetics, with auspicious meanings," the museum's curator Bai Qun says.
They've hosted more than 500 cultural events over the past year, ranging from lectures to exhibitions, including some at schools and in local communities.
According to Bai, at some vocational schools, training sessions are held to introduce techniques for the eight handicrafts in a bid to foster future artisans.
Most Popular