Mothers given help to get back to work
Share - WeChat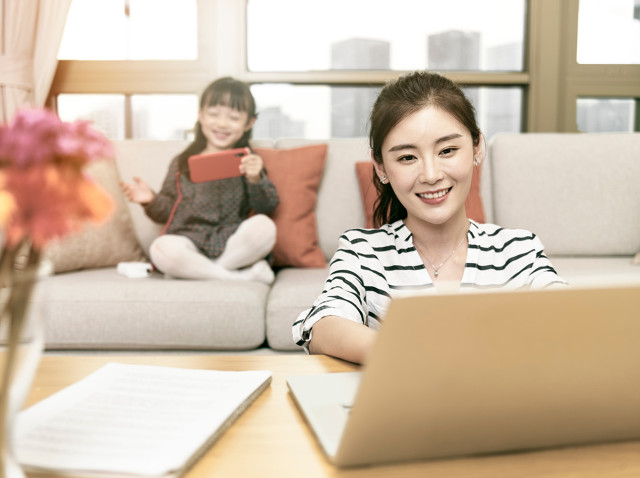 In order to address the inequality women face when trying to reenter the workforce after childbirth, the Zhongshan city government in Guangdong province has introduced a series of incentives for local employers to provide more flexible working arrangements and opportunities for potential "working moms" to find employment.
In May 2021, a platform designed specifically to cater to the needs of working moms was set up, offering 4,000 jobs with flexible working arrangements. The Zhongshan government also organized online job fairs targeted at working moms from January to April this year.
More than 2,000 working moms are expected to find employment with the help of government efforts per year, it said.
Local businesses are being incentivized to hire more moms to not only make opportunities more equal for them, but also to help power the economy.
"We've already seen some really positive unintended outcomes come from our working moms, so far," said Yu Qing, vice-president of Richsound Electronic Industrial, a maker of smart audio electronics in Zhongshan that has taken advantage of the government's incentives to hire moms.
Yu said the company has adjusted the work times for moms so that they can start after they drop their children off at school and finish in time to pick them up.
He said the company was actually an early adopter of the spirit behind the government's incentive, noting that during a volunteering trip to a village in 2019 a mother expressed her desire to return to the workforce but felt unable because of multiple rejections and inflexible work hours. She said she knew of countless others who had gone through a similar experience.
"I thought that it was a good opportunity to do something beneficial for them and for society, so I suggested that our company create positions for them," Yu said.
Richsound Electronic has hired some 280 moms, with over 240 of them working on the production line and 30 or so in administrative positions, according to the company.
Yu said working moms now make up 30 percent to 40 percent of the company's total workforce. "They can earn from 2,800 yuan ($415) to 3,800 yuan on the assembly line per month. The monthly income can reach over 4,000 yuan after they are promoted to managing positions.
"It's a win-win result for us. We offer these mothers jobs and they, at the same time, relieve our pressure to recruit workers. We've faced a labor shortage for some time after COVID-19 broke out in 2020," he added.
In July, the Zhongshan government released a notice further encouraging companies to offer more flexible jobs, including working from home positions, to moms, especially those in manufacturing, domestic services, retailing, banking and insurance.
The notice said that financial allowances and incentives will be given to employers who hire moms. A company can receive an allowance of 300 yuan per mom per month for the first year of a one-year contract. Preferential policies such as tax reductions and work skills training allowances are also available to employers that hire moms.
"It used to just be a part of social responsibility for companies to hire mothers, but many would avoid doing so because of perceived higher labor costs in the long run. But the Zhongshan government is providing strong support, both in policy and finance," he said.
Chen Mei, an assistant professor from the Business School of Zhengzhou University, told Guangming Daily that positions for moms can help women get back into the job market whose careers had been put on hold after childbirth. It can help relieve families' economic burdens and women's potential anxiety around pregnancy, she said.