Experts slam separatist moves by DPP
Share - WeChat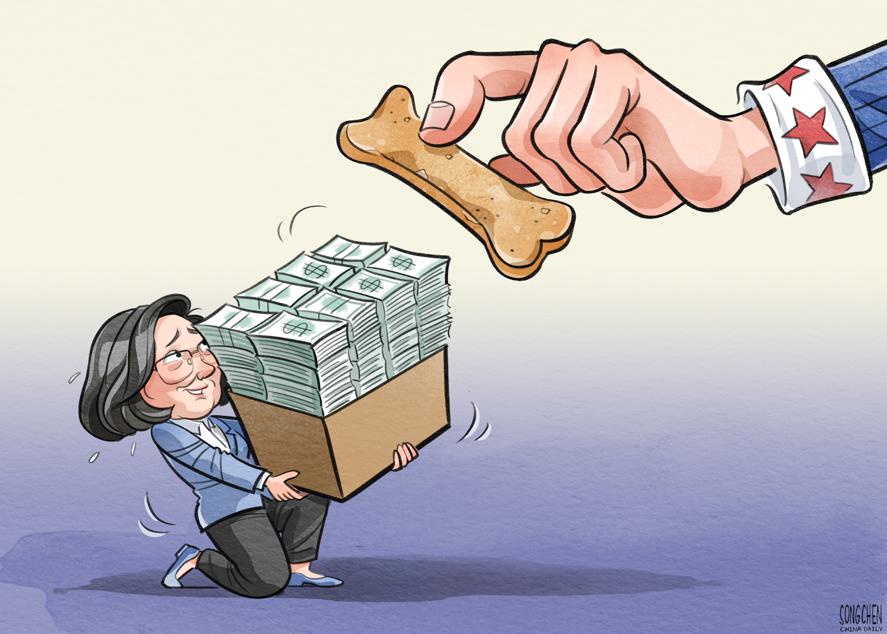 The Democratic Progressive Party administration in Taiwan has been increasing its efforts to seek "independence" by promoting ties with the United States through paid lobbyists, experts said.
Their latest separatist move, promoting the two-day visit to Taiwan by US House Speaker Nancy Pelosi last week, seriously violated the one-China principle, raising tensions across the Taiwan Straits, they said.
Despite strong opposition from Beijing, Pelosi arrived in Taiwan on Tuesday evening. She was the highest-ranking US official to visit Taiwan in a quarter-century. Her two-day trip included meeting with the island's leader Tsai Ing-wen and some "human rights" advocates, as well as visiting the island's "legislative" authority.
Zhang Hua, a researcher at the Chinese Academy of Social Sciences' Institute of Taiwan Studies, said: "The DPP administration fully cooperated with Pelosi, received her in accordance with the highest standards, and encouraged the 'Taiwan independence' separatists to welcome her. The relevant itinerary was very provocative."
In the meeting with Pelosi, Tsai again promoted a "military threat" from the mainland and branded the separatist attempts as so-called "upholding of democracy", completely confusing right and wrong, Zhang said, adding that Tsai giving Pelosi one of the island's most important "medals" was a political farce.
The countermeasures that the mainland has taken to deter "Taiwan independence" and safeguard its sovereignty are necessary and justified, he said.
"'Taiwan independence' forces will surely pay a painful price," he added.
Zhang said that since 2016, Tsai and her administration have refused to recognize the 1992 Consensus, which embodies the one-China principle, and have colluded with foreign forces to seek "independence", which is the root cause of tension in the Taiwan Straits.
The island administration has been using money to promote its ties with the US, and every year a large sum has been spent on buying off US congressmen, media and scholars, he said.
Taiwan's United Daily News reported in June, citing documents from the US, that DPP authorities paid $140,000 in service fees to political lobbyists for pulling strings to get former US president Donald Trump to receive Tsai's phone call in 2016. The attendance by the island's "representative" in the US Hsiao Bi-khim at the inauguration of US President Joe Biden in 2021 was also arranged.
It was reported that Dick Gephardt, former majority leader of the US House of Representatives, has been lobbying for Taiwan since 2013, and he and other political lobbyists for island authorities have been paid thousands of dollars for years. Together, Gephardt and other political lobbyists have contacted Pelosi 34 times as Taiwan representatives.
Taiwan's "foreign affairs" authority conceded in June that it had long been the island's practice to employ public relations companies in the US to help consolidate Taiwan-US ties.
Jia Bei, another researcher from the Chinese Academy of Social Sciences' Institute of Taiwan Studies, said that whenever an American politician visits Taiwan, they always flaunt their democracy banner and reap economic gains under the guise.
"American politicians and congressmen had never left Taiwan with empty pockets. The island authorities will make sure they leave with their pockets full," Jia said, adding that Pelosi has also received money as political contributions from Taiwan.
For Pelosi, the island is ultimately a means of serving her political campaign and personal interests, a card she means to play, she said.
Ma Xiaoguang, a spokesman for the Taiwan Affairs Office of the State Council, condemned Hsiao, the island's "representative" to the US, on Thursday for working hard to promote Pelosi's visit to Taiwan.
"It openly challenged the one-China principle, seriously undermined cross-Straits relations and escalated the tension across the Straits," Ma said.
Hsiao has frequently spread remarks seeking "Taiwan independence", worked hard to encourage US politicians to visit the island and has promoted the island's arms purchases from the US and the formulation of Taiwan-related bills by the US, Ma said.
"To seek political gain, she acts as a pawn of the foreign anti-China forces, damaging the fundamental interests of the Chinese nation and pushing Taiwan compatriots into a dangerous abyss," he said.