British newspaper slams Pelosi's Taiwan visit
Share - WeChat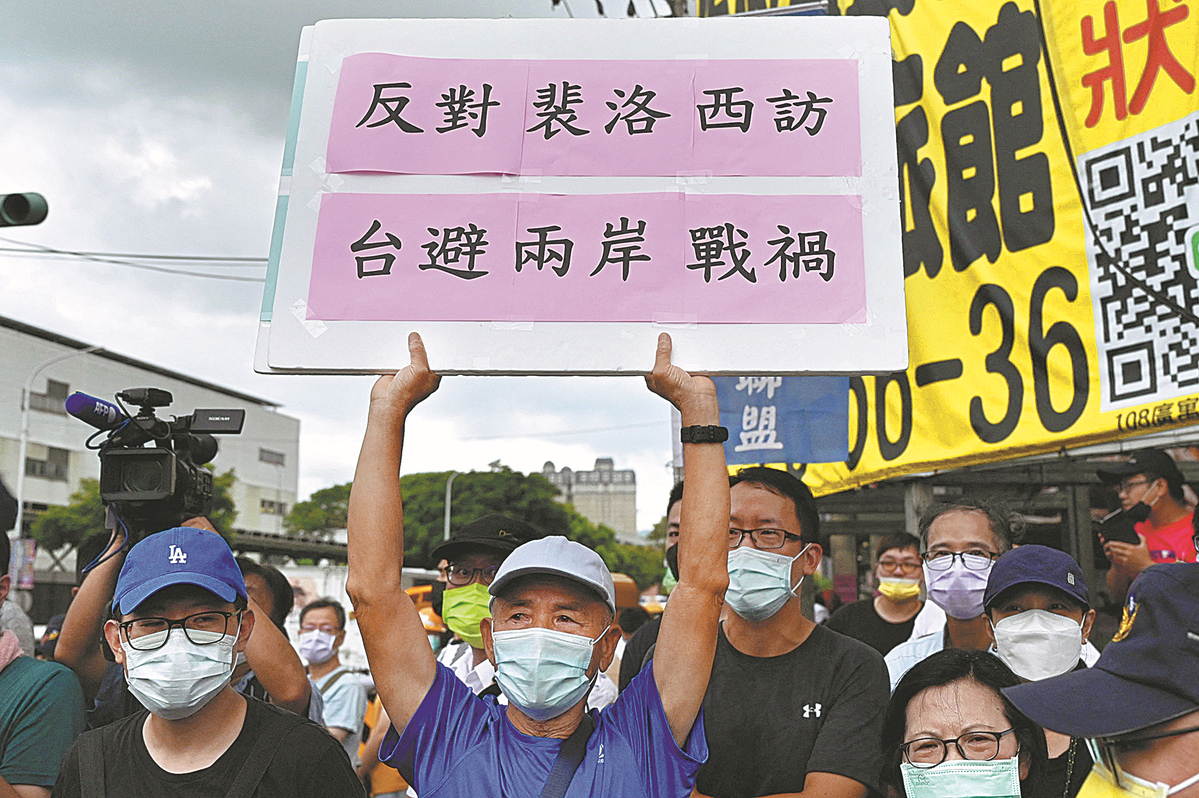 The Morning Star, a British socialist daily newspaper, has criticized United States House Speaker Nancy Pelosi's visit to Taiwan in an editorial in which it said the trip was "an irresponsible, provocative stunt which risks starting a war".
The paper said: "It is a depressing sign of the times that some British MPs' response to this reckless brinkmanship is to announce their own Taiwan visit for this autumn."
Tom Tugendhat, who chairs the United Kingdom's House of Commons' foreign affairs committee, is reportedly planning to lead a delegation to China's Taiwan region later this year.
The Morning Star said the current conflict in Ukraine was "cited as a reason Western politicians must shore up their relations with Taiwan", but the paper said "the reasoning is utterly misconceived".
"One delusion is that the build-up of Western military might deters, rather than provokes, a response. If the definition of madness is to do the same thing over and over again and expect different results, this is a mad policy," the editorial noted.
Earlier this week, the Chinese Ambassador to the UK Zheng Zeguang warned the UK "not to dance to the tune of the US and follow the wrong footsteps of the US."
Taiwan is an inseparable part of China. The one-China principle is a general international consensus.
The British newspaper echoed that by saying "China's sovereignty over Taiwan is recognized by almost every government on Earth, including the US and Britain."
The Morning Star editorial also noted that China does not rule out military action because Washington implies it is determined to thwart peaceful reunification. "Pelosi's trip makes a Taiwan war more, not less, likely."
The newspaper also said Pelosi's visit may be part of an attempt to increase the influence of the US military.
The piece concluded: "The human cost of such a gamble would be intolerable – and it risks spilling over into war between the world's most powerful countries."
Meanwhile, a statement released by The Communist Party of Great Britain (Marxist-Leninist) said Pelosi's visit amounted to "interfering in China's internal affairs and supporting the drive for 'Taiwan independence'".
The party said the US is attempting to force China to take action to defend its integrity and sovereignty.
"Any war that ultimately results from such action will be entirely the responsibility of the US imperialist ruling class and its Washington front-men," the party added.