Village Party secretary praised for hard work
Share - WeChat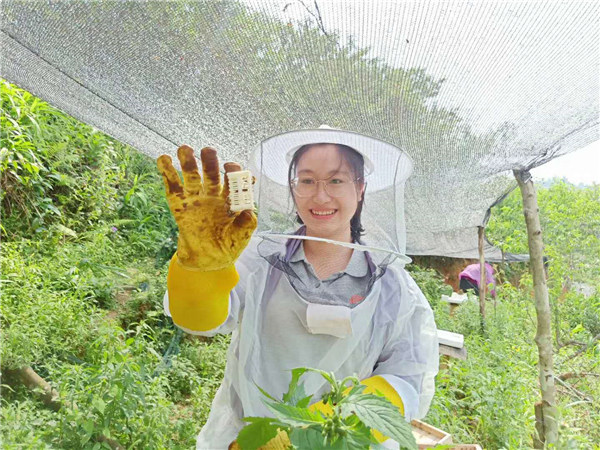 In the summer of 2019, a flash flood claimed the life of 30-year-old Huang Wenxiu, who was working on the front lines of China's fight against poverty as a village Party secretary in the Guangxi Zhuang autonomous region.
Huang was the Party secretary in charge of poverty alleviation in Baini village in Baise, Guangxi. Three years after her death, a TV series about her experience fighting poverty aired, and it has since received unanimous praise from viewers online.
"Wenxiu left us, but the mountains and rivers there will not forget her, the surging rivers will not forget her, the people there will not forget her and this era will not forget her," Yang Rong, who portrays Huang in the TV series, wrote on a social media platform.
Huang had been concerned about village development and poverty alleviation for a long time. After earning a master's from Beijing Normal University in 2016, she returned to Baise instead of seeking a career in the capital.
"I grew up in a poor mountain village in Guangxi. I want to go back and do my best to change the poor, backward situation of my hometown," she wrote in a diary entry.
Her family was eventually lifted out of poverty in 2016. It took some time, as both her parents are dealing with illnesses.
To build a moderately prosperous society in all respects, the central government stepped up its nationwide campaign to eliminate poverty in 2015. Huang volunteered to join the grassroots poverty alleviation effort and was appointed Baini's Party secretary in 2018.
After two years of working in the village, Huang had visited all 195 families that were stricken with poverty. She noted each household's specific situations and causes of poverty.
To help villagers increase their incomes, she decided to take advantage of the area's natural resources.
Huang encouraged villagers to plant sugar oranges, star anise and Chinese fir, and she helped them learn about how to sell their products using e-commerce platforms. She also brought agricultural technicians to teach them technical skills and lead efforts to build roads and install solar street lamps in the village.
Huang Xu, Baini's current Party secretary, said 418 villagers from 88 households were lifted out of poverty thanks to Huang Wenxiu's efforts during her time in office, with the village's poverty rate plunging from about 23 percent to 2.7 percent. By the end of 2020, all poverty-stricken households had been lifted out of poverty.
In recent years, by growing the produce that Huang Wenxiu had proposed, the village's per capita annual income has exceeded 15,000 yuan ($2,221). By the end of last year, per capita annual income reached more than 8,000 yuan for households that had recently escaped poverty, Huang Xu added.
Huang Wenxiu was awarded posthumously the July 1 Medal, the Communist Party of China's highest honor. She was also awarded the title "role model of the times" by the central government for her poverty alleviation efforts.