GBA aims to capitalize on English language assets
Share - WeChat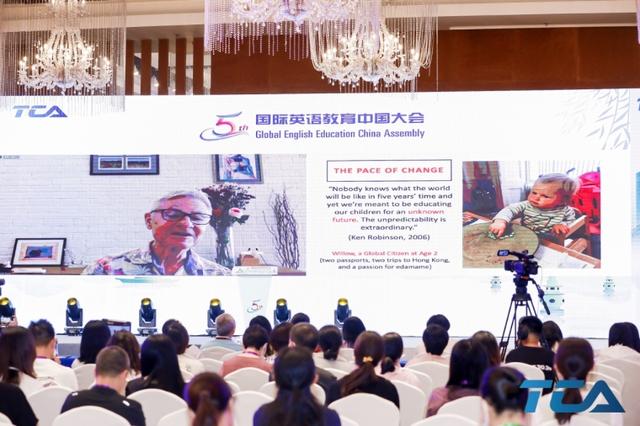 Area to learn from Hong Kong, Macao to facilitate international connections
The advantageous geographical location of the Guangdong-Hong Kong-Macao Greater Bay Area and its cultural and economic dynamism provide for an abundance of opportunities for English language education in the region, English educators said at the 2022 Global English Education China Assembly.
The three-day event, held from Friday to Sunday online and on site in Hangzhou, Zhejiang province, was hosted by China Daily and Shanghai International Studies University, and organized by 21st Century English Education Media.
With Hong Kong and Macao having already established strong international connections due to their decades of links and exchanges with the rest of the world, they can strengthen collaboration with the Chinese mainland in English education on issues related to language education practice and policy, as well as undergraduate, graduate and doctoral education, they said.
Edward Wen Zhisheng, an associate professor from the School of Languages and Translation at Macao Polytechnic Institute, said the Greater Bay Area is home to a dozen of the world's top-ranking universities that teach in English.
Given the unique geographical locations and historical backgrounds, many of the cities in the GBA have been hubs of trade and cultural exchanges between the East and the West for centuries, gradually converging on a super-diverse multilingual and multicultural landscape, in which the global lingua franca of English plays a critical role in business and social life, he said.
Moreover, many universities in the region are able to attract top international scholars to work and live, making the GBA a powerhouse for scholars and practitioners of Teaching English to Speakers of Other Languages (TESOL).
The GBA can capitalize on this competitive edge to transform itself into a hub of English education research, providing knowledge transfer and consultancy services for critical language planning and policy issues that are facing the development of English education in China, Wen said.
The mother tongue of residents in the GBA, Mandarin Chinese, and international languages all play their roles in daily communication and the workplace, and they are all part and parcel of their identity, he said.
"My own experience learning, speaking and teaching English in the GBA over the last 30 years has taught me that, with English as a global lingua franca, GBA residents will be able to connect with people from around the world to exchange ideas, to have better access to information and to learn about foreign cultures to broaden our horizons, and to do business with foreigners," he said."Being able to speak English opens up new opportunities for us to know the outside world."
Fang Fan, an associate professor at the Department of Foreign Languages and Literature at Shantou University, said more collaboration on PhDs should be launched with projects organized by universities in Hong Kong, Macao and the mainland.
For professionals in English language education, more collaboration on international publications should also be encouraged, and more seminars, webinars and conferences should be organized for more exchanges among professionals working in the area of English education in the GBA, he said.
With English, people in the GBA may have access to more opportunities for both local and international collaboration in various domains. English provides a catalyst or steppingstone for success, he said.
Lawrence Jun Zhang, a professor of linguistics in education at the University of Auckland in New Zealand, said the cultural and economic dynamism in the GBA is a major factor that has attracted many scholars and English education specialists from around the world to live and work in this region.
Hong Kong has a long history of providing English education, and its successes and challenges can provide valuable experiences for the provision of English education in the mainland, Jun said.
Despite some temporary disruption to globalization and international cooperation at the moment, many countries around the world would like to work together for the common good of humanity, he said, adding that the mastery of English is an asset for enhancing intercultural and cross-cultural communication for the benefit of the GBA and beyond.