Heat wave to linger for next several weeks
Share - WeChat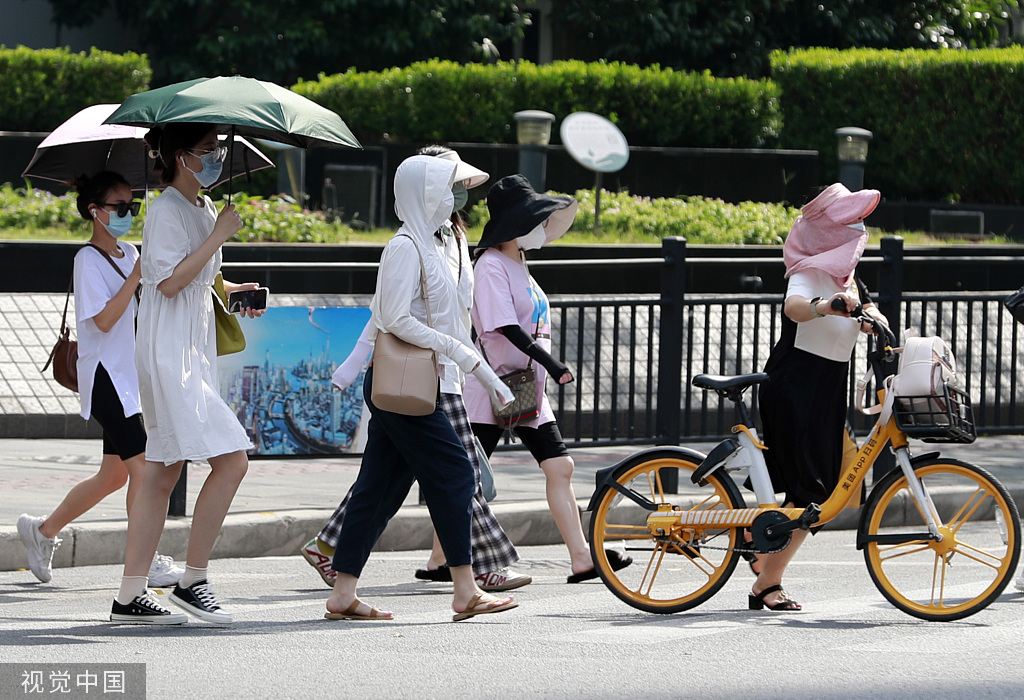 Highest temperature in some counties of Hebei and Yunnan reached 44 C
The deadly scorching heat wave that has lasted for more than 30 days and affected over 900 million people is forecast to linger for the next few weeks.
Since the country started to experience the first heat wave this year on June 13, the impact has swept across more than 5 million square kilometers, according to the National Climate Center.
Between June 1 and July 12, the average number of days with temperatures above 35 C is 5.3, up 2.4 days over normal years and breaking the record established 1961, the center said.
A total of 71 major weather stations recorded temperatures exceeding their historical highs, among which the daily highest temperature in some counties of Hebei and Yunnan provinces reached above 44 C, according to the center.
Several cases of severe heatstroke have been reported in Shanghai, and Zhejiang, Jiangsu, Fujian and Sichuan provinces, causing several deaths.
For example, a 49-year-old male worker from Lishui, Zhejiang, fainted while in a workshop with his body temperature rising to 40.7 C on July 6. He was sent to hospital and diagnosed with multiple organ failure, and died, ThePaper.cn reported.
Shanghai has become one of the cities most affected by the ongoing heat wave. While the city has yet to enter sanfu, also called China's "dog days of summer", which refers to three 10-day periods that are predicted to have the hottest days of the year, the city has experienced three straight days with temperatures over 40 C.
"According to information submitted by major medical institutions across the city, there has been a significant increase in cases of heat stroke and in the proportion of severe cases," Xu Huihui, director of the environmental health department under Shanghai Disease Control and Prevention Center, told ThePaper.cn on Thursday.
"It's unusual to see so many cases of heat stroke before sanfu, which won't kick in until Saturday,"Xu said.
In addition to the disease, heat has endangered people's daily lives.
In a video by local media, a man in Xiangxiang city, Hunan province, was thrown off his motorbike on a road that cracked due to heat on Monday.
Another video by local media showed that on Tuesday, in Changzhou of Jiangsu province, a truck driver called firemen for help because the pigs he was transporting from the Inner Mongolia autonomous region to Zhejiang were sunburned by the heat of 40.2 C and needed to cool down. Firefighters sprayed water for about 40 minutes, saving more than 100 pigs.
The heat wave has also overloaded the electricity system, posed fire risks and led to droughts in southern parts of China, according to the National Climate Center.
Heat to linger
The National Meteorological Center forecast that by July 26, southern parts of China will continue experiencing high temperatures above 35 C. The National Climate Center predicted that from July 27 to Aug 11, more heat than normal will hit most parts of the country.
Fu Jiaolan, chief forecaster from the NMC, said that global warming is the climate background of the frequent heat occurrences in the northern hemisphere.
The NCC data showed that in June, the global average temperature was about 0.4 C higher than normal, the highest since 1979, especially in northern Russia and western Europe.
Fu added that since the beginning of the 21st century, typical large-scaled sustained high temperature events have occurred in 2003, 2013 and 2017 in China.