Experts: Boost macro policy support in second half
Share - WeChat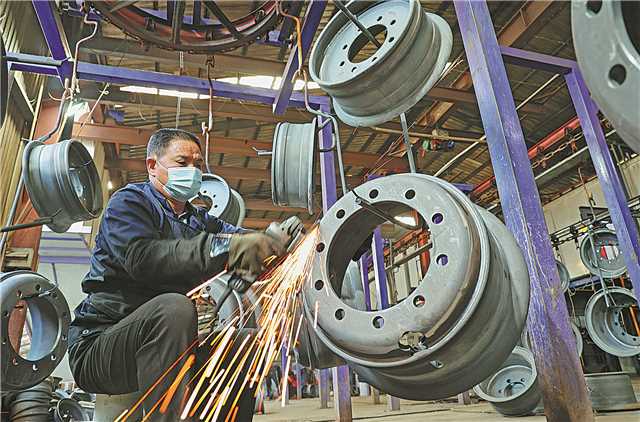 China's economy grew by 0.4 percent in the second quarter of 2022 compared with a year earlier, posting 2.5 percent growth in the first half of the year, the National Bureau of Statistics said on Friday.
Experts said the figures were lower than market forecasts, underlining the need to step up macro policy support to shore up growth in the coming months.
Despite facing challenges and uncertainties from the COVID-19 pandemic and a more complicated international environment, they expect to see a notable recovery in the third and fourth quarters this year, driven by policy stimulus including infrastructure investment and stronger support for hard-hit sectors and enterprises.
Tommy Wu, lead economist at the Oxford Economics think tank, said that while the second-quarter GDP growth was below his expectations and lower than the 4.8 percent growth in the first quarter, June's data was more positive, with activity picking up after most COVID restrictions were lifted.
"We believe China's economy is on track to recover in the second half," he said. "While recent renewed COVID restrictions and future outbreaks will continue to threaten the pace of recovery, we expect supply chains will experience less disruption than in the second quarter."
China has overcome multiple economic challenges in the second quarter with gradual improvements in key indicators including industrial production, consumption and investment, and the fundamentals of China's long-term sound economic growth remain unchanged, said Fu Linghui, spokesman for the NBS.
Fu told a news conference in Beijing on Friday that China's economy still enjoys strong resilience, ample potential and large room for maneuver, and the economy will likely recover gradually and maintain stable growth as stimulus policies take effect.
NBS data showed that fixed-asset investment and value-added industrial output rose by 5.6 percent and 3.9 percent in June, respectively, up from 4.6 percent and 0.7 percent gains in May. Wu from Oxford Economics said that infrastructure investment will play a crucial role in boosting growth in the second half.
Citing the government's efforts to ramp up funding for infrastructure projects in recent months, he expected additional funding will be announced in the coming weeks, which means that this year's infrastructure investment could be stronger than previously expected.
Chen Chuanglian, deputy director of the Southern China Institute of Finance at Jinan University in Guangzhou, Guangdong province, said the lower-than-expected growth figures point to the mounting pressures faced by the economy, underlining the necessity to beef up macro policy adjustments.
Chen said China still has plenty of room for further monetary easing, saying that it is advisable to make moves such as a targeted required reserve ratio cut and interest rate reductions.
On the fiscal front, he highlighted the importance of fiscal policy support for infrastructure investment, especially for key projects in fields such as transportation and 5G.
Despite the improvement in recent indicators, Chen Jia, a researcher at the International Monetary Institute of Renmin University of China, noted that China still faces downward pressures both at home and abroad.
Citing the NBS data, Chen Jia said regions like Shanghai, Beijing and Jiangsu province, which usually lead the country's growth, were hit hard by the pandemic during the second quarter, with declines of 13.7 percent, 2.9 percent and 1.1 percent year-on-year, respectively, in their second-quarter GDP.
Looking to the rest of the year, Chen Jia said China has sufficient policy tools and relatively large room to step up macro policy support, and he expects the economy will rebound significantly in the second half with stronger policy support for sectors including new energy, new infrastructure, modern and smart manufacturing, and modern services.
Liu Dian, an associate researcher at Fudan University's China Institute, said the Chinese economy's potential growth rate will likely be around 6 percent, while the nation needs to achieve 7 to 8 percent growth in the second half to meet the preset target of around 5.5 percent GDP growth for the whole of 2022.
And that means China may need to take measures to fully unleash the growth potential as well as take further steps to inject new impetus into the economy, Liu added.