Potential new tool to combat flaviviruses discovered
Share - WeChat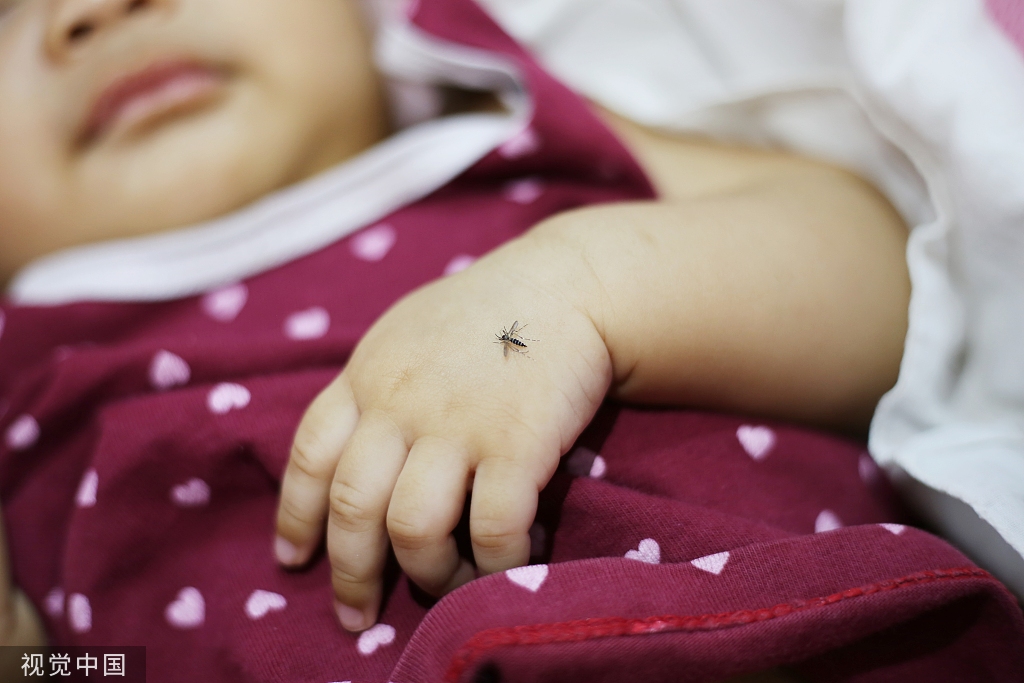 Chinese scientists have discovered that acetophenone, an organic compound commonly found in perfumes, fruits and vegetables, can make humans and mice "smell more enticing" to mosquitoes, according to a study published in international life sciences journal Cell on Thursday.
It is believed the discovery may present a new strategy for curbing the spread of mosquito-borne flaviviruses like dengue and Zika, by treating infected patients with isotretinoin-a vitamin A derivative commonly used as acne medicine-which has been found to suppress the production of acetophenone in infected mice in the laboratory.
According to the American Mosquito Control Association, diseases like malaria, dengue and yellow fever kill over 1 million people around the world every year.
"Understanding how mosquitoes spread disease is crucial to our battle against mosquito-borne illnesses and to preventing outbreaks," said Cheng Gong, a professor at the School of Medicine at Tsinghua University who led the study.
For a healthy mosquito to become a spreader, it must first feed on an infected host. The study discovered that humans and mice infected with dengue and Zika produce abnormally high levels of acetophenone, making them irresistible to the insects.
"Mosquitoes rely on smell to detect hosts and guide other basic survival behavior. Acetophenone is a powerful attractant for the insect, which makes infected hosts more susceptible to bites," Cheng said. The more times an infected host is bitten, the higher the chance that a healthy mosquito becomes a carrier.
Cheng and his team found that the high level of acetophenone in an infected host is the result of a complex tug-of-war between the immune system and the virus for the control of a key protein that regulates the composition of the skin microbiome.
In healthy people, a protein called RELM-alpha keeps acetophenone-producing bacteria on the skin in check. But dengue and Zika can suppress expression of the protein, leading to the proliferation of acetophenone-producing skin bacteria, and explains why infected hosts are more prone to being bitten.
"If we can make people infected with flaviviruses less attractive to mosquitoes, there will be fewer disease-carrying mosquitoes to spread pathogens, curbing viral transmission in the process," Cheng said.
Tests on mice infected with dengue and Zika showed that isotretinoin, a commercially available drug used to treat acne, can support RELM-alpha and moderate production of acetophenone. During the experiment, mosquitoes showed no preference between healthy mice and infected mice treated with isotretinoin.
Cheng called the results encouraging, but said that scientists need to apply these findings in the real world, such as by giving dengue patients isotretinoin pills, to see if the drug or any other vitamin A derivatives do actually lower the chance of infected humans being bitten.
"If we can control the scale of dengue and Zika outbreaks by giving patients vitamin A derivatives or other similar medications, then this will be a major achievement in our battle against one of the most challenging public health issues today," he said.