Experts look ahead
Share - WeChat Could you share with us your memories of Hong Kong's return to the motherland? How do you and the expatriate community see the city's return to the motherland and "one country, two systems"? Has "one country, two systems" had any impact on the way of life and work in Hong Kong?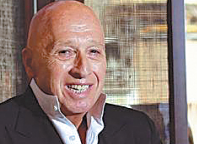 Allan Zeman, chairman of the Lan Kwai Fong Group
Allan Zeman: My memory of Hong Kong's return is very vivid. On June 30, 1997, I was first invited by Prince Charles to have lunch with him on the Royal Yacht Britannia before the final sailing out of Hong Kong. In the evening I was invited to the British ceremony in the open seats in Tamar, but unfortunately it rained very heavily that evening and caused the audience to get very wet. Just before midnight, the ceremony ended. After that, I was invited to witness the official handover in the new Hong Kong Convention and Exhibition Centre, which was purposely built for this event. I was there till 4 am watching the then President Jiang Zemin and Prince Charles perform the handover ceremony as the rest of the world watched with great interest. This was like being part of history, and the feeling cannot be described. "One country, two systems" was actually an idea that late leader Deng Xiaoping came up with to promote China's reunification. This helped settle the anxiety of the Hong Kong people and resulted in 25 years of this new system being perfected. In addition, it allowed Hong Kong to have a common law legal system and a very trusting judiciary. This also gave confidence to many large international companies to make Hong Kong their headquarters.

Richard Cullen, visiting professor in the Faculty of Law at the University of Hong Kong
Richard Cullen: My memories are now many and varied, after living here for over 25 years. As I have read more about the history of Hong Kong and the country, I can feel a deeper connection to Hong Kong-and to the experience of Hong Kong in the country.
"One country, two systems" has not all been "plain sailing", yet it has, overall, proved to be a remarkably original idea that has worked exceptionally well for the city-and China-based on any balanced assessment. It is also a highly engaging constitutional experiment that is fascinating to study.