Frequency of mass tests pulled back, quarantine time reduced
Share - WeChat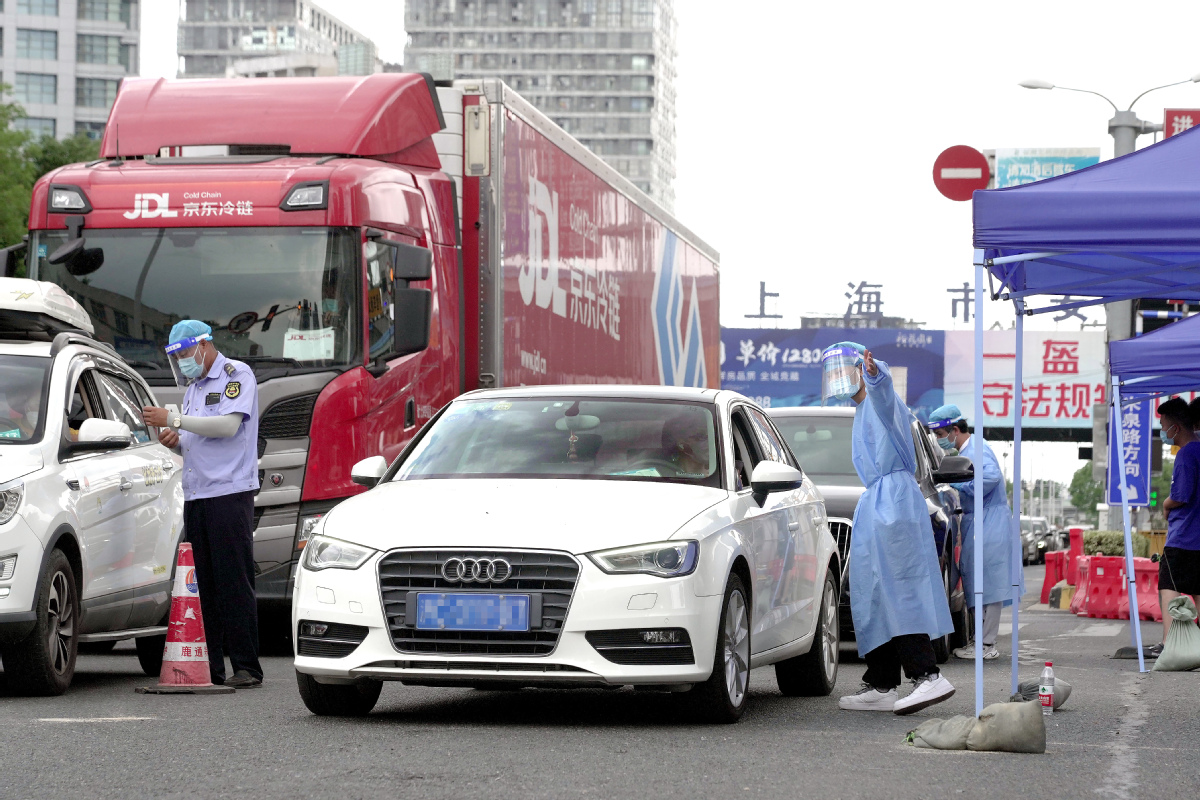 As COVID-19 infections fall, authorities relax strict preventative measures
Many cities and regions have adjusted their policies related to COVID-19 including shortening the quarantine period for inbound travelers and reducing the frequency of mass nucleic acid testing to better serve the current situation of fewer recent infections.
Cities such as Beijing, Wuhan in Hubei province and Nanjing in Jiangsu province now require seven days of centralized quarantine in hotels-compared with 14 days previously-and seven more days at home, according to the Health Times on Monday.
According to the State Council mobile app, the rule also applies to travelers entering the country through cities such as Wuxi and Changzhou in Jiangsu province.
A worker from the government hotline told China Daily on Monday that Nanjing has had a shortened centralized quarantine period policy since June 12, but for inbound travelers who don't have properties in the city, they must stay in a hotel the whole time or transfer to other cities under closed-loop management for another seven days.
Many other cities still have 10- or 14-day centralized quarantine requirements. For example, inbound travelers arriving in cities, including Chengdu in Sichuan province and Xiamen in Fujian province, must undergo 10-day quarantine at hotels and another seven days at home.
As the entry policies differ among cities, travelers should find out the latest information or call the local government hotline.
In addition, many cities have reduced the frequency of mass nucleic acid testing considering there has not been a large number of infections reported for weeks.
In Hefei, Anhui province, the city's epidemic prevention and control authorities declared on Saturday night that mass nucleic acid testing would only be held once a week.
The change was followed by another on Sunday, saying people traveling to Hefei from low-risk areas no longer need to provide a negative nucleic test result. Previously, those people were required to provide a negative result from within 48 hours before arrival.
The city reported its last locally transmitted case on April 24 and had cleared all cases by May 9.
Since May 10, Hefei, which has a residential population of nearly 10 million, had been conducting regular massive nucleic acid testing every five days.
Meanwhile, the province's northern city of Fuyang and multiple counties and urban districts in Xuancheng and Huangshan had canceled regular mass testing by Saturday.
He Qinghua, an official with the National Health Commission's bureau of disease prevention and control, said during a news conference on June 9 that authorities should devise the frequency and scope of testing campaigns based on local conditions.
In late May, as the national college entry exam approached, local authorities across the country stepped up epidemic prevention and control measures for students to ensure the exams could be held smoothly.
The college entrance exams concluded on June 8 and the high school entrance exams ended on Friday in Anhui.
Li Changlong, a resident of Hefei and whose son participated in the high school entrance exams, praised the city's continued testing arrangement to ensure no student was disadvantaged at such a critical time.
"The testing prevented infections from spreading so that the students could still take the exams they'd worked so hard for," he said.
Liu Zifei, a community Party chief in Hefei, welcomed the recent reduction in the frequency of mass testing.
"As the year's hottest period approaches, the high temperatures could be a serious challenge for epidemic prevention and control workers, especially those who wear the protective gowns for hours to collect the testing samples," he said.
With the easing of prevention and control measures in low-risk areas, tourism has started to recover steadily.
The Huangshan Mountain Scenic Area in Anhui received 5,178 tourists on Friday, up by 55 percent from a week earlier, according to the area's administration.
Contact the writers at zhulixin@chinadaily.com.cn