President's Belgian trip fostered affection
Share - WeChat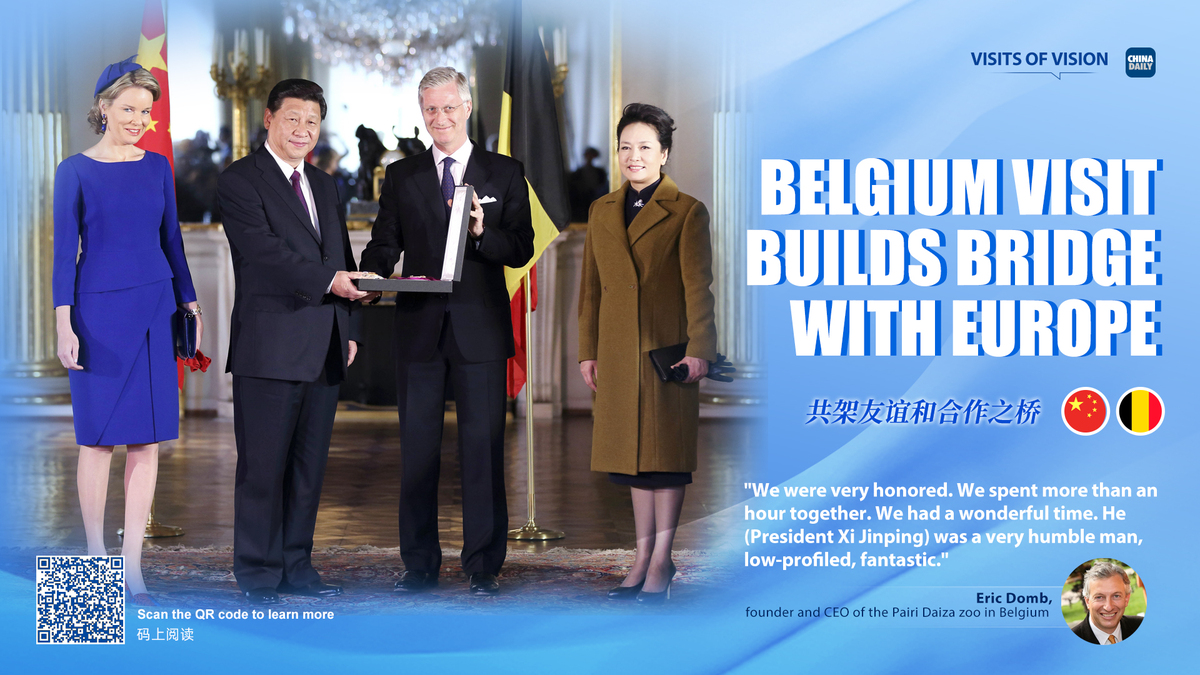 Editor's note: China Daily is publishing a series of stories reviewing President Xi Jinping's visits at home and abroad in the past decade, to showcase his vision for development in China and the world.
Eric Domb, the founder and chief executive officer of the Pairi Daiza zoo and botanical garden in Belgium, beamed when he recalled a visit by Chinese President Xi Jinping and his wife Peng Liyuan on March 30, 2014.
It was shortly after the arrival in Belgium of Xing Hui and Hao Hao, the first pair of giant pandas there.
Accompanied by Belgium's King Philippe and Queen Mathilde, Xi inaugurated the Chinese garden at Pairi Daiza, including planting a magnolia tree, about 60 kilometers south of the Belgian capital of Brussels.
"We were very honored," Domb said of the visit, the first trip to the zoo and garden by a head of state other than the Belgian king. "We spent more than an hour together. We had a wonderful time."
Domb said most of the time was spent visiting the Chinese garden, and he was amazed that the Chinese president knew so much about classic gardens. He was also impressed by how good Xi was at planting the magnolia tree like a real gardener, unlike many government officials.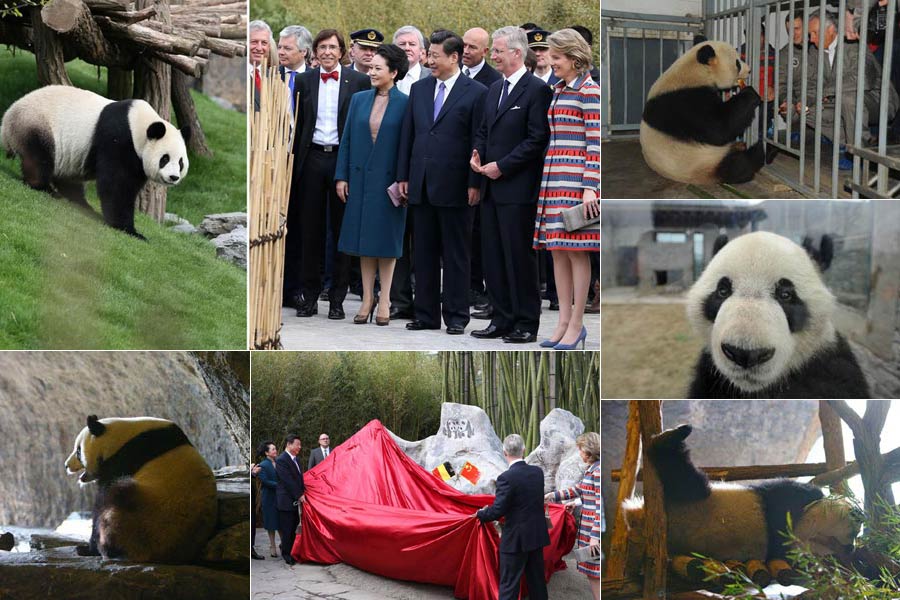 "He was a very humble man, low-profile, fantastic."
The Chinese garden, occupying 45,000 square meters and now the home of the five giant pandas, was built by workers from Shanghai, people whom Domb described as "real friends and good friends".
The ponds, pavilions, temples, bridges, rocks, sculptures, potted landscape, bamboos, medicinal herbs, flowers and other trees and plants from China, as well as a teahouse and Chinese restaurant, take visitors on a tour of China.
The Chinese gardeners summon philosophy, history, legends, religion and symbolism, Pairi Daiza, a privately owned zoo, says in its introduction to visitors.
Domb said that the giant pandas in such a surrounding are what is important to visitors.
"It's a fantastic opportunity to open people to all cultures. We have a lot to learn about other cultures and philosophies, all the wisdom."
Domb was happy that the Chinese workers who helped build the garden at the time were so excited to see their own president and shake his hand.
"It was a beautiful moment," he said. "These people have been working very hard. They are great workers."
He was proud that the archway in the Chinese garden has the Chinese characters of "Chinese dream "on top, a pure coincidence with Xi's slogan on the rejuvenation of the Chinese nation.
Xi's visit to Belgium in 2014 was the first state visit made by a Chinese head of state to the country in 27 years. He and his wife Peng were welcomed at the airport by the then Belgian prime minister Elio Di Rupo. King Philippe held a grand welcoming ceremony for Xi before their meeting.
During the visit, Xi also laid a wreath at the Tomb of the Unknown Soldier. He had talks with Di Rupo and parliamentary leaders. The two countries signed agreements covering the economy and trade, science and telecommunications and education.
In addition to the zoo, Xi visited the Volvo Car Group facilities in Ghent, accompanied by King Philippe and Queen Mathilde. He also addressed students and faculty on Chinese civilization and China-EU relations at the College of Europe in Bruges.
During his stay in Brussels, Xi also visited EU headquarters and met EU leaders, becoming the first Chinese head of state to visit EU headquarters since the establishment of diplomatic ties between China and EU in 1975.
Just a year later on June 23, 2015, Xi welcomed King Philippe to Beijing for a weeklong state visit at Xi's invitation. It was the king's first state visit overseas since he was crowned in July 2013.
On Oct 25, 2021, Xi and King Philippe exchanged congratulatory messages on the 50th anniversary of bilateral diplomatic ties.
Ties between China and Belgium have expanded greatly over the decades. According to the Belgian government, their bilateral trade was worth 32.8 billion euros ($34.3 billion) last year, 22.8 percent higher than in 2020.
There are 32 pairs of sister cities between the two countries.
"China and Belgium have adhered to free trade and an open global economy, welcomed each other's enterprises and people, actively carried out practical cooperation in various fields, not only benefiting themselves, but driving each other's development through cooperation," China's ambassador to Belgium, Cao Zhongming, wrote in an opinion piece in China Daily in October marking the 50th anniversary of relations.
Before the pandemic broke out, Domb said he had visited China every year and has visited the country 25 times in total.
During one of the visits, he met Xi and Peng again. This was when Domb attended a dinner event in Beijing with the visiting Belgian delegation a year after Xi's visit to Pairi Daiza.
During a brief chat, Peng asked if the giant pandas Xing Hui and Hao Hao had a baby yet.
Domb said, "Madame, I promise we will have a baby very soon."
He immediately started to contact giant panda scientists in Sichuan province, where Xing Hui and Hao Hao came from. On June 2, 2016, Hao Hao, who had been artificially inseminated with Xing Hui's sperm, gave birth to the cub Tian Bao. It was the first giant panda born in Belgium.
"In a sense, Tian Bao was a promise to the first lady," Domb told China Daily on June 2 when zoo staff and giant panda fans held a celebration for Tian Bao's sixth birthday.
Hao Hao, again through artificial insemination, gave birth to twin cubs on Aug 8, 2019. One is male Bao Di and the female cub is Bao Mei, "a dragon and phoenix" in Domb's words, quoting Chinese tradition.
Domb said he is frustrated that he still cannot travel to China because of the pandemic.
He had relished his trips to Suzhou, Jiangsu province, to appreciate its traditional Chinese gardens, to Fujian province to discover the tea and Hakka culture, to Jingdezhen to search for Chinese porcelain and to Yixing for Chinese pottery.
He has been fascinated by Chinese culture and inventions since his childhood, when his parents displayed Chinese porcelain and Tang Dynasty (618-907) sculptures in their home, he said. He also developed a strong appreciation for Chinese silk and tea culture. He has fallen in love with Chinese food from jellyfish to fermented tofu.
"I must have Chinese blood from my ancestors," Domb said. "I don't have such feeling with other people."