Deliveryman goes extra mile in helping people
Share - WeChat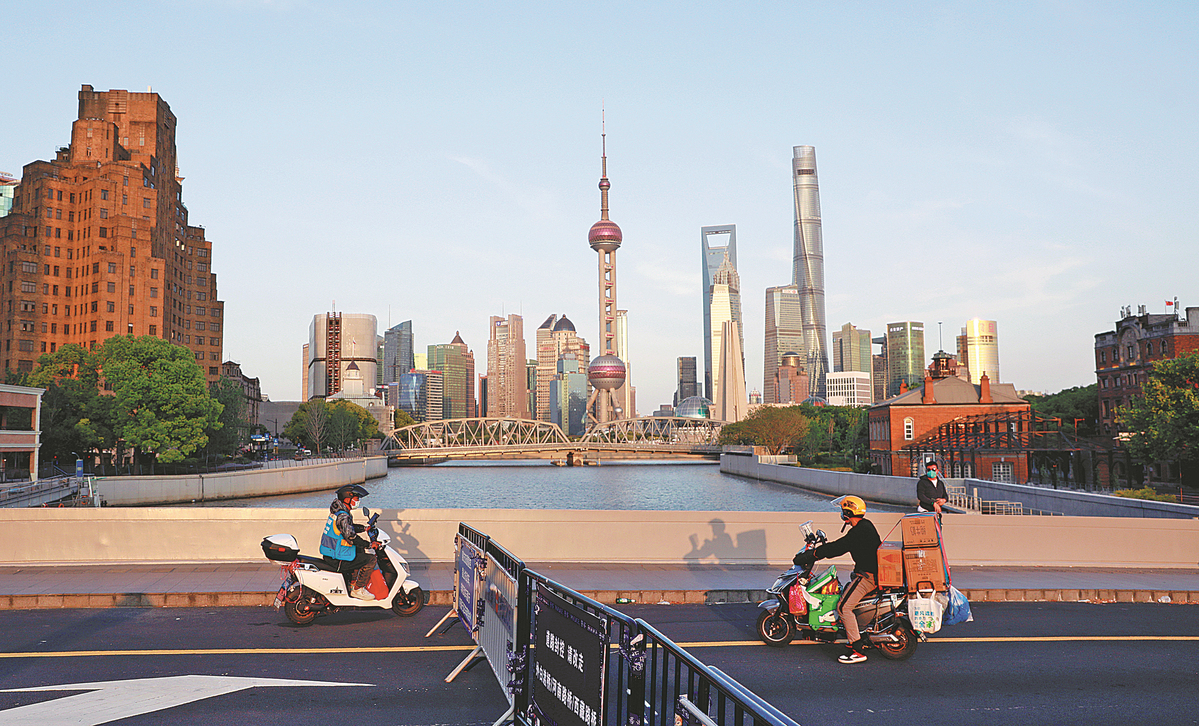 A young man, surnamed Sen, received wide praise online after sharing his experience working as a deliveryman in Shanghai and offering free rides to people in need since early May, according to an article published on the WeChat account meirirenwu on Tuesday.
"In March, I arrived in Shanghai for the first time and became a deliveryman," Sen said. "The COVID-19 outbreak happened just as I was getting familiar with the city."
Sen, who just turned 19 this February, was quarantined inside Qingpu district for a month before finally receiving his electronic delivery pass on May 1.
Living on Beizhai road in Minhang district, Sen sees many people walking by while on their way to Shanghai Hongqiao Railway Station.
"Some passengers can still be seen walking on the road late at night, because they came from faraway places and couldn't catch a cab," Sen recalled.
After more than two months of epidemic prevention measures, Shanghai's public transportation is gradually being restored, but many still have trouble getting rides late at night.
Since receiving his pass, Sen has been making deliveries during the day. When he offered help to a man who rode his bicycle for an entire day to get to the train station on May 8, assisting people to get where they needed to go became part of his routine.
"I have been doing this for the past 20 days and I picked up the most passengers on May 12," Sen said. "I wasn't on duty that day, but after seeing a girl getting tired riding a bicycle while carrying her luggage, I decided to help her and ended up helping a dozen more people."
Sen's frequency of service was reflected in the condition of his vehicle. He has gone through several bumper screws and the metal frame for fixing his delivery box was also bent from wear and tear.
Sen eventually posted his experiences online and received over a thousand comments. Many netizens expressed their appreciation of Sen's good deeds and extended good wishes.
"The most frequent question people asked me was whether they need to pay for my ride," Sen said. "Currently I make six to seven hundred yuan a day doing deliveries and that's more than enough for me."
At first Sen just picked people up on his way home, but eventually extended his free rides to locations as far as 70 kilometers away.
He also set up a WeChat group and gathered more than 50 deliverymen and riders willing to offer rides for free.
"After a few days, I felt my strength alone was still too small. If more people join, I can help more. Eventually, I met some riders who were also giving people free rides on the road, so I invited them to join and then pulled together a WeChat group," Sen said.
In addition to the WeChat group, Sen also tried his hands at creating Tiktok videos. He said he hoped these videos can raise awareness of the demand for transportation and attract more people's attention.
"More and more people came to me and joined the WeChat group," Sen said. "We have deliverymen from almost every platform as well as volunteers who are residents in the community."
One man in particular told Sen he's willing to help to the best of his abilities, including serving as an ambulance for medical emergencies, and waived all compensation for fuel expenses.
As the WeChat group grew larger, the number of people asking for help also increased.
Every day, Sen and his teammates filter through all the requests and prioritized those who are vulnerable.
They would answer requests from women, children, seniors and students first, before moving onto others.
"I am looking forward to the complete recovery of the public transportation system in Shanghai," said Sen.