New chapter on ancient book protection
Share - WeChat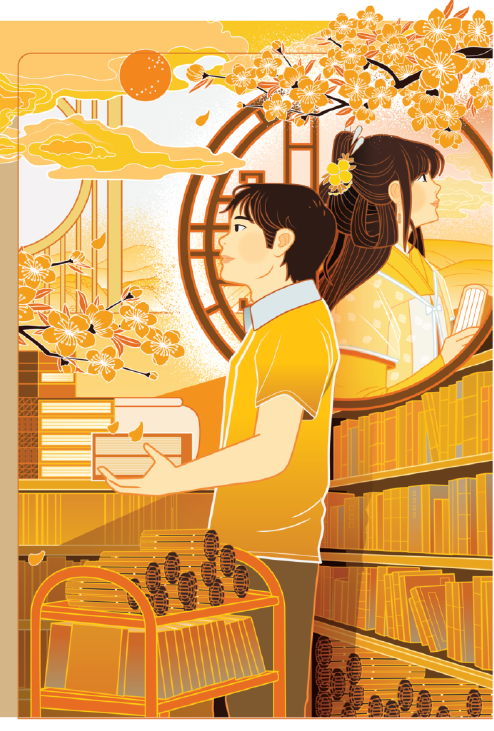 Recent guideline calls for revamped system to make certain old tomes survive for use in the future
Though silent and in many cases tattered, China's estimated 30 million ancient books are an important chronicle of its history and civilization over the millennia.
Now, more emphasis is being placed on restoring and preserving these historical records.
Last month, the general offices of the Communist Party of China Central Committee and the State Council, China's Cabinet, jointly released the first national-level guideline for decades that is focused on promoting the protection of ancient books.
In China, ancient books are defined as any document, handwritten or printed, that predates 1912, the year monarchical rule ended.
The guideline calls for the establishment of a wider and more scientific system to preserve, study and republish ancient books that involves research institutions and departments at different levels of government, and lays out detailed long-term planning and evaluation criteria for the work.
It also urges increased training, the development of a legal system and stronger support for fiscal expenditure.
During this year's two sessions-the annual meetings of the National People's Congress, the nation's top legislature, and the National Committee of the Chinese People's Political Consultative Conference, its top political advisory body-enhancing the protection of ancient books was written into the central government's annual work report for the first time.
Observers said the guideline elevates the significance of ancient book protection.
"With better coordination and strong support, there is even greater impetus to continue the work that we started more than a decade ago," Zhang Zhiqing, deputy director of the National Center for Preservation and Conservation of Ancient Books, told China Daily.
The move to systemically rescue ancient books kicked off with the center's establishment at the National Library of China in 2007. At the time, there were fewer than 100 professional book restorers nationwide.
A great deal of effort has been made to expand these numbers through training, and currently, there are some 1,000 restorers in China.
About 3.7 million pages have been restored since 2007, and 10,000 conservators have been trained and are working at 2,000 venues housing collections nationwide.
"Preserving the books is no longer just the job of librarians, educators and researchers. It's now a shared mission for society," Zhang said.
Zhang believes the need for protection has been properly emphasized by the guideline, which also noted the importance of sharing experience between public institutions, the private sector and facilities overseas.
For example, in China, many renowned individual collectors of ancient books are also successful entrepreneurs. They have the facilities and means to better protect these books, and the focus of their collections may be more comprehensive in nature, differing from public libraries, which concentrate more on classics.
"And through academic exchange with overseas institutions, we can refresh our ideas and technical criteria for preservation," Zhang said.
Earlier this month, the research institution of the National Library released a blueprint on more widely adopting better custodial and restoration techniques.
Nevertheless, as the new guideline highlighted, protecting ancient books means more than just prolonging their physical lives. Ways of making better use of them and of sharing their worth are equally important.
"It shows that our mindset on the protection of ancient books is developing," Zhang said. "They were treated as cultural relics, which can be stored in warehouses for protection. However, if we lock ancient books up in our libraries, their value is lost because books are written to be read."
Digitization is one solution to allowing the fragile pages to be more widely seen. Since a national database for ancient Chinese books was put online for public use in 2016, more than 100,000 digitized versions of ancient books have been added to it.
The guideline also noted that more work needs to be done to categorize books and arranged for photocopied editions of them to be published.
"In categorizing collections of ancient books, provinces and municipalities can cooperate to compile encyclopedias of these precious ancient documents in digital form," said Zhang Yongquan, a professor at Zhejiang University who studies ancient documents.
"Paper can survive for centuries, but it isn't immortal," he said. "Online databases can be accessed worldwide and enable traditional Chinese culture to be passed on from generation to generation."
Compared to more visually attractive artifacts like ceramics or bronzes, professionals are aware that ancient books are not as appealing to the public.
Reflecting an initiative in the guideline urging that more TV programs on ancient books be produced, some attempts have already proven popular.
Last year, thanks to adapted stage plays performed in China in the Classics, many people were introduced to difficult, ancient texts for the first time. In March, the online documentary Ancient Books Traveling Through Time and Space also explored the impact these books have had on modern life.
"Through books, people can see what ancient people wore or ate," Zhang Zhiqing explained. "Many people like to try those fashions or recipes today. We can bring ancient books to life only if we revive what is recorded in them."
Zhang Yongquan agrees. "All these ancient cultural classics, notes, family instructions, histories and other texts can be of benefit to the modern public. Through them, younger generations will be encouraged to appreciate their hometowns and country more."
New projects have already been launched in response to the guideline.
In Jiangsu province, for example, a new program is underway to properly categorize lesser-known ancient books held at universities across the province.
The program is being run by Nanjing University and will double as a think tank for generating more ideas on the protection of ancient books in the culturally-rich province.
"Now that the conservation of ancient books has been recognized as a key component in the work of passing on traditional Chinese culture, it has a stronger foundation and clearer direction," said Shi Mei, deputy director of Nanjing University Library.
"The different departments involved can further support efforts," she said. "For instance, many institutions have digitization programs, but some may not be in use. Through coordination, we can share our achievements and improve efficiency."
Shi also expects the guideline to help solve problems regarding the lack of conservators at universities, insufficient funding and other concerns.
China does not yet have a comprehensive undergraduate major focused on ancient books. This has long been a thorn in the side of the profession, which has struggled to attract young talent.
The guideline clearly urges universities to promote the creation of ancient book-related majors, so this situation may be about to change.
Zhang Zhiqing further anticipates that legislators will draft a national law specifically targeting ancient books in the near future, instead of simply relying on the Cultural Relic Protection Law.
In 2017, Zhenjiang in Jiangsu became the first Chinese city to write its own legislation for protecting ancient books.
"Once written into law, the protection of these books will become compulsory across the country," Zhang Zhiqing said.