Shanghai releases phased plan to get back to normal
Share - WeChat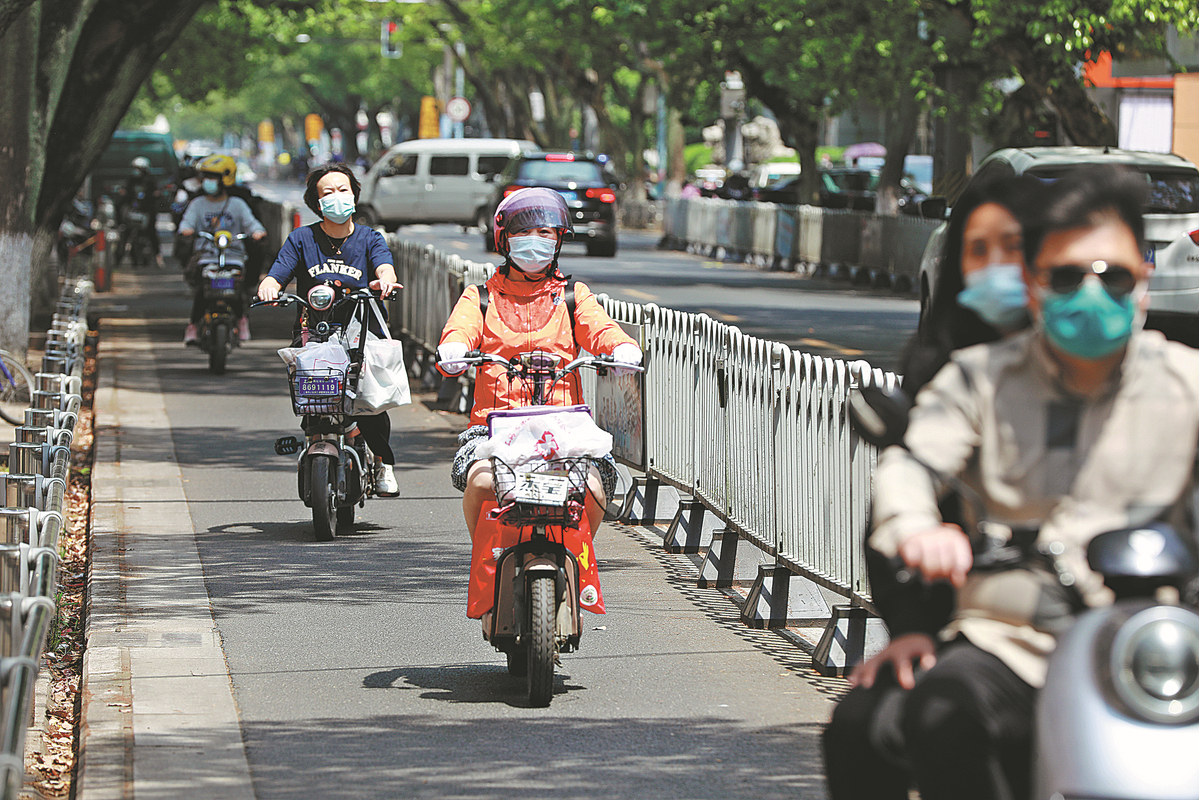 Business was brisk on Monday when Jia Nianbo reopened his barbershop in Fengjing, a town in Shanghai's Jinshan district.
All of Jia's customers made appointments on Sunday, one day in advance, as required by the district's epidemic control protocol, soon after Jia, a native of Sichuan province, got the greenlight to reopen the shop he has run for 16 years.
Earlier that day, the Shanghai government announced that retail businesses and markets in the city could resume offline operations, with hairdressing and catering businesses being among the first to reopen on Monday.
Local resident Jiang Qinyi was the first customer at Jia's barbershop on Monday.
She was eager to get her hair cut as it had grown long and she felt it was no longer stylish.
"I longed to have it cut during the lockdown, but I couldn't do it by myself," she added.
Jia was evidently pleased that he's back in business, as he explained that "the temporary business closure due to the epidemic has left me with no income for about two months. I am so happy today as everything is running back to normal".
Business activities and everyday life in Shanghai are expected to return to normal by late June, according to a three-phase plan announced on Monday by Vice-Mayor Zong Ming.
She said that the key task of phase one, which runs from Monday to Saturday, is to continue reducing new infection numbers and preventing rebounds, and to continue reducing the number of people in locked-down and controlled zones.
Phase two, from Sunday to May 31, will focus on the city's transition from emergency response to normalized epidemic prevention and control.
From June 1, the city will embark on phase three, which aims to fully normalize daily life and business activities.
Shanghai had around 980,000 residents in locked-down zones as of Sunday, the first time that figure had dipped below the 1 million mark in the past few weeks.
Fifteen out of the city's 16 districts reported no new infections, excluding those in quarantine and locked-down zones, Zong added.
"Residents in precautionary zones will be allowed to leave their communities in an orderly manner but mobility will be limited. The entire city will maintain a low level of social activities in the first phase," she said.
Schools will reopen in a phased manner, starting with ninth, 11th and 12th graders at high schools, according to the city's authorities.
Starting on Monday, taxis and private cars were allowed on the roads in suburban regions, including Jinshan and Fengxian districts and some low-risk areas in Pudong district.
Authorities are also planning to gradually increase the number of trains leaving and arriving in Shanghai, while domestic flights to Shanghai will also be resumed in the coming weeks.
Starting from Sunday, bus and metro service will gradually resume.
All individuals taking public transport and entering public venues must present a negative nucleic acid test result taken within the past 48 hours.
Shanghai reported 69 confirmed and 869 asymptomatic cases on Sunday, the first time in weeks that the daily total was under 1,000. All of these were among people either in quarantine or in locked-down zones.