Study estimates 1.55 million dead if China allows Omicron's unchecked spread
Share - WeChat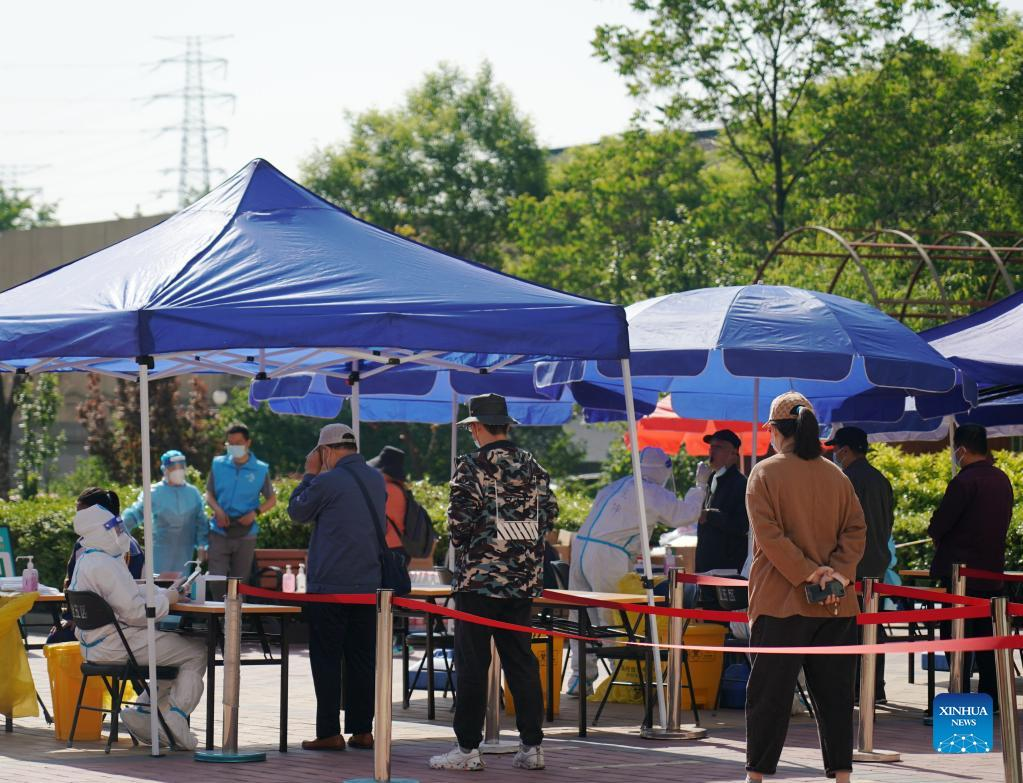 New modeling by Chinese and United States scientists shows the Omicron variant would strain China's healthcare system severely and cause around 1.55 million deaths if left to spread unabated, according to an accelerated preview study published by Nature Medicine on Tuesday.
The researchers concluded the dynamic zero-COVID strategy, particularly non-medical interventions including mask wearing, routine testing, social distancing and travel restrictions, should be strengthened when dealing with the highly transmissible variant.
The peer-reviewed study was conducted by researchers from Fudan University in Shanghai and the Indiana University School of Public Health. The model simulated a hypothetical Omicron wave in China based on data from the March outbreak in Shanghai to evaluate the burden of an uncontrolled epidemic on the country's healthcare system.
The study found the Omicron variant "could have the potential to generate a tsunami of COVID-19 cases" and would lead to a projected intensive care unit peak demand of 15.6 times existing capacity.
Over a six-month simulation period, the wave was projected to cause 112.2 million symptomatic cases, 5.1 million hospital admissions, 2.7 million ICU admissions and nearly 1.6 million deaths.
The worst-hit demographic would be people 60 and older, who would make up over 90 percent of ICU admissions. Unvaccinated seniors above age 60 were projected to account for 74.7 percent of the total number of deaths, around 1.16 million fatalities.
The study also examined how the Omicron wave will affect different regions of the country. For example, Shandong province will have a lower number of deaths per 1,000 inhabitants compared to Shanghai due to the province having high vaccination coverage for seniors.
As of March 21, around 89.2 percent of people 60 and older in Shandong had been fully vaccinated, and around 72.5 percent had received a booster shot, official data shows.
However, the lack of ICU beds is a major challenge as the Omicron variant would drive up demand for this critical medical resource. In regional analyses, Shanghai, Shandong and Shanxi provinces would see substantial shortages of ICU beds. The shortage was estimated to last around 44 days.
Scientists also pointed out several limitations to their model, one of which is assuming the mortality rate of the Omicron wave would remain constant over the projected period when other studies have suggested this rate may increase during periods of high strain on hospital services. Therefore, the number of total deaths may be underestimated.
Given these projections, researchers suggest more non-pharmaceutical intervention measures such as routine testing, social distancing and travel restrictions, are required to sustain the dynamic clearance policy against the highly infectious and immune-evasive Omicron variant.
As this continues, it is imperative to expand vaccine coverage for the elderly and access to effective antiviral therapies across the country, they asserted.
According to their estimates, only when around 97 percent of the senior population is vaccinated and 50 percent or more symptomatic cases are treated with antiviral therapies can the peak occupancy of ICUs be kept lower than the nation's capacity, and the death toll of the Omicron epidemic be brought to that of seasonal influenza.
"In the absence of these two conditions, the most optimistic strategy to prevent the healthcare system from overwhelming appears to be the reliance of strict NPIs," the researchers said.
In the long term, improving ventilation in buildings, strengthening critical care capacity and the development of highly efficacious vaccines with long-term immune persistence would be key priorities.