Merck inks agreement to expand manufacturing center in Wuxi
Share - WeChat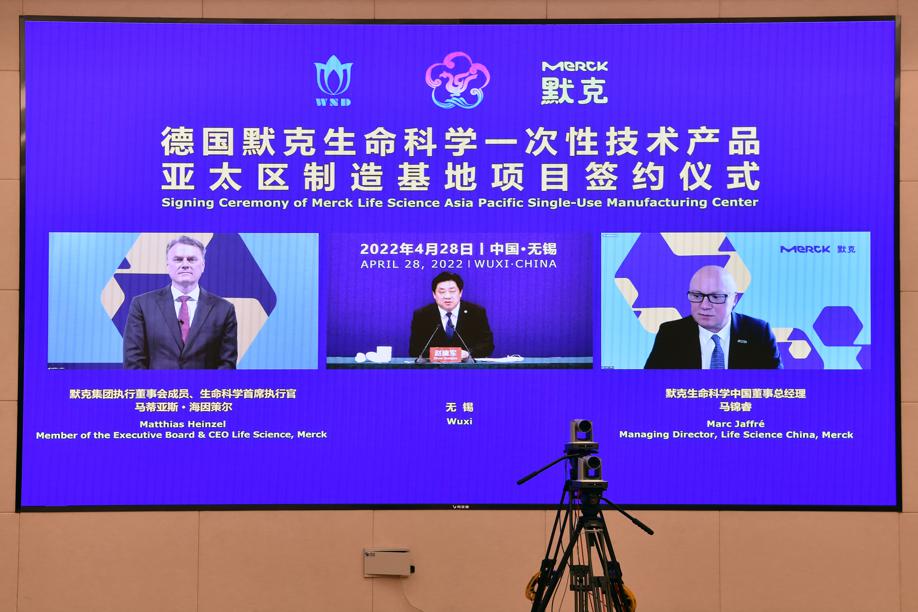 Multinational pharmaceutical company Merck entered into an agreement with the administrative management committee of the Wuxi National High-tech Industrial Development Zone on Thursday.
According to the agreement, the industry giant will expand its single-use manufacturing center in Wuxi, East China's Jiangsu province.
Established in September 2018, the center will see its capacity significantly increased thanks to a 100-million-euro ($105.7 million) investment as stated in the agreement. The expansion is aimed at accelerating Merck's Mobius single-use manufacturing and enhancing custom design capabilities in China.
Mobius single-use manufacturing includes up-to-date filtration and separation technologies that are widely used in the biopharmaceutical industry.
The expanded manufacturing center, which is scheduled to become operational in 2024, will provide about 1,000 new jobs upon completion.
Matthias Heinzel, CEO of Merck's life science business, said that the expansion of Mobius single-use assemblies will serve the ongoing development and production of COVID-19 vaccines and therapeutics.
The cooperative agreement with the local authorities in Wuxi also underscores Merck's commitment to its customers in China as well as the fast-growing Asia Pacific region, he added.
Marc Jaffre, managing director of Merck's life science business sector in China, said the nation's bio-processing industry is expected to grow by over 20 percent per annum over the next five years. This growth will be mainly fueled by the increasing demand for single-use products in advanced biopharmaceutical manufacturing such as monoclonal antibodies, vaccines and new therapies, he explained.
Zhao Jianjun, mayor of Wuxi, said at the online signing ceremony on Thursday that more than 1,200 industry giants, including AstraZeneca, Pfizer and Wuxi AppTec, have set up operations in the city, and that the industrial value of all biopharmaceutical companies in the city had reached 140.9 billion yuan ($21.4 billion) in 2021, up 20 percent year-on-year.