COVID dynamic clearance policy still best option
Share - WeChat Strategy's success has lifted confidence in tackling Omicron strain, experts say
The Omicron variant's high transmissibility, China's relatively low booster shot coverage for the elderly, and the enormous pressure on the medical system if restrictions are lifted prematurely are some of the reasons why the country must adhere to the dynamic zero-COVID policy, experts said.
Shenzhen, a mega city with over 17 million inhabitants, managed to tame its Omicron outbreak within a month, which boosted public confidence in dynamic clearance as an effective way of combating mutated strains of SARS-CoV-2, they added.
China is currently grappling with its biggest COVID-19 challenge since the early days of the pandemic. Last month, over 100,000 cases were recorded in 29 provincial-level regions, many of which were caused by the more transmissible Omicron variant, according to the National Health Commission.
This has rekindled public debate over whether China should pivot from its dynamic clearance strategy and start "living with COVID" as many other countries do, based on the assumption that Omicron causes less severe illness.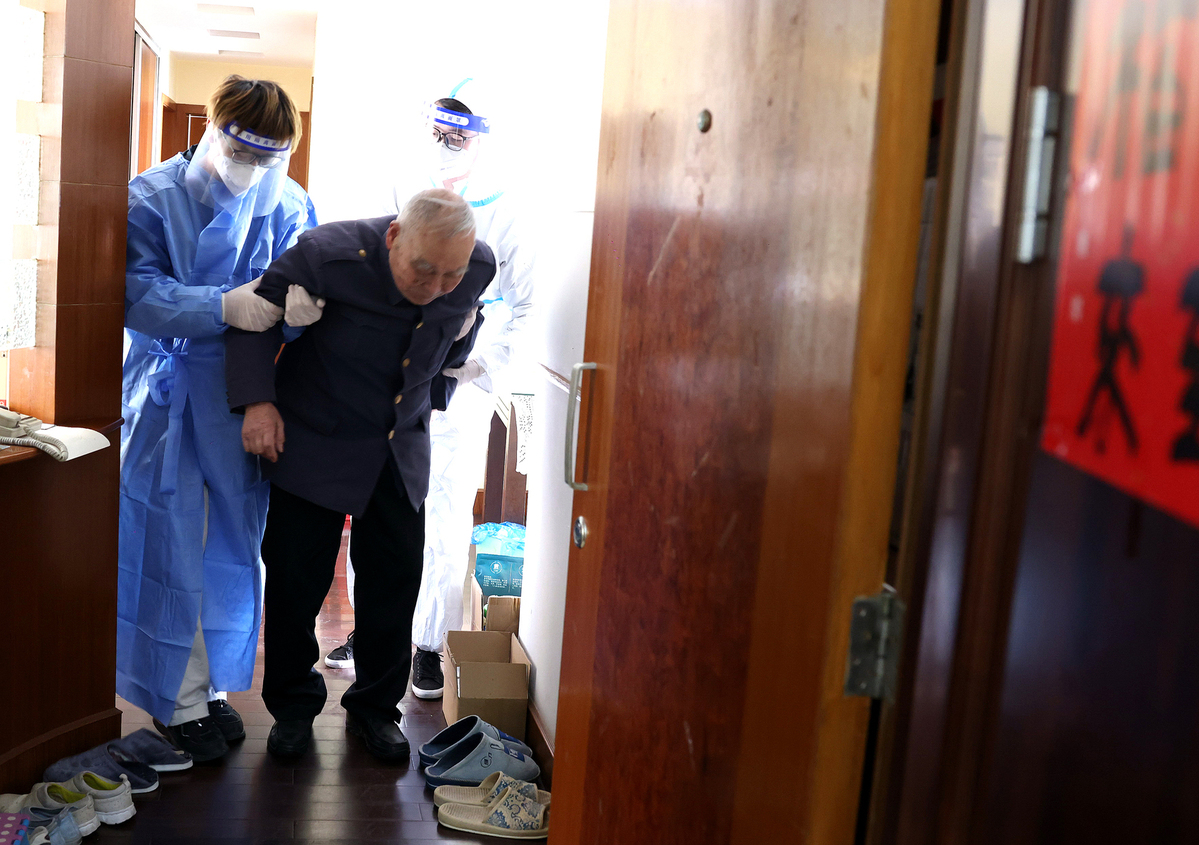 Ma Xiaowei, director of the National Health Commission, said in an article published by the commission last week that even if the Omicron variant has caused more asymptomatic infections and mild cases, allowing it to run rampant among China's 1.4 billion people could be catastrophic for the country.
Ma said the core focus of the dynamic clearance strategy is to swiftly and accurately stamp out each outbreak before it gains momentum. It is not the pursuit of preventing infections from happening, he added.
Medical cost
In December, the Chinese Center for Disease Control and Prevention published a study that incorporated real world pandemic scenarios, epidemiological models, and China's medical resources to examine how a COVID-19 outbreak would play out in China if it followed other countries' coexistence strategies.
The study found that if China adopted the control and prevention strategies of the United States, even under the most optimistic conditions, the country would register more than 637,000 daily cases, including over 22,000 severe ones.
If China were to follow the United Kingdom, Israel, France or Spain, the number of daily new cases would range from 275,000 to 454,000, depending on the referenced country, along with 9,680 to 15,900 severe cases, the study said.
The availability of medical treatment facilities would also present China with a major challenge. Last year, China had around 4.3 intensive care unit beds per 100,000 people, far lower than the rate in developed countries like the US, according to data from the Fudan University's School of Public Health.
The China CDC's study concluded that if the country were to fully embrace other nations' coexistence strategies, the number of severely ill patients would quickly overwhelm its health system.
Many people consider the Omicron variant weaker than other COVID variants. However, Wu Zunyou, chief epidemiologist at the China CDC, said at a news briefing on Wednesday that data from the recent Hong Kong outbreak showed that the variant can still wreak havoc due to its high transmissibility.
As of Tuesday, over 1.16 million people out of the 7.6 million residents in the special administrative region had been infected, Wu said. The city has also recorded over 8,100 deaths, mostly seniors with underlying health conditions.
Fatality rate
The death toll in the latest outbreak is far bigger than the combined number of the previous four outbreaks in Hong Kong, Wu said.
Experts have also studied UK and US health data collected between August and October last year, when the Delta variant was the dominant strain, as well as data from November to January this year, when the Omicron variant became the dominant COVID strain in those countries.
Studies have shown that while the Omicron variant is weaker, the number of deaths caused by Omicron is greater than that of Delta because it spreads quickly and infects a large number of people. This means the impact of the Omicron variant has not diminished the dangers of COVID, Wu explained.
He said the Chinese mainland has a low COVID-19 mortality rate due to early detection and quarantine measures to limit the outbreak, preventing it from creating a spike of infections that can strain the medical system.
Wang Guiqiang, head of the infectious disease department at Peking University First Hospital, said on Wednesday that the Omicron variant is only relatively less severe compared with other COVID strains. However, the overall harm it causes can be higher than that of influenza, especially to seniors who are unvaccinated or aren't fully inoculated.
Wang said the latest outbreak in Hong Kong has a fatality rate of roughly 0.7 percent, which is far higher than that of flu. "We cannot drop our guard and be careless," he said, adding that it is paramount to carry out effective epidemic control measures and vaccinate older people.
Zeng Yixin, deputy head of the National Health Commission, said last month that as of March 17, 80 percent of people ages 60 to 79 had been fully inoculated, but only 50.7 percent of seniors aged 80 and older were.
About 56.4 percent of people ages 60 to 69 had received a follow-up booster shot. This figure dropped to 48.4 percent for those ages 70 to 79, and 19.7 percent for those above 80.About 757 million people, or 54 percent of the population, had received a booster shot as of Tuesday.
According to a study published by the University of Hong Kong last month, booster shots are extremely effective in reducing the risk of severe disease and mortality for seniors against the Omicron variant. Three shots of the inactivated CoronaVac vaccine could provide a protection rate above 98 percent.
"It is imperative for the senior population, especially those from the oldest age group, to get vaccinated and booster shots," Zeng said.
Local success
On Wednesday, the Shenzhen Municipal Health Commission announced that it had recorded zero local cases in the past three days, signaling the outbreak caused by the Omicron variant that began on March 9 is now fully under control.
The result is proof that the dynamic zero-COVID policy can control even the most difficult pathogen if carried out properly. Shenzhen health authorities said they will remain levelheaded and vigilant to ensure the outbreak doesn't rebound.
Decisive and meticulous quarantine measures, early mass screening, a young and highly vaccinated population, strong logistics and effective public communication are reasons for Shenzhen's success, experts said.
Lu Hongzhou, president of the Shenzhen Third People's Hospital, said during an online lecture on Monday that China should uphold the dynamic zero-COVID strategy in the foreseeable future given how the Omicron variant is still rapidly mutating. Lu said the newly discovered XE variant has the potential to be more transmissible and lead to another wave of outbreaks.
Given how the Omicron variant mostly targets the upper airway, Lu said it is important to develop nasal sprays and inhaled vaccines that can protect this part of the body.