300 mainland medical workers arrive to assist HK
Share - WeChat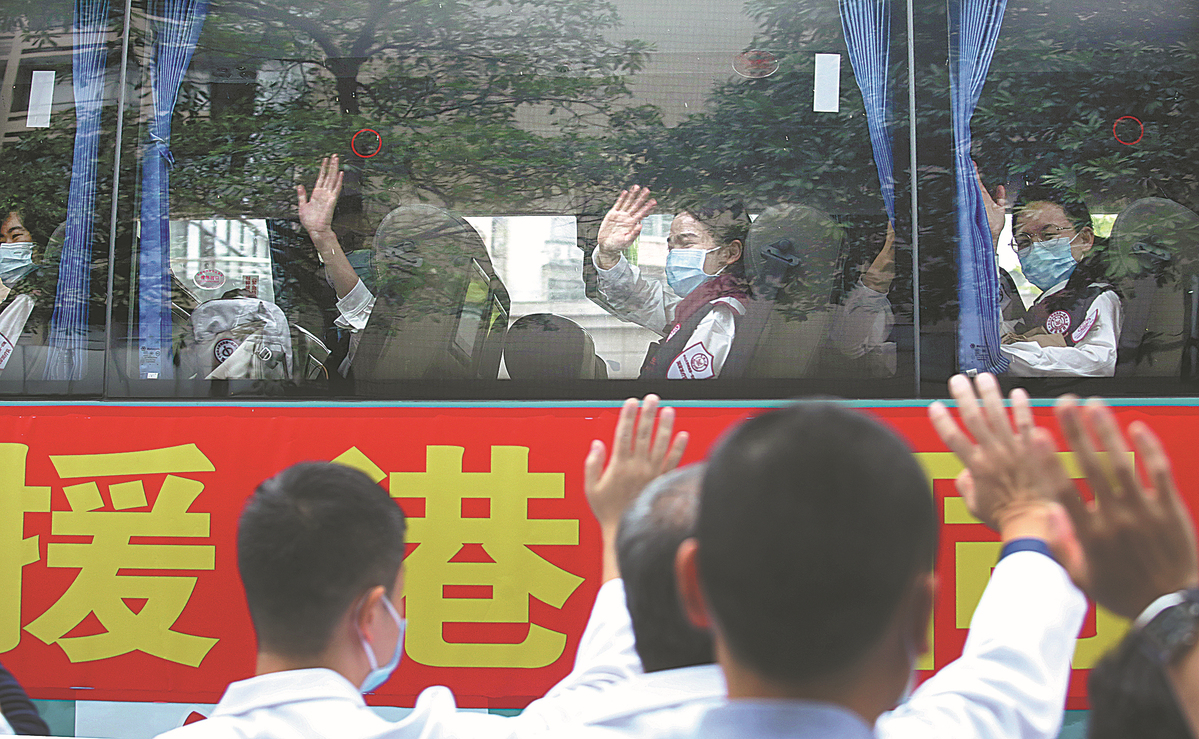 A 300-strong team of medical workers from the Chinese mainland arrived in Hong Kong on Wednesday, while a first batch of 75, who arrived earlier, will begin work in a day or two to help take care of patients with mild symptoms.
Hong Kong Chief Executive Carrie Lam Cheng Yuet-ngor expressed her heartfelt gratitude when she welcomed the new arrivals at the Liantang/Heung Yuen Wai Boundary Control Point.
Lam said she was deeply touched by the devotion of the mainland medical workers, who left their jobs to support Hong Kong when the city was in need of help.
Over 20 percent of the 80,000 staff members at public hospitals in the city have contracted the novel coronavirus that causes COVID-19, she said. Half of them have recovered and returned to their posts, but Hong Kong is still in dire need of medical workers to treat patients in severe condition, Lam said.
She also thanked the central government for its support and guidance, saying Hong Kong will surely win the pandemic battle and resume cross-boundary travel with support from the central government and the full cooperation rendered by Guangdong province and the neighboring city of Shenzhen.
The 300 medical workers, sent from 22 public hospitals in the Guangdong cities of Guangzhou and Foshan, comprised 46 doctors, 246 nurses, six radiographers and two managers. Fluent in English and Cantonese, most of them have participated in anti-pandemic work.
Zhang Zhongde, vice-president of the Guangdong Hospital of Traditional Chinese Medicine in Guangzhou, Guangdong's provincial capital, is the leader of the team. It is the 11th time that Zhang, who has 33 years of experience in treating severe cases of respiratory disease, has gone to the front line to combat the pandemic.
The mainland medical workers will assist Hong Kong counterparts taking care of patients with mild symptoms at the city's AsiaWorld-Expo community treatment facility.
The first group of 75 mainland medical workers-36 doctors and 39 nurses-arrived in the city on Monday and have visited the facility to familiarize themselves with its processes.
At a news conference on Wednesday morning, Hong Kong Secretary for Food and Health Sophia Chan Siu-chee expressed gratitude for the mainland medical workers, saying their involvement will not only relieve the manpower shortage in the city, but also bring valuable experience in treating COVID-19.
Hong Kong reported 29,272 positive COVID-19 cases and 278 related deaths on Wednesday.
Speaking at the same news conference, Lam said judging from the number of infections in the past month, the outbreak reached its climax when around 76,000 infections were recorded on March 3. Since March 11, the number of infections has remained at around 30,000.
"This is not the time for relaxation, or being complacent, as HK's pandemic is not going to improve in the short term," Lam said.
Starting Thursday, beaches managed by the government will be closed following a spike in the number of residents visiting them.
Lam also revealed that over 184,300 people reported being infected from Feb 26 to March 5 after testing positive with rapid antigen tests. The cases were logged on a self-declaration platform launched on March 7.
The Hong Kong Special Administrative Region government will continue to boost vaccinations among the elderly and children.
Only 55 percent of children aged 3 to 11 have been vaccinated, as opposed to over 90 percent of secondary school students. If schools for children aged 3 to 11 are to resume classes after the Easter holiday, their students will have to get vaccinated, Lam said.