Innovative ensembles adapt to life during the pandemic
Share - WeChat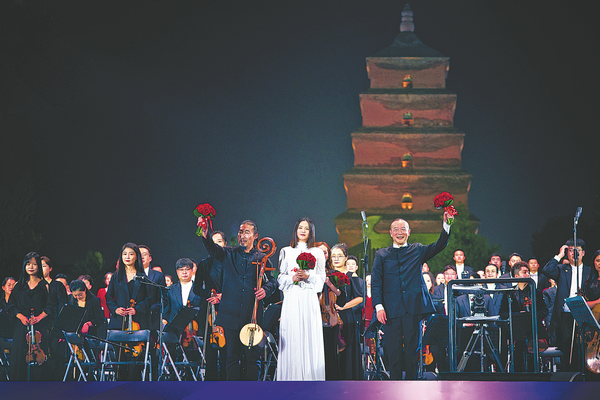 On Dec 31 and Jan 1, Lam led the orchestra in an online concert that featured Beethoven's Ode to Joy from the composer's ninth symphony-one of three online performances on the two days.
Guo said members of the orchestra also served as volunteers during the city's lockdown, taking shifts day and night to deliver daily necessities to residents in communities.
On Jan 25, the orchestra announced its performance season for this year, with the theme "Under the Same Sky".
"It is our tenth season and also our first since the lockdown, which is very special for all of us," Guo said, adding that 15 concerts are scheduled, featuring veteran conductors such as Tan Dun, Lin Daye and Huang Yi, and soloists including classical guitarist Yang Xuefei, pianist Zuo Zhang and violinist Gao Can.
"Now, our lives return to normal and we will resume our concerts," Gao said.
On Feb 3, the orchestra and its chorus gave a virtual concert, attracting audiences to outdoor venues in Xi'an during Spring Festival.
Musicians performed at Xi'an Qinling Wildlife Zoo and at Jingzhuang Resort, home to Tang Dynasty-styled gardens.
With animals and natural scenery forming the backdrop, musicians performed works that included Once Upon a Time in the West by Italian composer Ennio Morricone, Carnival of the Animals by French composer Camille Saint-Saëns, and The Spring Festival Overture by China's Li Huanzhi.
Unlike the West, China is new to the classical music world, and is considered a significant market that holds the key to the genre's future.
Many Chinese children are studying instruments such as the piano, violin and cello, while local governments are investing in building new music halls. The public, especially younger audiences, are also showing keen interest in classical works.
An increasing number of orchestras are being formed, in addition to established ensembles such as the 140-year-old Shanghai Symphony Orchestra.
During the past eight years, rather than performing in concert halls, the Sichuan Liangshan Mountain Symphony Orchestra, based in the Daliangshan Mountain area of Liangshan Yi autonomous prefecture in Xichang, Sichuan province, has been routinely holding outdoor concerts, with the mountain as a backdrop.
Conductor and composer Tang Qingshi, the orchestra's president, has spent this time popularizing classical music among audiences in the Daliangshan area.
Chen Guangxian, director of China's Symphony Development Foundation, a nonprofit organization, said the number of symphony orchestras nationwide has grown considerably in recent years. In 2014, there were about 30 professional symphony orchestras in the country, but now there are more than 80.
"We often say that art changes life. A symphony orchestra provides not only entertainment for the public, but also plays an important role in art education," he said.
In 2016, Chen Guangxian founded the Suzhou Symphony Orchestra in Jiangsu province, gathering musicians from nearly 20 countries and regions, including China, the United Kingdom, Japan, South Korea and the US. Now, 70 percent of the orchestra's members are non-Chinese.
Suzhou has a rich history that boasts time-honored art forms such as ping tan, an ancient Chinese form of singing and storytelling that dates back 400 years, and Kunqu Opera, one of the oldest forms of Chinese opera, which is more than 600 years old.
"The orchestra has brought diversity to the city," Chen Guangxian added.
Most Popular