Innovative ensembles adapt to life during the pandemic
Share - WeChat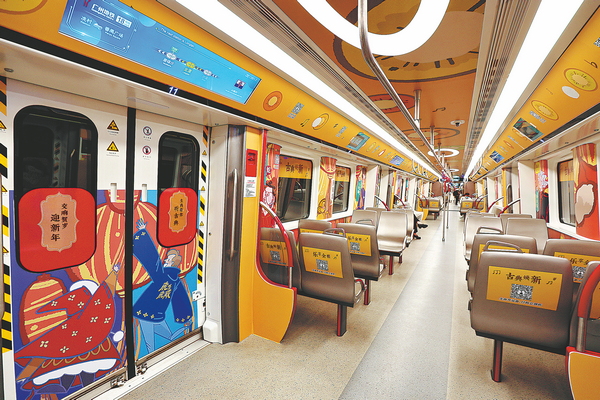 According to Chen, the Chinese zodiac design was adopted for the train to welcome the Chinese Lunar New Year, with 12 classical composers and their works chosen based on the zodiac cycle.
For example, one of the works offered to passengers is Concerto No.5 in E flat major, Op. 73, also known as The Emperor, by German composer Ludwig van Beethoven, who was born in 1770, the Year of the Tiger according to the Chinese zodiac. This version of the work is performed by the Guangzhou Symphony Orchestra under the baton of Yu Long, and featuring pianist Chen Sa.
Other pieces in the project include Piano Concerto No. 2 in F minor, Op. 21 by Polish composer Frederic Chopin, who was born in 1810, the Year of the Horse. This work is performed by the Guangzhou orchestra conducted by Grammy Award-winning John Nelson, with Yuja Wang the soloist.
There is also Symphony No. 5 by Austrian composer Gustav Mahler, born in 1860, the Year of the Monkey, which is performed by the orchestra under the baton of Huang Yi, and Voice of Spring Waltz by fellow Austrian Johann Strauss II, who was born in 1825, the Year of the Rooster, again performed by the orchestra, conducted by Zhang Guoyong.
Chen Qing said, "The aim is to bring classical music to people who would normally never have the opportunity to hear it in the concert hall."
Since the orchestra was formed in 1957, it has taken part in numerous recordings featuring top musicians from around the world, he added.
"We love to share our repertoire with the public. Whether they are going to work, back home or meeting up with friends, passengers can have a good time on the train. It is scientifically proven that classical music can be a powerful tool for relieving everyday stress. We hope that this project will make their day more relaxing," Chen Qing said.
Over 7 million passengers a day use Metro Line 18 in Guangzhou, and the collaboration between the orchestra and the subway operator will last for three years, he added.
More projects themed on classical music will be launched for the public, bringing the art form to a wider audience.
Most Popular