From Belgium, with love
Share - WeChat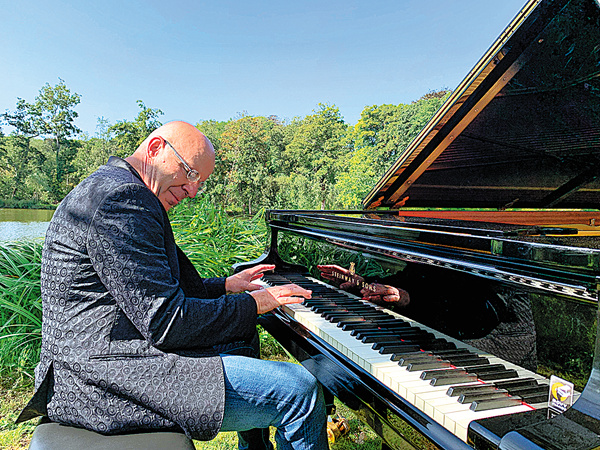 A new composition from pianist Jean-Francois Maljean expresses his best wishes in welcoming the Winter Olympics, Chen Nan reports.
Belgian self-confessed sports fan and pianist Jean-Francois Maljean has released a piano piece to commemorate the 2022 Beijing Winter Olympics, which kicked off with a grand opening ceremony held at the National Stadium on Feb 4.
Titled For Beijing Olympics, the piano piece, which is about 3 minutes, was commissioned by the Chinese embassy in Belgium, with the aim of celebrating Chinese New Year and to welcome the Winter Olympics.
"I loved the idea of composing a musical piece for this spectacular winter gathering. I am very glad that the Winter Olympics can happen, even when the situation (COVID-19 pandemic) is still a bit problematic. Congratulations to China for presenting this event," says the pianist, adding that he is a big fan of sports, such as running, swimming, football and table tennis.
He had planned to compose a song and English author Robert Murray, the pianist's friend, even started to write the lyrics about the Olympic Games. However, due to the short time, Maljean ended up just composing a piano piece, which was later released in the form of a music video featuring images of winter sports.
"I think that a piano piece works even better than a song. Since winter sports mainly give an impression of speed, I composed a mostly very fast piece, though there are some slower moments. And it works very well," says Maljean, 68, who recorded the piece at his own studio in Belgium.
Beijing is the first city to host both the Summer and Winter Olympics. In 2008, when Beijing held the Summer Olympics, Maljean recalls that he visited the capital and spent some time in China, where he was featured in a documentary for Belgian television. He traveled to many places in China, including Changchun in Jilin province, Guizhou province and Shanghai, and landed in Beijing to visit Olympic sites.
Born in Verviers, Belgium, Maljean started to learn the piano at age 6. At about 12, the classically trained pianist became interested in a diverse range of musical genres, especially pop music like that of The Beatles. He went to the United States to learn jazz at the Berklee College of Music in Boston and, when he returned to Belgium, the pianist, then 23, eventually launched a career as a professional musician.
Most Popular