Center stage
Share - WeChat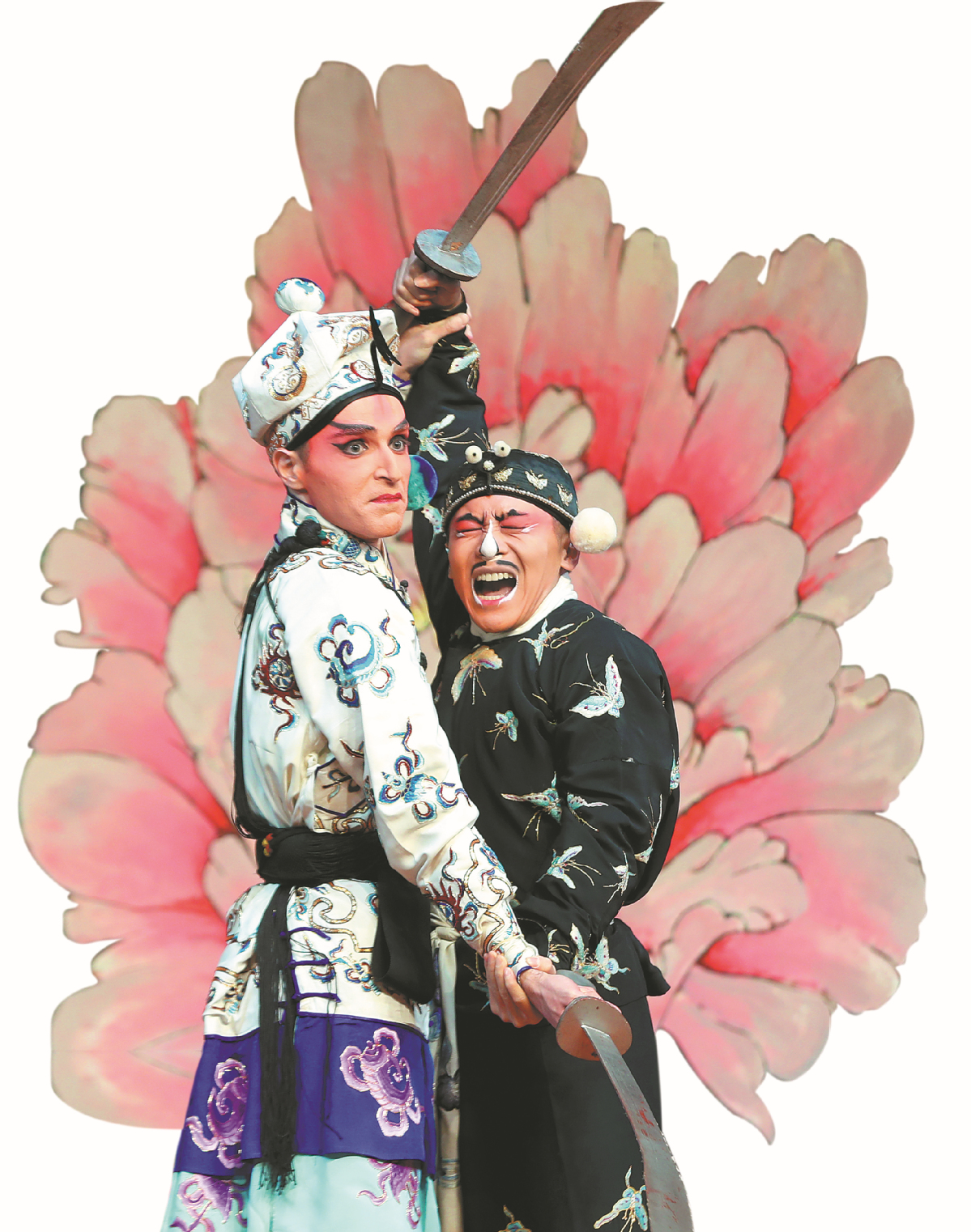 Editor's Note: Beijing is co-hosting the 2022 Winter Olympics and Paralympics with Zhangjiakou in Hebei province. From culture and cuisine to tourism and the arts, we take you to the attractions in these areas of North China for an unforgettable stay.
One minute of performance on stage requires 10 years of practice offstage. This old adage sums up the rigorous training required for Peking Opera, the vivid, highly stylized ancient Chinese art form with a history of more than 200 years, combining music, dance, drama, acrobatics and martial arts.
Peking Opera, also known as jingju in Chinese, was listed as an Intangible Cultural Heritage of Humanity by UNESCO in 2010.
In 1790, when four Hui Opera troupes visited Beijing as part of celebrations for the 80th birthday of the Emperor Qianlong (1711-99), they stayed in the south of the city. Hui Opera, or huiju, is a form of Peking Opera from Anhui province.
In about 1840, Peking Opera began to formally take shape, growing rapidly during the reign of Empress Dowager Cixi (1835-1908), a Chinese opera lover. The art form went from strength to strength, with troupes being formed in Beijing, Tianjin and Shanghai.
Peking Opera had its heyday in the 1920s and 1930s with star performers popularizing the art form across the country as well as abroad. One of the best-known Peking Opera masters is Mei Lanfang, a nandan performer (a man who plays female roles), who was the first major actor to present Peking Opera outside China. He toured the United States in 1930, visiting New York, Chicago and San Francisco. The tour lasted five weeks, rather than its originally scheduled two, due to the great acclaim he received.
Zhang Huoding, one of the most famous contemporary Peking Opera performers, caused a sensation in 2015 by performing the famous Peking Opera pieces, The Legend of the White Snake and The Jewelry Pouch, in New York.
In the summer of 2021, Nadim Diab, from Lebanon, who has lived and worked in Beijing for nearly 10 years, took part in a 100-day training program coordinated by professional Peking Opera actors and actresses, including 25-year-old Zhu Lingyu, who specializes in wusheng (male martial arts roles), and veteran actor Liu Dake, who specializes in hualian roles (literally translated as painted face, referring to actors playing male roles with striking looks and a high social position).
With a goal of performing in a Peking Opera at the end of his training to better experience and understand the ancient art form, Diab, along with Peking Opera actor Yu Huikang, performed an excerpt of the Peking Opera piece San Cha Kou, or At The Crossroads, which follows Ren Tanghui, a warrior escorting Jiao Zan, a Song Dynasty (960-1279) general, on his way to exile after Jiao is framed for a crime he didn't commit. Both Ren and Jiao spent the night at an inn owned by Liu Lihua, who mistakes Ren for an assassin set to murder Jiao. At the same time, Ren has a similar suspicion about Liu. The excerpt, which they performed on Dec 1, 2021, sees Diab play the role of Ren and Yu play the role of Liu, and features dazzling martial arts.
"Beauty and difficulty are two sides of the same coin in Peking Opera. Behind each peak you conquer in Peking Opera is an even taller mountain waiting to be tackled," Diab said after his performance at the Mei Lanfang Grand Theater in Beijing. "When people go to watch a Peking Opera show, they expect to witness a show like no other and they never walk away disappointed. Stellar performances are a guarantee in Peking Opera, but the behind-the-scenes workings are an untold story. The pain, the sacrifices, the long hours of daily practice and the constant pursuit to push one's physical and mental limits to the extreme."
The 32-year-old Diab, who came to China in 2012 to study for a master's degree in global business journalism at Tsinghua University in Beijing, had his first encounter with Peking Opera a few years back when he watched a workshop online that Mu Yuandi gave in the US in 2014. The Shanghai-based actor Mu specializes in the art of nandan. The nandan tradition was forged out of necessity. For much of its history in the old, feudal society, women were forbidden to perform Peking Opera.
"The sophisticated ancient art form is the essence of Chinese culture, which shows traditional Chinese values, such as loyalty, modesty and honesty. Even for professional performers, who spent years learning and practicing, the art form is much more than the primary appeal it appears to be, like brilliant costumes, the acrobatics and jaw-dropping skills," said Liu Dake. The 41-year-old was born and raised in Jilin city of Jilin province and trained to become a Peking Opera actor as a child by his parents, both professional Peking Opera performers.