Philippines sees GBA, RCEP as sound bets
Share - WeChat Editor's note: This is the second part in a series of China Daily interviews with the heads of consular missions based in Guangzhou, notably from the Association of Southeast Asian Nations. The envoys discuss ways to deepen cooperation in various fields between their countries and the Guangdong-Hong Kong-Macao Greater Bay Area.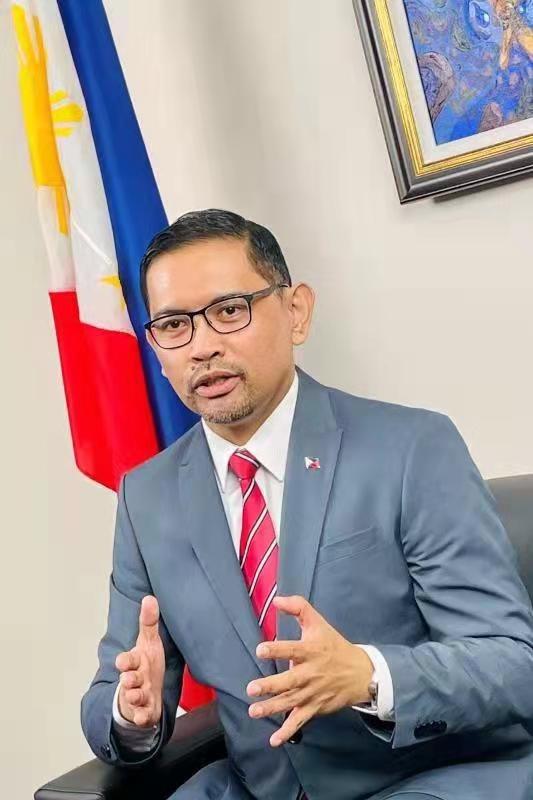 As the Philippines strives to boost national development through science and technology and sharpen its competitive edge in tourism, the Guangdong-Hong Kong-Macao Greater Bay Area comes as an important partner, given its technological advantages and massive consumer market, says Marshall Louis M. Alferez, consul general of the Philippines in Guangzhou.
There has been a lot of interaction and engagement between the Philippines and the Greater Bay Area, with 40 percent of the Philippines' trade with China passing through Guangdong province, and the Southeast Asian nation accounting for around 10 percent of Guangdong's trade with the Association of Southeast Asian Nations, he said.
"We have a good number of Filipino companies that are active and have investments in the Greater Bay Area ... Our food conglomerates are here. Our national air carriers are also active here ... We also have around 250,000 Filipino professionals and service workers in Guangdong, Hong Kong and Macao. They are world-class and can help contribute to the economic prosperity of the region," Alferez told China Daily in an interview.
"There are also certain Chinese firms within the region's jurisdiction that are doing extremely well in the Philippines. You have Tencent, Huawei, BYD and so on. They are very good examples of success stories of Chinese firms investing in the Philippines."
Alferez said the efforts by governments in the 11-city cluster to enhance connectivity and harmonize policies and regulations within the region are of great significance as it will make it easier for Filipino firms to tap into the Chinese market and create a favorable environment for smoother movement of trade, investment and talent between the Philippines and China.
However, the scope of cooperation between his country and the Greater Bay Area is far wider than trade and investment, he stressed.
The Philippines has been ramping up efforts to improve its technology and innovation ecosystem to foster higher quality and more sustainable economic growth. The drive has become even more significant amid the COVID-19 pandemic as the adoption of high-tech is crucial to effectively containing the coronavirus and hastening the country's recovery from the public health crisis. It also plays an important role in helping the Philippines meet its carbon emissions reduction target.
The Greater Bay Area has much to offer in terms of technology transfer, he said. "There is much to learn from southern China's advances in technology, particularly in new-energy vehicles, in artificial intelligence, in big data, computing and advanced manufacturing."
Alferez identified tourism as another area with plenty of room for cooperation, given the Greater Bay Area's massive consumer market of over 86 million people.