Table tennis squad still enjoying life at the top
Share - WeChat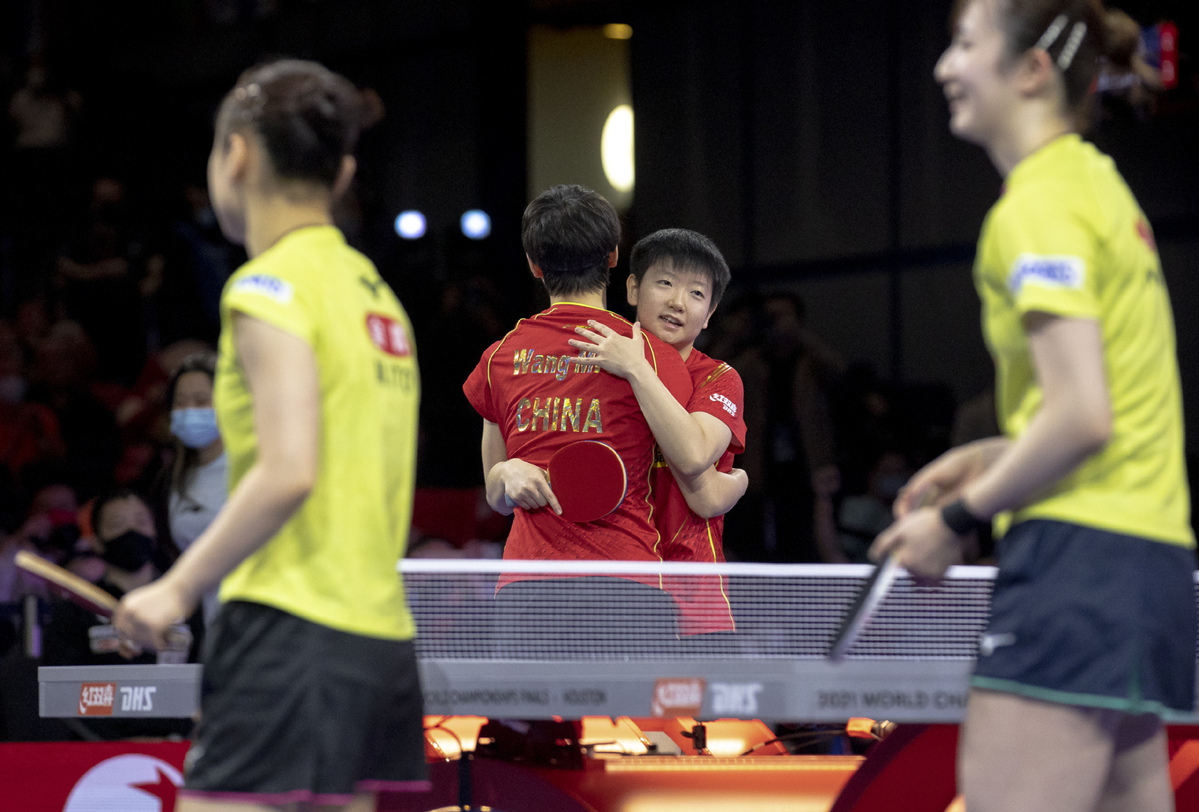 Growing challenges
Despite Team China's successful season last year, fast-emerging foreign talent, including Japanese sensations Mima Ito and Tomokazu Harimoto, are posing challenges for the Chinese players.
The best example of this is the defeat of Chinese pair Liu Shiwen and Xu Xin by Jun Mizutani and Ito in the mixed doubles final in Tokyo, which saw Japan claim its first-ever Olympic gold since the sport made its debut at the 1988 Games in Seoul.
Liu Guoliang, president of the Chinese Table Tennis Association, said: "No matter how strong Team China has been, looking back over our history there have been ups and downs. We would have six to eight years of dominance, and then there would be some downturns. This is normal.
"Since 2005, the Chinese men's team has been the dominant force, but more promising talent will increasingly emerge worldwide. We could experience another slump in form, but we are ready to face it.
"It's more important to know how to tackle such a challenge. We need to strengthen our youth training and our talent production system. Team China has many outstanding players, including those who rose to prominence quickly and those who worked and fought hard for their breakthroughs. They are all great examples for the next generation of Chinese players."
Ma, the veteran, also believes it's hard for the Chinese squad to constantly maintain its competitive edge.
"Compared with our foreign rivals, when we reach our peak, we might have some advantages. But when we think too much or face too much pressure, we will lose our advantage. We are lucky to have all the love, support and expectations, but that's because of the responsibilities on our shoulders," Ma said.
"Sometimes, when we have won many events and people have high expectations of us, we face pressure to improve ourselves-and this is a good thing. So we need to have communication with coaches and team leaders to help us adjust our mentality. Through talking with our families, teammates and friends, we find new perspectives.
"Another way to ease the pressure is through tough training. Our coach will intentionally create some difficulties for us, such as playing loud music during training sessions to test our concentration."
Still, the Chinese squad is admired by overseas rivals, including German player Timo Boll, who credits his battles with Chinese opponents for making him the player he is today.
"I wouldn't have become such a good player without the Chinese," the four-time Olympic medalist and former world No. 1, told Xinhua News Agency in a recent interview.
"They improve me so much. I'm always eager to play them. It doesn't matter if I win or lose-afterward I'm always a better player. If I take on Chinese players, I have to be prepared from the first ball, because you have to read the game very carefully," he said.
"You must be extremely sharp and you cannot afford to make simple mistakes. You have to be really on guard during a match."