RCEP - a trade boom on HK's doorstep
Share - WeChat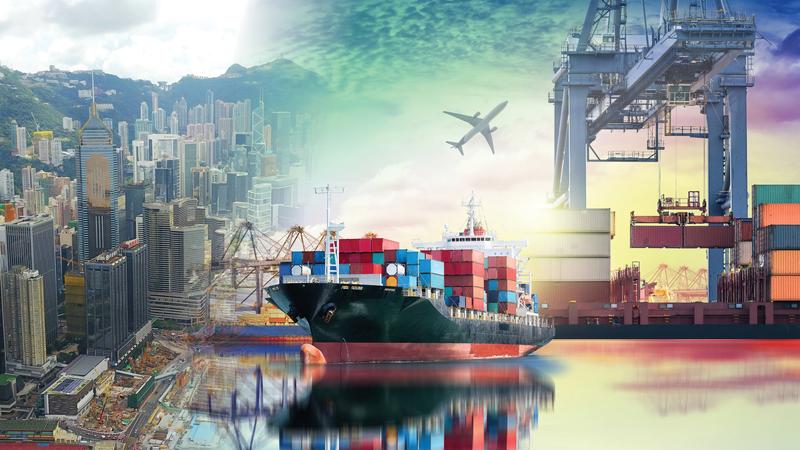 SAR is set to be a key staging ground for businesses trading within the world's largest free-trade bloc and beyond. Kapila Bandara reports from Hong Kong.
Multiple facets are coming into play within the emerging East Asian and Pacific nations trading bloc on the Hong Kong Special Administrative Region's doorstep, not just the bloc's central principle of lowering tariffs to importers, exporters, and economic sectors to achieve gradual trade liberalization over two decades.
Paths to diverse areas of cooperation are opening up for Hong Kong, an important global financial center of the Chinese mainland.
The Regional Comprehensive Economic Partnership, which fuses together 15 Asia-Pacific member nations, including Asia's biggest economies, came into force on Jan 1, forming by far the world's biggest trade pact as estimated by economic output. RCEP will cover around a third of the world's gross domestic product.
Hong Kong is knocking on the door of the bloc that promises blockbuster trade, and the SAR, with a services clout to match, would become an essential staging ground for companies trading within the grouping and beyond.
Nicholas Kwan Ka-Ming, research director of the Hong Kong Trade Development Council, said there are two schools of thought about the RCEP among businesspeople.
"One is that it's a big development and the earlier the better and there is huge potential and so on. The second view is one of skepticism. First, people may question what free trade agreements can do — there are so many of these and to what extent can one prove that the RCEP works. One other thing is that Hong Kong is not a member yet. So, it's good but we are not in it. Then, we may be missing the boat," he said.
Kwan, who has helmed an excellent research team sought by diplomats and trade commissioners, contends that free-trade agreements need to be clarified.
"Most perceive that FTAs are only about trade and merchandise trade. That's not so in the sense we don't really have pure free-trade agreements. Most FTAs are, in substance, more than about merchandise trade. It's not just trade in goods, but also economic cooperation, technical assistance and trade in services. This is the most important differentiator — Hong Kong is 90-plus-percent service-oriented. We don't produce many products. Most free trade agreements deal with tariffs. But if we do not have a 'Made in Hong Kong' product, whatever there is, it does not matter,'' he explained.
More than tariffs
"Most, I think, are indifferent to FTAs. They may feel that FTAs are only about tariff reductions. For Hong Kong, tariffs are important, but also the difficult part. We are a free port with zero tariffs. If they focus on tariffs, they will say that you already offer the best, why should we give you anything. We encounter these kinds of questions when we start to negotiate a few FTAs, including those in ASEAN (the Association of Southeast Asian Nations). ASEAN parties ask, 'What more can you offer them than what they already get from us?'.
"We have to focus not just on tariffs. Merchandise trade has to expand into trade facilitation, such as customs arrangements, logistics and so on. All these are merchandise trade-related. It's not just tariffs.''
The second-most important factor for Hong Kong is services, said Kwan.
"What interests our counterparties most in dealing with Hong Kong is to make use of our services platform. To that extent, it's not just between Hong Kong and the Chinese mainland, but also between Hong Kong and the rest of Asia. We stand out in terms of our efficiency, the systems, mostly the typical commercial services that we can offer to our counterparties.''
Hong Kong's financial services sector alone accounts for 21.3 percent of the city's economic output.
"Finance is an obvious one. Many of those interested in dealing with us under an FTA want to know to what extent they can use our financial system, IPOs or just raising funds. Or, they want to join our platform, or want to use our financial platform. In both cases, this is the most important part,'' he said.
"In terms of the RCEP, that is one key part. Some say that within the RCEP, there is Singapore, which is a regional and, to some extent, an international financial center. One would imagine Singapore would not like Hong Kong to join. This could be. But I do not think they see themselves competing in this way.
"All leading financial centers in the world and in the region have in one way or another specialized in different areas. Between Hong Kong and Singapore, there are areas in which Singapore would like to use Hong Kong rather than develop them themselves, such as any China-related financing, IPOs and financial schemes, such as the stock connect, bond connect, and, maybe later, an insurance connect. All these are unlikely to be easily duplicated elsewhere."
Of course, different sectors have different advantages, such as finance and logistics, said Kwan.
"Some say the port is becoming less important and that even the airport is facing competition from neighboring airports. Competition is one thing, but the services we offer are unique.
"There are also complaints that Hong Kong is very expensive. Sending a container out of Hong Kong is more expensive than from any nearby port. But the reason that businesses spend money to use this expensive service is they see the cost benefits. Value for money. No one forces them to use the port unless they see the benefits. Instead of simply looking at how expensive we are, one can look at it the other way round and say this is proof that we have something special to offer — convenience, efficiency, certainty — and a commitment made will be delivered. These make a difference.''
Integration trend
Hong Kong International Airport is globally certified to handle most sensitive and delicate goods, such as cold chain goods. "Business needs certified facilities sometimes,'' Kwan emphasized.
HKIA is the first facility in the world to be certified to handle perishables, and is also a partner of the International Air Transport Association's Center of Excellence for Independent Validators in Pharmaceutical Logistics.
"We have a set of services, ranging from logistics and finance to other commercial professional services essential for mostly regional and international operations. These are the advantages we can offer,'' Kwan said.
"Trade agreements underline the commitments of member countries to integrate further. That commitment itself is very important. In the short term, it may not make too much of a difference because many of the measures under the RCEP will take time to realize. Some measures will take 20 years. But, in the long run, the trend of closer regional integration has been set.
"For big companies positioning for the long term, say, 10 years, they will have to move early. Those that need different types of professional services, you may see them move well before Hong Kong files the application (for accession).''
In November 2019, Hong Kong concluded text-based negotiations with the RCEP and has since reiterated interest in joining the bloc.
"My sense is that from now, more and more companies will prepare for whatever the advantages they see in using Hong Kong's services,'' Kwan predicted.
Ada Leung Suk-ping, director of the Association of Chartered Certified Accountants China, sees significant opportunities.
"Hong Kong is an important trading hub for the RCEP, as well as between the Chinese mainland and the world. This is particularly true for companies in the GBA (Guangdong-Hong Kong-Macao Greater Bay Area) that can use Hong Kong as a super-connector to 'go global'. A strengthened supply chain relationship between RCEP members not only helps external trade, but also benefits Hong Kong. Although Hong Kong is not yet a member of the RCEP, it will continue to play a defining role in promoting intra-regional trade between the Chinese mainland and other RCEP members, in particular,'' Leung said.
"Hong Kong exported products worth $359.6 billion to the RCEP member nations last year, accounting for 71 percent of the city's total exports, with 75 percent of imports valued at $408.1 billion from the trade grouping. Exports to the RCEP member countries are largely re-exports (98.9 percent of total exports in 2020). The Chinese mainland and ASEAN are the two major sources of these exports, accounting for 43.6 percent and 12 percent, respectively. Hong Kong will continue to be an important trading platform for promoting the RCEP's intra-regional trade.''
Leung said that with the further integration of the supply chains of RCEP members, Hong Kong can expect to handle more intra-regional trade.