Recreating makeup of a Tang imperial concubine
Share - WeChat Peaches color the cheeks; eyebrows on fleek. A golden bird pinned; a jade hairpin waving in the wind. With the veteran skills of makeup artist Sun Aina, the peerless Tang Dynasty (618-907) imperial concubine returns to the modern era in the dance drama Li Bai.
What are the features of makeup for a Tang Dynasty imperial concubine? How do you make it appealing to modern audiences as well? What are the differences in makeup styles for stage performances and TV productions? What are the inspirations for makeup of the imperial concubine in the dance drama Li Bai?
Let's journey through the art of makeup and witness the recreation of the glamorous ancient beauty in dance drama Li Bai.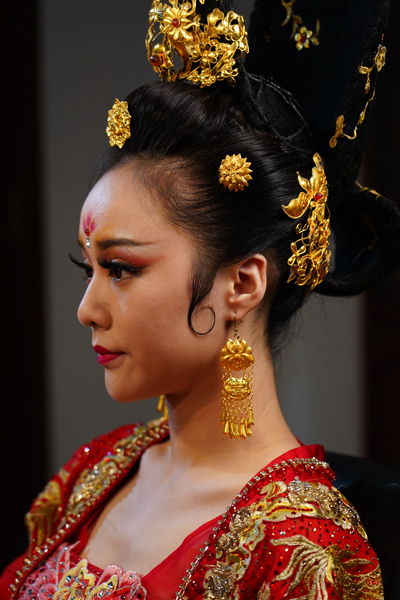 Watch the video series first on:
YouTube: http://www.youtube.com/cnoddt
Facebook: http://www.facebook.com/CNODDT
Related:
Opera singer Wang Yifeng: Your own culture takes you further
Reviving poet Li Bai with makeup artist Sun Aina
Erhu musician Li Ting: Music brings people closer
Costume designer Yang Donglin: We wear culture
Dancer Wang Jiaxin: Dancing is part of my life
Top percussionist Wang Jianan shares his views on music
Most Popular