Cultural capital
Share - WeChat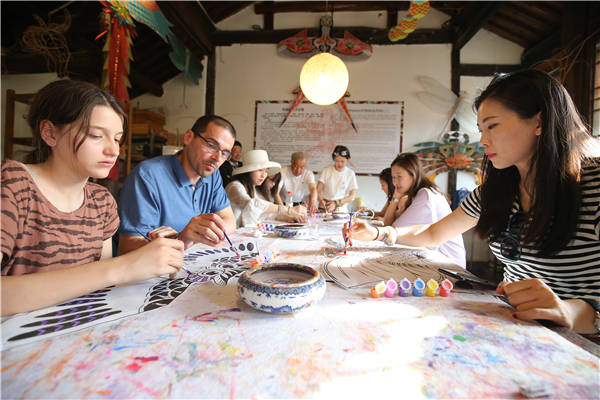 Beijing authorities have accredited 16 attractions in the city as destinations with outstanding folk appeal, Yang Feiyue reports.
The Beijing Municipal Bureau of Culture and Tourism designated 16 destinations in the capital as cultural-tourism models in late December.
They were selected according to their vitality, innovation and market influence. The move is intended to integrate Beijing's cultural resources with tourism demand, and offer diverse and customized travel experiences.
A total of 100 such models in the capital will be accredited in the future, according to the bureau.
The first 16 reflect Beijing's ancient and modern development, culture and customs.
Beijing Enamel Factory, Dongcheng district
Professional enamel artists guide visitors through the factory's workshops to fully experience the medium at the country's first cloisonne museum. A tour of the factory helps visitors to better understand the historical context, geographical influences and techniques behind cloisonne. Visitors can also make their own cloisonne under professional guidance.
Beijing Fenglei Peking Opera Co, Xicheng district
Peking Opera professionals walk tourists through the history of the genre and the troupe, and help them understand such dimensions of the opera as musical instruments. Classic repertoires are performed. In the last session, visitors are invited onstage to interact with actors and learn certain movements and opera singing. They can also put on Peking Opera costumes and makeup.
Yongning town, Yanqing district
Travelers can join guided tours of the town founded in the Tang Dynasty (618-907). They can learn about its rich farming and nomadic culture and history, and food and customs, while taking in the architecture featuring elements from the Ming (1368-1644) and Qing (1644-1911) dynasties. The resort has signed agreements with 40 folk artists who practice over 20 art forms, including ceramics, pyrography, straw braiding, leather carving and paper-cutting. Visitors can learn about local intangible heritage's history and techniques, and make folk items under artisans' guidance.
Beijing Wtown, Miyun district
The water town stands in the shadow of the Simatai Great Wall and boasts picturesque mountain and water views, and traditional-style quadrangular courtyards built on mountain slopes. One can enjoy folk-custom experiences at Beijing Wtown, including stilt walking, dragon dances and folk acrobatics. The town offers old-fashioned liquor brewing, tie-dyeing, Chinese shadow puppetry, and kite-and lantern-making experiences. It also hosts standup comedy, Peking Opera and drone light shows.
Most Popular