Transnational effort urged to curb internet drug crimes
Share - WeChat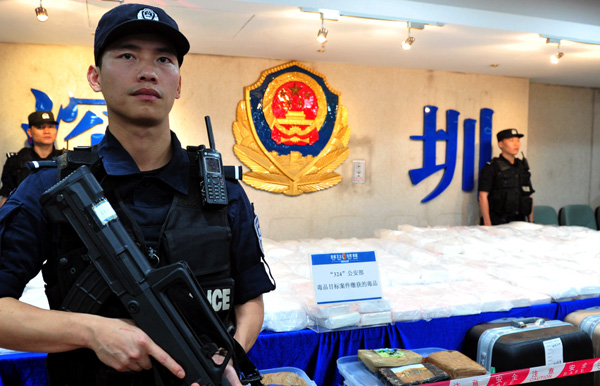 More transnational cooperation is required to curb internet drug crimes that make use of information technology to solicit clients and facilitate payments and deliveries, a report on international drug control said.
The Annual Report on International Drug Control (2021), issued recently by the Shanghai Academy, Shanghai University and Social Sciences Academic Press (China), focused on the global drug problem and tracked the latest anti-drug trends.
It said the continuous development of information technology and the use of big data have brought convenience to people's lives but have also helped facilitate internet drug crimes, presenting law enforcement departments around the world with new challenges.
Drug traffickers can hide their identities when selling drugs via the internet, communicate with each other using codes, use digital currencies when arranging payments, and hire middlemen using fake names to traffic drugs online and make deliveries, it said.
It is difficult for anti-drug law enforcement departments to identify those behind such activities, the report said.
Internet drug crimes are becoming borderless, it said. Unlike traditional drug crimes, which are confined to fixed regions, internet technology has allowed drug dealers to operate across regions and borders. The online drug trade also reduces drug dealers' risks of investigation and their costs, resulting in drugs becoming cheaper.
Online drug crimes make it more difficult for law enforcement authorities to collect evidence, because related posts and chat records can be deleted in an instant.
The cooperation among law enforcement departments from different countries that is required to effectively combat transnational and trans-regional internet drug crimes can also be hindered by lags in the acquisition of intelligence, increasing the difficulty of obtaining evidence, it said.
Countries around the world have realized that it is impossible to effectively control internet drug crimes by relying on one country alone, and transnational cooperation in drug control must be strengthened, it said.
According to The Drug Situation in China (2020), a report issued by the China National Narcotics Control Commission in July, both traditional and synthetic drugs entered China last year from the Golden Triangle region, where Thailand, Laos and Myanmar meet, with the vast majority of drugs in China coming from the region.
Chinese police seized 6.3 metric tons of heroin and opium from the region last year, accounting for 96.2 percent of the amount seized in the country, and 18.8 tons of methamphetamine and ketamine, 83.1 percent of total seizures of those drugs.
The international drug control report suggested that the countries in the Lancang-Mekong River Basin-China, Myanmar, Laos, Vietnam, Cambodia and Thailand-use big data and artificial intelligence to improve their drug control capacity and launch targeted drug control operations.
Countries in the basin also need to enhance legislative cooperation and take into account the characteristics of cross-border drug crimes to reduce conflicts in the application of laws that could hinder cooperation, it said.
Cooperation among different domestic law enforcement departments is also needed, it said. Based on the resources and technologies available to different departments, anti-drug law enforcement departments should improve the accuracy and effectiveness of intelligence collection related to internet drug crimes.
Strengthening oversight of cyberspace, the application of high-tech measures and improving the technical level of law enforcement personnel would also help curb internet drug crimes, it said.