Language therapist gives voice to deaf children
Share - WeChat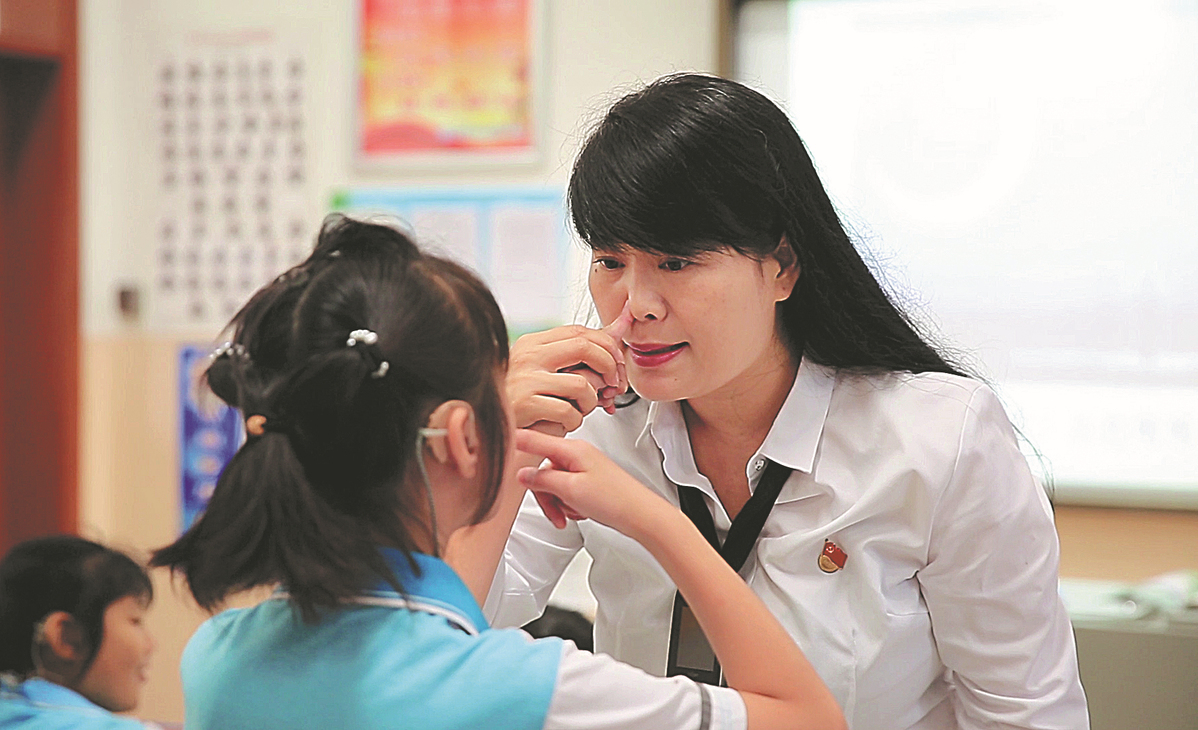 GUIYANG-For most parents, the moment when their child utters the first recognizable word is a moment of great excitement. The same is true for Zhao Xiaoping, except that he has enjoyed the pleasure many times, and his children come in groups and are aged between 3 and 10.
As a speech and language therapist and founder of the Angel Speech Rehabilitation Center in Kaili, a city in Southwest China's Guizhou province, Zhao's job is to help hearing-impaired students distinguish sounds and speak their first words.
Without professional training, the children are unable to produce any sounds except for laughing and crying, even though they wear hearing aids or cochlear implants.
"They need a lot of guidance and training, such as how to expel air from the mouth and modify the position of the tongue and lips," Zhao said. "After a year of rehabilitation, they can communicate with others using simple words."
However, teaching the hearing-impaired to say a few simple words is not a simple task. A child may have to engage in hundreds or even thousands of repetitions before they can correctly produce a word or phrase.
In a classroom at the center, Zhao, 51, takes out his special teaching aids-bells, drums and wooden blocks-to help children distinguish different sounds.
Another important element of speech and language therapy is to teach them to correctly expel a current of air from the mouth. Zhao puts a piece of paper in front of the child's mouth, asking them to observe the effect as air is expelled.
Two decades into his career, Zhao has helped more than 600 hearing-impaired children to improve their communication skills.
Li Shaoqiu, 23, was one of Zhao's first students. Now married and a mother, she has no problem communicating with others in daily life.
"Mr Zhao taught me speak my first word," she said. "I'm so grateful to him."
Liang Jiaxin, an 11-year-old with hearing loss, had never thought about attending mainstream schools, nor did it occur to her that she would become a straight-A student.
"It was Zhao who saved our family," said Jiaxin's mother, Liang Zhiliu. "He is patient and responsible, and he treats the students like his own children."
Zhao says bringing about a change in people's mindsets is more important than rehabilitation. A few years ago, people in Guizhou's Qiandongnan Miao and Dong autonomous prefecture lagged behind economically and in terms of awareness. Some parents of hearing-impaired children declined to send them for treatment, which caused them to miss the best period for rehabilitation.
"In fact, most children with hearing impairment can speak after training," Zhao said.
To make parents understand that fact, he often knocked on their doors to persuade them to change their minds.
"The situation has improved a lot," he said. In recent years, many parents have been willing to send their children to his rehabilitation center, which is home to more than 80 children and 16 speech and language therapists.
According to the provincial branch of the China Disabled Persons' Federation, there are more than 3,600 hearing-impaired children under the age of 15 in the province and 12 rehabilitation centers.
Zhao said he hopes the voices of the children and their therapists can be heard by more people.
"Family cooperation is as important as rehabilitation courses for hearing-impaired children," he said. "Parents should create a language-learning environment and spend more time communicating with their kids, thus increasing their interest in speaking and boosting their morale."