Parcel boom helps man rise from courier to captain
Share - WeChat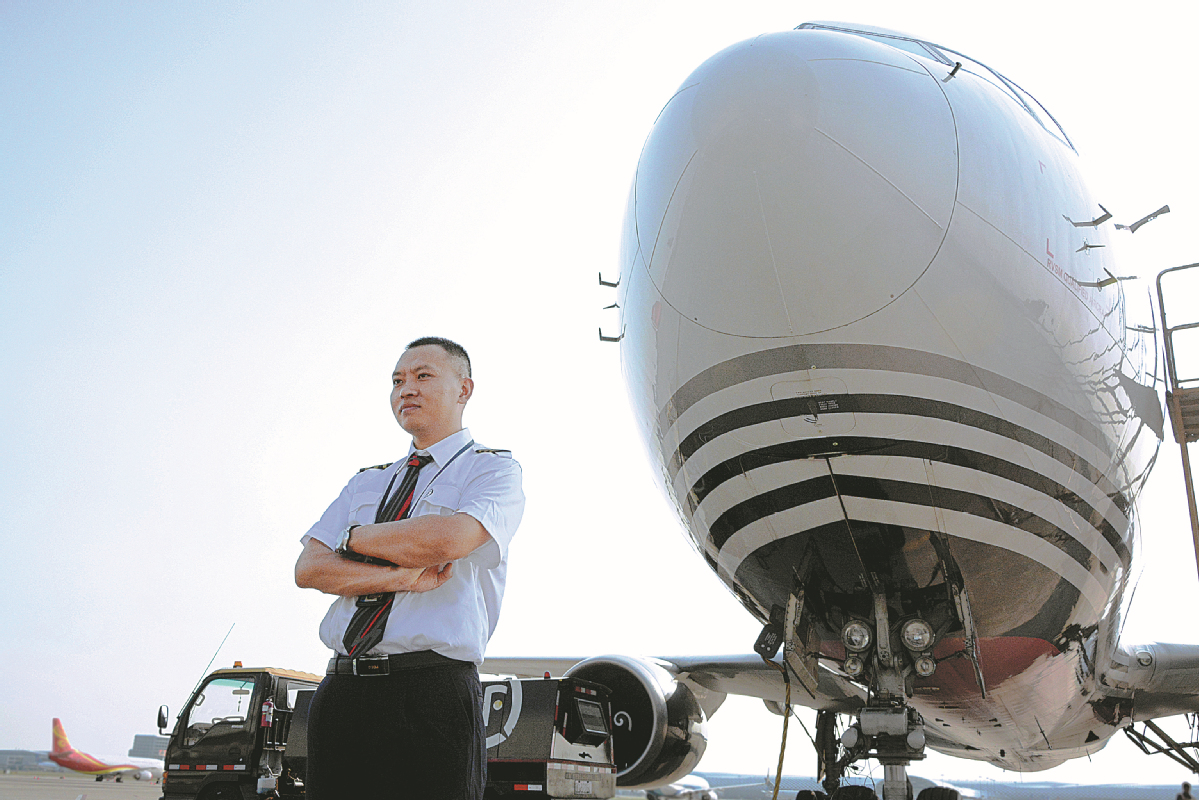 Delivery pilot's career has taken off, inspiring family, friends and workers nationwide to emulate his success
How long does it take colleagues to forget a former co-worker? A week? A month? At most, maybe a year?
Zhao Lijie left his first job 14 years ago, yet his story lives on and continues to inspire workers everywhere.
The now 39-year-old began his career as a courier in Langfang, Hebei province, delivering parcels across the city between 2005 and 2007, first by bicycle and later by electric bike. From this simple beginning, his career reached new heights, paralleling the skyrocketing development of China's parcel delivery business.
Today, Zhao is a cargo pilot for a logistics company and delivers parcels across the entire country.
Graduating with a computer science degree from the North China Institute of Aerospace Engineering in Langfang in 2005, Zhao found it difficult to find a related job. So he signed up for a logistics course and began to learn about the nascent sector, developing an interest.
"I was young and thought I had to challenge myself, so right from the start, I set out to get to know the whole business," he recalled, adding that even then, he saw the sector's potential.
The summer after college, he got a job with SF Express and became a courier in downtown Langfang, working at what was the company's first parcel station in the city. At the time, the private parcel delivery business was new to the country, and its future was uncertain.
In 2005, most people went to post offices to send parcels and were not familiar with other options, like services provided by private delivery companies. "Most couriers we hired were middle school graduates. Applicants with high school diplomas were rare, let alone college graduates," said Wang Shuxin, Zhao's mentor and head of the Langfang division. Indeed, Zhao was the only one of his colleagues to have a college degree.
Besides collecting and delivering parcels, part of Zhao's duties was to attract customers. This was the most challenging part of the job for the newcomer, and he soon learned to accept being turned down gracefully.
His break came in 2007, when SF Express launched a recruitment drive for aviation trainees from among its employees.
At first, Zhao did not feel confident about signing up, but Wang encouraged him to try. "The worst scenario is that you'll continue to work at the post you have now," Wang said by way of encouragement.
After passing an English test and two physical examinations, Zhao became a trainee pilot that same year.
Being prepared
The recruitment drive was announced on such short notice, Zhao barely had time to prepare.
He'd liked English at school, and although he didn't use it at work, he bought English-language newspapers from time to time to keep practicing.
He had a hazy idea that it might prove useful someday, but without knowing when or how.
Wang remembered Zhao frequently studying. "Young couriers generally like to read novels during their breaks. Zhao had a book, and I thought it was also a novel, but one day, I saw that it was actually Family Album USA (a popular English language and culture textbook at the time)," he said.
Wang also remembered coming across Zhao reading in malls between deliveries. "Back then, there were fewer parcels, and couriers took breaks when they were free. Zhao always had a book-not just for his own amusement, but to keep learning," he said.
Zhao said: "Opportunities are for the prepared. If I was unprepared, I would not have been able to seize the opportunity when it came."
He added that he was lucky enough to be able to keep up with his hobbies-practicing English and exercise-even though they were unrelated to his job. "When an opportunity knocks, all kinds of skills could prove useful."
Bearing hardship
When Zhao started as a trainee pilot in 2007, he was 25 years old. He considered the two years he'd worked as a courier as important experience, teaching him to deal with hardship and to be persistent and honest.
He trained at the Civil Aviation Flight University of China for about three years and had to pass four examinations in order to graduate. Zhao was under a lot of pressure.
"I thought about operation procedures all the time. I ran through every movement and every action in my mind while on the ground to make sure I remembered and would be able to fly without having to think twice," he said.
Zhao had not always been such a good student. He briefly dropped out of middle school because he did not enjoy it, and for two months, he followed his father, a long-distance trucker, on his trips. The experience taught him much about the hard realities of life.
Regretting his decision, he returned to school and became a hardworking student.
Wang has worked at the SF Express Langfang office for 17 years. He has had seven apprentice couriers but said that Zhao is still the best.
"I am so proud of him. I've told generations of couriers about him and his legend lives on," the 52-year-old said, adding that Zhao has inspired many to follow in his path.
"His success was thanks to the boom in the industry and to the company for providing such a great opportunity to young workers. And of course, it took a hardworking attitude, talent and skill to be chosen in the first place," Wang said. "I never thought he could become a pilot, nor that the company could grow so fast."
Zhao has become a source of family pride and a model, and at gatherings, relatives are always telling the younger generation to learn from him.
Work-life balance
At the time most parents are tucking their children in at night, Zhao, who has two sons, is leaving for work and has missed telling them many bedtime stories. He usually leaves at around 10 pm, flies cargo through the night and returns to a hotel in the morning.
He has been working this schedule for 11 years. The Hebei native is now settled in Shenzhen, Guangdong province. His wife, a former full-time teacher, quit her job to become a full-time mother to support the family. When he's off duty, he likes to spend time with his boys, aged 3 and 8. "The younger one prefers my company over his mother's," he said.
The parcel delivery business has boomed, especially during the last decade. China's first parcel was delivered in 1980, but after four decades of development, 83.3 billion were handled last year. For seven consecutive years, the country has topped the charts for the largest volume of parcels handled in the world.
"China is the world's fastest growing and most dynamic emerging market for parcel delivery. The number of packages received and delivered exceeds the total number of parcels handled in the United States, Japan and Europe," Ma Junsheng, head of the State Post Bureau of China, the industry regulator, said during the Fourth China International Express Delivery Conference in June, adding that the development of China's infrastructure has contributed to growth.
Today, a comprehensive transportation network spanning air, rail and road is convenient for parcels to be delivered to almost everywhere in the country.
SF Airlines, a subsidiary of SF Express, has a fleet of 67 cargo airplanes, the largest such fleet in the country. Its network covers more than 80 destinations at home and abroad and employs 560 pilots, 240 of whom are captains. Their average age is 34.