Writer's reputation lives on 85 years after death
Share - WeChat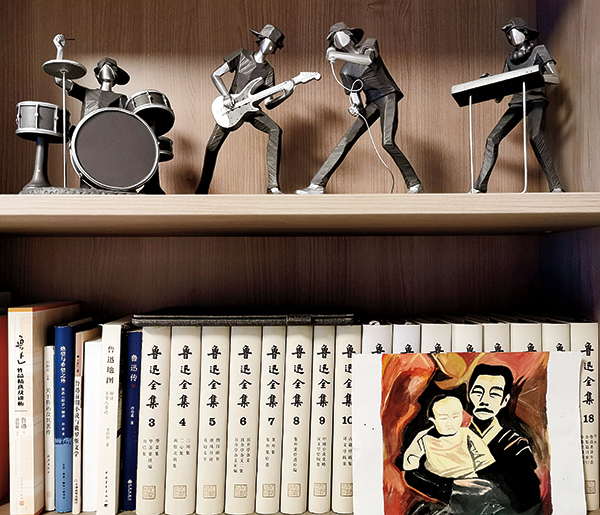 In the days before he died in October 1936, Lu Xun, regarded by many as the father of modern Chinese literature, continued to work despite being seriously ill.
But unlike his work during the previous two decades, when he mainly wrote to raise awareness of the need for a better China, in one of his last pieces, This is Also Life, he recorded his feelings after recovering from a dangerous illness.
"The lamplight in the street shines through the window, dimly illuminating the room. I take a glance around, the familiar walls, their edges, the familiar stacks of books, the unbound picture album, the night going on outside, the world far away, and millions of people. I can relate to them all."
Many Chinese still love to quote the last part of that passage.
Lu's essays and short stories are selected for textbooks, but primary and middle school students, many of whom are unable to understand the essential ideas of his work, are often required to recite entire passages written about a century ago in a style they find challenging.
However, 140 years after his birth, Lu's name often features on social media platforms, as people love quoting him-falsely in numerous cases.
As a result, the Lu Xun Museum in Beijing created a search engine to help readers verify Lu's quotes, which have become a hot topic on Sina Weibo.
Photographs of the writer and quotes falsely attributed to him have been used as humorous stickers on WeChat.
On the Taobao shopping platform, an image of Lu in the television series The Age of Awakening, which aired in February, has been so popular that 16 pages of related cultural creative products are available including badges, keyrings, bookmarks, cutouts, stickers and T-shirts.
Born on Sept 25, 1881, Lu resonates with young people in different ways.
In late February last year, Wu Yifan, who at the time was a 21-year-old finance student at Peking University, posted a video of a rap song he wrote based on 16 prose poems from Lu's Wild Grass collection. The song soon became a hit on the Bilibili short-video platform.
Wu spent Spring Festival last year in his hometown of Shihezi, Xinjiang Uygur autonomous region. He became bored with being cooped up indoors, so he started rereading Wild Grass, which he had read many times since leaving middle school.
"I had previously reread my favorite passages, paying a lot of attention to the language and writing style. However, last year, after reading the entire collection, I noticed the general tone was anguished. I could sense Lu's disappointment and despair, which I hadn't felt so profoundly before," said Wu, now a graduate student at Fudan University in Shanghai.
When Lu wrote the poems in Wild Grass from December 1924 to January 1926, he was living in Beijing, which was ruled by the Northern Warlords (1912-27). The future for China at that time was unclear.
"Wild Grass is a reflection and analysis of Lu Xun. It describes his struggles to find hope amid despair. My admiration for him grew after I understood this background," Wu said.
Most Popular