A dance to remember
Share - WeChat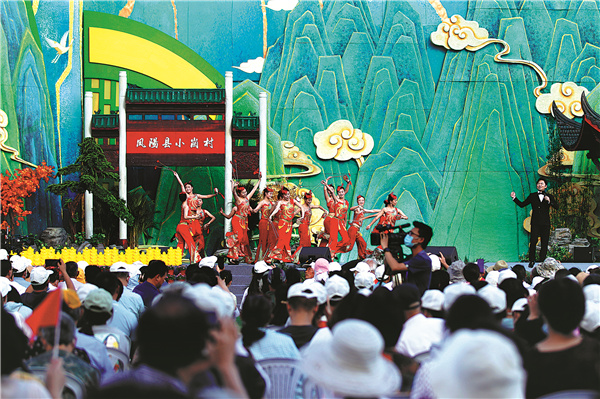 As a group of young performers dance the famous Fengyang flower-drum routine during a recent gala show in Chuzhou, Anhui province, behind them stands a replica of the landmark archway of Xiaogang village, which stands in the city's Fengyang county.
Yan Junchang, 80, sits in a row of nine elderly villagers from the village, each wearing a red ribbon to remind people that they were the ones who witnessed the very beginning of the country's rural reforms in the late 1970s.
Back then, farmers from Fengyang county traveled around the country performing the folk art in return for food.
"That experience seems like a story from long ago. Our life is now very happy, putting us in the mood to enjoy the show," says Yan, who runs an orchard and a restaurant in the village, which has become a popular destination for tourists.
Since 2015, the China Farmers' Concert has been held in Chuzhou. The performers include not only professional singers, but also farmers who are good at singing and dancing.
Designating Chuzhou as the permanent location was partly for commemorating an event which happened on a winter night in 1978, according to the organizers, which include the Ministry of Culture and Tourism.
Exiles and arrivals
China has many local operas, most of which were performed to celebrate happy occasions. But the Fengyang flower-drum dance originates from hard memories.
Although it was later called a dance, the art did not have much to do with dancing at first. It was more like telling stories while playing gongs and drums, according to Zhang Cong, instructor of a students' art troupe from the Fengyang-based Anhui Science and Technology University.
Her troupe has specialized in performing the flower-drum dance since 2013.
The troupe's performance is a highlight of the university's annual party which is held to welcome freshmen, says Zhang.
A lyric in a traditional local song describes the scene. "A gong in the left hand, a drum in the right, come and sing songs, with the gong and drum in both hands."
Fengyang was the birthplace of Zhu Yuanzhang (1328-98), the first emperor of the Ming Dynasty (1368-1644). During Zhu's rule, he brought thousands of people from across China to Fengyang, in order to develop his hometown. In those days, having more people around was thought to mean more prosperity would soon come.
Most Popular