Writer's reputation lives on 85 years after death
Share - WeChat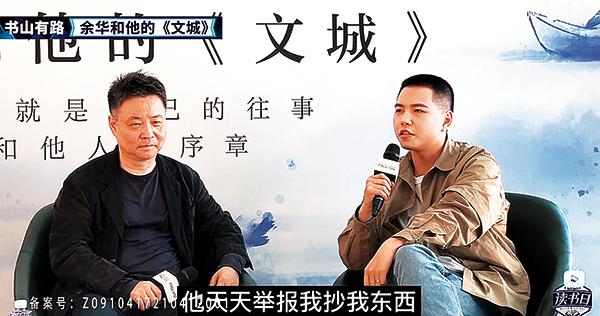 Faults analyzed
For Deng Jiahao, 25, who is known as Zhineng Luzhang on Bilibili, where he is followed by more than 2.6 million people, the most important thing he has gained from reading Lu's works and making videos about him is understanding the writer's way of thinking.
"Many people say Lu Xun was an angry critic, always laying into people harshly, but he was not in any way extreme. He always thought about problems in a comprehensive manner," Deng said.
"In his day, many people wrote articles criticizing Lu. In response, he first read these articles thoroughly, analyzing the faults in each sentence carefully and using his rivals' words to fight back.
"Nowadays, people criticize each other before reaching any degree of mutual understanding. That's something we can learn from Lu Xun."
In the 12 months since Sept 20 last year, Deng posted 26 videos about the writer and his works. The videos have been watched more than 36 million times.
After graduating from a technical secondary school, Deng felt he was losing his way at age 20, when he ran a business. To escape his troubles, he started reading Ernest Hemingway's The Old Man and the Sea.
"I burst into tears reading the book, and have been reading consistently since then. The book gave me a lot of strength," he said.
Deng posts videos on Bilibili about topics that interest him, such as video games, making money, and reading.
He said that even though it is 85 years since Lu died, he is still a hot topic online and is frequently quoted. In 2019, Deng started reading short stories and essays by Lu, and last year created his first video focusing on the extent of the writer's talent.
"At first, I only planned a single video, but as the footage was surprisingly popular, I decided to make more films about Lu," he said.
When Deng studied the writer's works at primary and middle school, he found them vivid and humorous, but difficult to understand. But reading him at age 23, with a bitter experience of life, things were quite different.
Born toward the end of the Qing Dynasty (1644-1911), Lu lived through the 1911 Revolution and China under the rule of warlords. Witnessing chaotic times, he wrote many works focusing on social issues.
Deng said, "Many people hear of his quotes, but know little about the background of his works. I guess that's why they watch my videos."
To make the videos, Deng read some 30 academic works published in China and overseas about the writer and his work.
Lu is not viewed as being outdated "because his criticism touches the core of human nature, which does not change over time," Deng said.
Thanks to the videos, Deng has attracted some 500,000 followers, one of them being Yu Hua, author of To Live and Chronicle of a Blood Merchant, who is a big fan of Lu Xun.
Yu has said on many occasions, including a dialogue with Deng at an event on April 23 to mark World Book Day, that Lu was the only writer he used to dislike, because studying his works at primary, middle and high school, he could not understand him properly. He "fell in love "with Lu at age 36.
Already an established writer, Yu was asked to work on a film script adapted from Lu's short stories, and started reading a book by the author that he had left untouched for more than 10 years. Reading the first story, Diary of a Madman, he was captivated by the writing.
Debate on whether Lu's works should be removed from Chinese textbooks for primary, middle and high school students has been a popular topic online for some time. Many people, including Deng, support the idea, as it is hard for children to understand the writer, but easy to shun him due to the challenges his work poses.
However, for Hou Xiaotong, 27, a Chinese-language teacher at a middle school in Beijing, although giving lessons about Lu is demanding work, it is also exciting to discuss one of her favorite writers in class.
"At primary school, students get to know about Lu, and at middle school, they study at least one work by him each semester-an essay or a short story such as the classic Kong Yiji," she said.
Hou, who studied modern Chinese literature at university, said Lu was a very important modern writer.
"Every time we teach students about Lu Xun's works, my former classmates, many of whom have become teachers, and I work really hard and carefully, trying our best to present him positively and introduce him from our hearts in the hope that students can warm to him, or become interested in him," she said.
Most Popular