Companions in solitude
Share - WeChat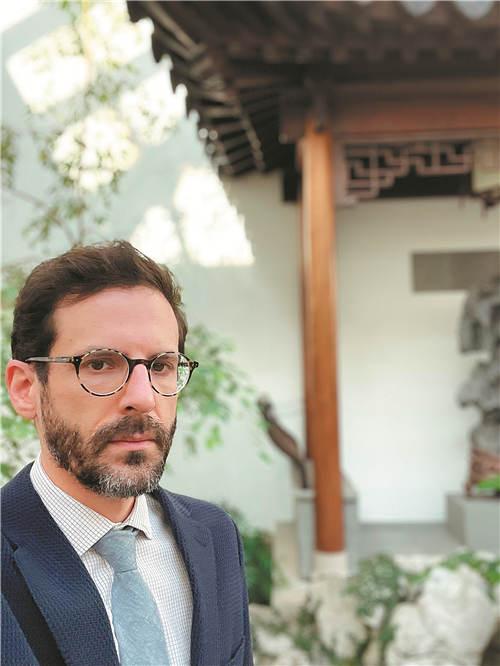 Throughout his life, Su repeatedly found himself at odds with those in power and went into exile several times, including to Huangzhou, Hubei province, between 1080 and 1086, where Red Cliff is located. The free-spirited sublimity of his words hardly belies the poverty he was then subjected to, as the scourge he endured did little to diminish his concern for the masses or make him cynical.
"One did not have to go into the mountains to embrace nobleness, which is closely tied to the Chinese perception of a recluse," Wang said. "It's more about a state of mind that the Chinese literati had been aspiring to for 2,000 years."
It is no accident that within 50 years of Su's death in 1101, the reigning Song Dynasty emperor Zhao Gou transcribed his piece in the emperor's own cursive handwriting and attached it to the rear of a hand scroll painting he commissioned from one of his court painters depicting the outing. The piece is held by the Palace Museum in Beijing. Two other pictorial renditions of the same event are on display in the New York exhibition.
"Judging by all standards, an emperor is the opposite of a recluse who relinquishes social wealth and ambition, but that didn't stop Zhao Gou or his successors from putting themselves in the mind of those who did so, or presenting themselves as one of them," Wang said, referring to a painting housed by the Palace Museum in which the 18th-century Manchu Emperor Qianlong of the Qing Dynasty (1644-1911) was seen as a plain-robed scholar-recluse, waited on by an attendant boy instead of his court.
Communion was what the emperor was hoping for-communion with the educated members of his empire.
The fishermen under Shitao's brush are anglers to be exact, one of whom was sitting on a bridge, pole in hand. "The painter had clearly projected himself onto this image of the angler who, as imperturbable as the water surrounding him, doesn't seem to really care much about what he's doing," Scheier-Dolberg said.
"You must know that he who casts a fishing line is not someone who desires fish," wrote Wen Zhengming (1470-1559), an iconic figure in Chinese art history, in a poem accompanying his painterly depiction of a famous scholar's garden that still exists today in Suzhou, Jiangsu province. The painting is on view in the New York exhibition.