HK scales new heights
Share - WeChat With enhanced capital market connectivity between Hong Kong and the Chinese mainland, the SAR's competitiveness as a global financial hub has been given a shot in the arm. Oswald Chan reports from Hong Kong.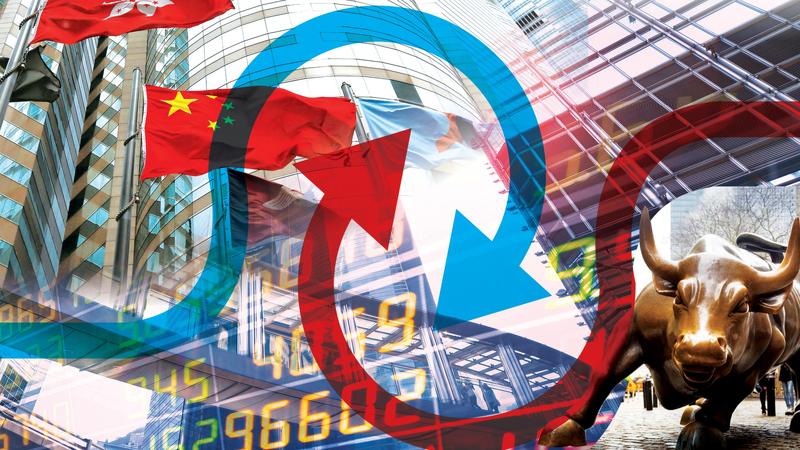 The recent launch of the Southbound Bond Connect and the Cross-boundary Wealth Management Connect Pilot Scheme in the Guangdong-Hong Kong-Macao Greater Bay Area heralds a new epoch in financial integration across the border.
Since Sept 24, eligible Chinese mainland institutional investors have been able to plow their money into Hong Kong's bond market through the Southbound Bond Connect with a daily quota of 20 billion yuan ($3.1 billion) and an annual quota of 500 billion yuan.
The scope of products under the Southbound Bond Connect is wider than expected, as qualified onshore investors can trade not only in Hong Kong dollar or yuan-denominated bonds, but also in foreign currency-denominated bonds, exceeding market expectations in the extent of liberalization.
Alvin Cheng, fixed-income portfolio manager at Fidelity International, said the Southbound Bond Connect can bring a host of benefits for onshore investors in terms of liquidity, risk-return profile, industry spectrum and maturity. Bonds traded in Hong Kong are more diversified in denominated currencies, as well as issuers, including international enterprises and financial institutions apart from their mainland and Hong Kong counterparts.
Besides investment benefits, the Southbound Bond Connect, from the financial infrastructural link perspective, helps to internationalize the renminbi and promote the bond market, which the Hong Kong government is eager to develop.
"The launch of the Southbound Bond Connect will help attract new funds, and increase turnover and bond liquidity, invigorating the Hong Kong bond market. Qualified onshore investors can also subscribe for offshore bond offerings through the Southbound Bond Connect, which will attract more issuers to conduct bond financing in the city and further strengthen Hong Kong's status as a global financial center," ICBC International said in a report on the bond market.
Hong Kong Financial Services Development Council Chairman Laurence Li said, "I hope the implementation of the Southbound Bond Connect will incentivize renminbi-denominated bonds in Hong Kong, thereby accelerating the renminbi internationalization process."
The value of bonds issued in Hong Kong last year was $196 billion, ranking first in Asia in terms of the amount of international bond issuances arranged. As for green finance, the amount of green debt financing arranged in the city hit an annual record high of $12 billion in 2020, according to Hong Kong government statistics.
Another milestone reached is the Cross-boundary Wealth Management Connect Pilot Scheme in the Greater Bay Area, which allows eligible residents in Hong Kong, Macao, and nine cities of Guangdong province to invest in low-risk investment products sold by banks in each other's markets. Banks introduced such services on Tuesday.
Opportunities abound
The Hong Kong Monetary Authority said that 18 banks in the city launched cross-border wealth management connect services on Tuesday, with their respective mainland partner banks' eligibility confirmed by mainland regulatory authorities.
On Tuesday, the services' first business day, 128 southbound remittance cases involving 177.3 billion yuan ($27.78 billion) were recorded, as were 180 northbound remittance cases involving 153.8 billion yuan, according to the People's Bank of China.
The wealth management connect plan is an important step toward fulfilling Hong Kong's potential as Asia's premier wealth management pivot.
"The launch of this new program will widen the scope of investment opportunities available to clients in the Greater Bay Area, and is an important step in realizing the region's potential to become a leading global hub of wealth creation and management," said Amy Lo, executive committee chairman of the Private Wealth Management Association.