China ups the ante in anti-doping fight
Share - WeChat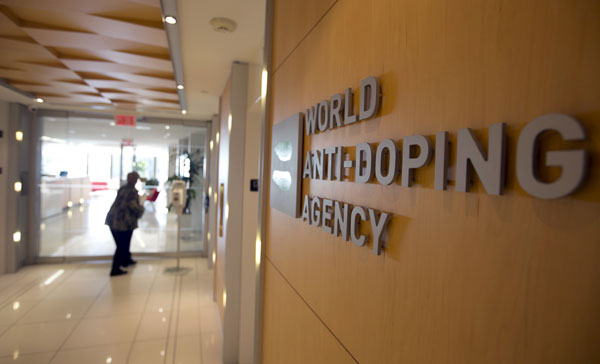 Government agency announces key partner for lab work at Winter Games
The China Anti-Doping Agency (CHINADA) has vowed to ensure the fairness of next year's Beijing Winter Olympics after outlining the use of state-of-the-art technology and services from its partners for the Games.
CHINADA on Wednesday announced it will work alongside Agilent Technologies to provide quick and accurate drug testing of athletes at Beijing 2022, as well as other upcoming national and international sports events.
Agilent will provide reliable testing methods, backed by comprehensive and fast support services.
"The attitude of the Chinese government toward the doping problem has always been zero tolerance, and we will maintain this tough stance," said Chen Zhiyu, CHINADA's director, on Wednesday.
"Drug testing is obviously a vital part of anti-doping work, and we need more advanced testing technologies to ensure the fairness of sports events.
"We believe through the platforms and experience of Agilent, as well as their comprehensive services and equipment, we will have more confidence and options to face all possible challenges in the future."
CHINADA is currently preparing with its partners for the Beijing Winter Games, which will open on Feb 4.
Despite the challenges presented by the COVID-19 pandemic, CHINADA is confident of ensuring the smoothness of the anti-doping work at the Olympics.
"During the Beijing Winter Olympics, there will be many foreign experts coming to work with us. So we are facing the pressure of pandemic prevention," said Zhang Yinong, CHINADA's laboratory director.
"Many details have yet to be confirmed, but we will most likely work together at the bio-secure bubble. Despite the added complication of pandemic prevention, we will guarantee the quality of our work, as always."
Another important part of CHINADA's work is helping athletes avoid unintentional doping-the accidental consumption of substances on the World Anti-Doping Agency's banned list.
"There are two lists for athletes-one telling them what drugs they cannot use, and one showing which ones they can. Now we have a system to inform them. In most cases, when our athletes need to go to hospital, they will be accompanied by an anti-doping worker to avoid the risk of unintentional doping,"Zhang said.
"This representative can tell the doctor to avoid administering any drugs on the banned list to the athlete in question. Also in terms of food, as athletes are a unique group of people, certain foodstuffs are not allowed. So athletes should be responsible for everything that they eat."
The cooperation between CHINADA and Agilent will be vital to guarantee the quality of the anti-doping work at the Winter Olympics. Agilent has amassed vast experience in anti-doping testing and analysis at major global sports events. The company, which employs over 16,000 people worldwide, has been one of CHINADA's key suppliers of testing and analytical equipment since 1990.
Comprehensive plan
Sun Dapeng, the general manager of Agilent Greater China Customer Service, says the company has devised a comprehensive plan to support CHINADA at Beijing 2022.
Agilent's 12-strong team of technicians will check the status of antidoping equipment on a daily basis. In addition, it has pledged to fix any problems that might arise within two hours.
"We have three key support elements for the 2022 Winter Olympics," explained Sun.
"The first is our quality equipment platform. We also guarantee comprehensive repair and spare parts services. And thirdly, we have formed a support team of technicians to ensure the smooth operation of our equipment.
"Our aim is to allow CHINADA to have no worries about the equipment they will use. Their laboratory is very special. During the Olympics, any problems will need to be fixed as quickly as possible, as test results must be submitted within 24 hours.
"This brings pressure for us as we have promised to fix any problems within two hours. We have comprehensive plans based on our experience of working at previous Olympics, Asian Games and other major sports events.
"Our staff need to guarantee the equipment will be in prime condition, and that we fix any problems in a short time."
Around the clock
Sun recalled that during the 2008 Beijing Summer Olympics, he and other Agilent technicians stayed at CHINADA 24 hours a day, sleeping on the laboratory floor in sleeping bags in order to ensure the smoothness of the operation.
After the Winter Olympics, CHINADA will continue to work alongside Agilent at the 2022 Asian Games in Hangzhou and the 31st Summer World University Games in Chengdu.
"The Agilent principle of 'uncompromising integrity' is compatible with the concept of winning a clean gold medal, which resonates with all of our employees from the bottom of their hearts," said Victor Chan, the general manager of Agilent Greater China Commercial Organization.
"Our efforts to support the work of CHINADA not only allow us to strengthen our years of cooperation but also give us an immense sense of pride in our work."