Shopping villages, factory stores all the rage
Share - WeChat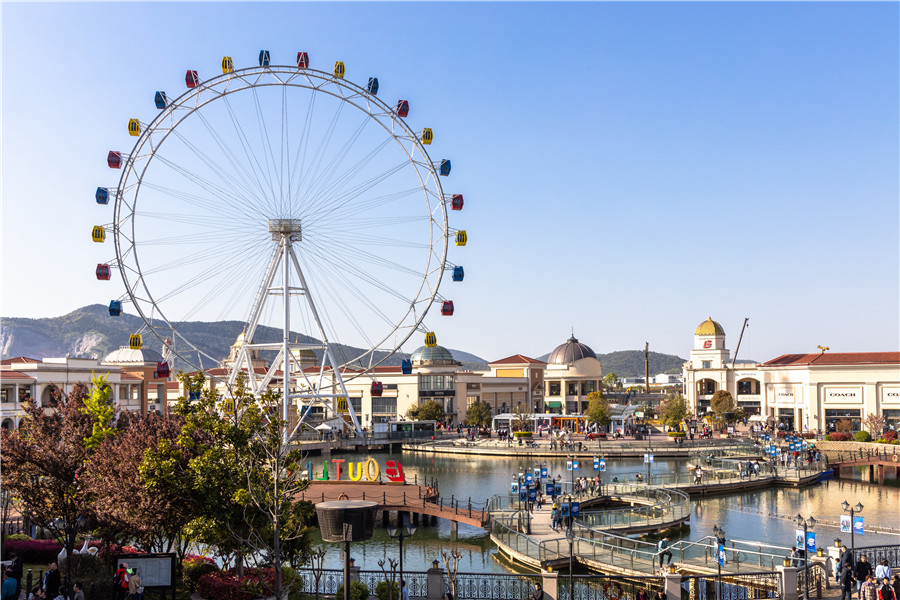 This year, the total sales revenue of outlets nationwide is expected to exceed 100 billion yuan ($15.5 billion). Last year, the total sales revenues of outlets in China exceeded 80 billion yuan. Among the total, 39 outlets each achieved annual sales of more than 1 billion yuan, according to Outlets Leader, a Chinese-language magazine that focuses on the development of outlets.
By 2025, China is set to become the world's biggest luxury goods market, with Chinese consumers expected to account for nearly half of the global spending in the sector in the same period, according to a report by consultancy firm Bain & Co.
The first national outlets shopping season in China began on Sept 17 and will end on Sunday. The event has attracted the participation of 22 groups that own outlets nationwide. They include Chinese companies such as Capital Outlets, Wangfujing Group, Sasseur Outlets, as well as Italian company RDM Group.
This is the first major gathering of different outlets in China, and they together issued shopping coupons online on the first day of the shopping season. Besides, various promotions and sales activities have been held during the shopping season.
In the long term, outlet groups that have operations in China should build more projects near large-scale cultural tourism projects such as Universal Beijing Resort and Disneyland in Shanghai.
"Major consumer groups of outlets and visitors who go to those tourism destinations are largely overlapped. The business model of building outlets near resorts has been prevalent in the overseas markets. For instance, there are outlets located near Disneyland in Orlando, Florida, and near Mount Fuji in Japan," Shang said.
With a collection of top international brands, outlets can help create new types of commercial circles and empower more vitality to far-reaching regions of a city. For instance, Tianjin has established a large number of outlets in the city. They include Florentia Village and Tianjin New Yansha Outlets.
Chinese conglomerate Shanshan Corp recently signed an agreement with the local government of Xiqing district of Tianjin. Under the agreement, Shanshan will establish an outlet in the area with an investment of 3 billion yuan. The new outlet plans to start operations in 2023.
"Tianjin is fostering itself into an international consumption center, as the city aims to further raise its soft power and international influence. Building outlets will help Tianjin to form a strong domestic consumption market, promote its high-level opening-up and high-quality economic development," said Zhou Lu, an official of the Tianjin Municipal Commission of Commerce.
With the launch of more outlets in China, the competition between different retailers has become fiercer. Some major companies such as Wangfujing Group, Florentia Village and Shanshan have taken a significant market share in China, and some smaller companies have been endeavoring to survive, according to magazine Outlets Leader.
Beijing-based Surprise Outlets, which positions itself as an outlet that offers trendy and stylish brands, instead of top luxury brands, has attracted a diverse base of customers, especially young families.
Located not far from the Beijing Capital International Airport, the company now operates one outlet in Beijing. It has seen annual sales revenues increase around 20 percent year-on-year on average, and the pandemic did not have much significant impact on its business operations.
If conditions permitted, the company said it is likely to open more outlets in other Chinese cities.
Since the outbreak of COVID-19, Surprise Outlets tried multiple ways last year to drive its sales revenues and overcome the challenges brought by the pandemic. Its staff members held the first livestreaming sessions online, which helped it to get closer to customers.
"Surprise Outlets is conveniently located for people to drive there. We have differentiated ourselves with many other outlets, as we hope to build ourselves into an interesting and fashionable place and attract more customers who love fashion. We plan to expand our operations and the parking lot in Beijing and hopefully open the new stores next year," said Luan Shaomei, president of Surprise Outlets.
Besides international brands, outlets in China should introduce more local brands and provide additional sales platforms for Chinese brands. The business model of outlets can help more Chinese brands to extend their sales periods and channels and provide more choices of products for consumers, and thus further raise the sales revenues of outlets, said Neil Wang, global partner and China president of consultancy Frost& Sullivan.
"Locations, prices and brands are the most important three factors that may decide the success of an outlet. Outlets should offer a large number of international and Chinese renowned brands, launch frequent discounts to consumers, and guarantee the source of goods is abundant," he said.