Peaches a pathway to moderate prosperity
Share - WeChat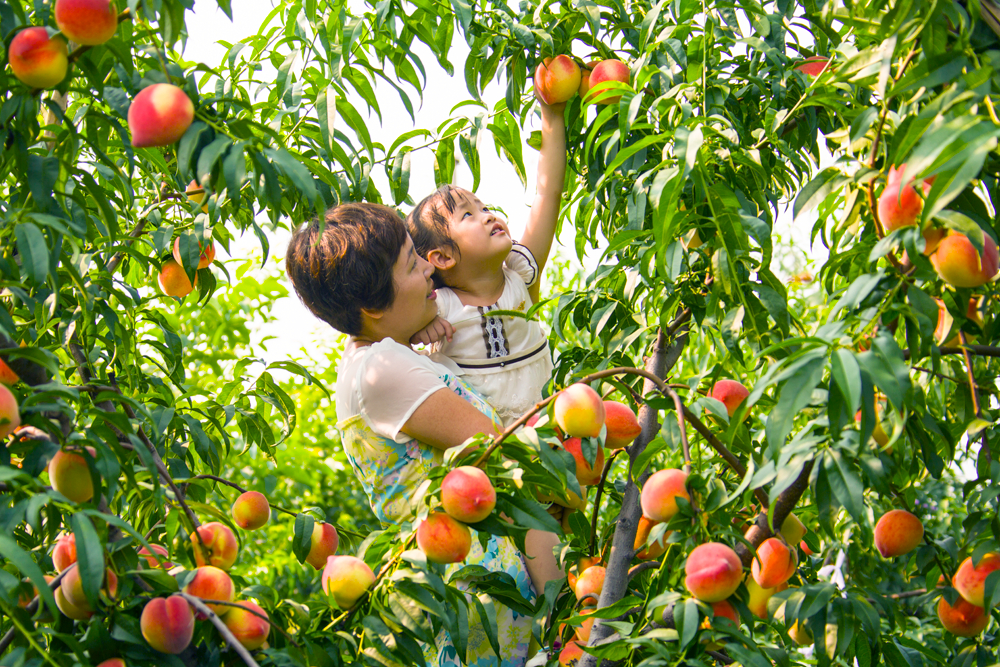 In the face of a fast-changing market, Beijing's rural inhabitants have taken advantage of the internet and their environment to lead better lives.
All villagers in Beijing's rural areas have reached the xiaokang stage of development-meaning they are at least moderately prosperous.
Pinggu district in northeastern Beijing, for example, has turned to new agricultural methods and online promotion to help farmers raise fruit production and expand sales.
Zhang Baozhi, a 48-year-old peach farmer from Pinggu, planted his orchard in 1993.
"My peaches were selected for the State banquet for the 70th anniversary of the founding of the People's Republic of China in 2019, which was a great honor," he said. "Thanks to the agricultural school and training provided by the district government, my peach-planting skills have improved greatly in recent years."
Zhang owns an orchard of about 2.7 hectares, and produces about 50 metric tons of peaches a year.
He said the different kinds of peaches, which weigh from 250 grams to more than 500, can be mailed directly to customers all over China via express delivery.
"When I started planting peaches in the 1990s, they sold for a few yuan per kilo," he said. "Advanced methods and strict planting standards have raised quality, and they now sell for much more, which also brings in more profit."
Pinggu's local government said there are around 100,000 peach farmers in the district, with around 1,466 hectares under cultivation.
They produce more than 200 types of peach with an annual production of 200,000 tons.
After 40 years of development, Pinggu peaches now account for an industrial output value of 1.14 billion yuan ($175.8 million) a year, 31.8 percent of the district's total agricultural output value.
Zhang is one of the area's leading farmers. He has won several awards at regional fruit competitions and is known as the "king of peaches". In 2016, the Pinggu government fruit office appointed him as a local expert to provide technical support to fruit farmers.
"I want to share my experience with other villagers and help them lead richer lives," he said. "I have kept exploring new techniques in peach planting."
With the boom in online shopping and livestream promotions, people are increasingly shopping with their mobile phones on different apps.
Pinggu has embraced the trend and created an opportunity for farmers.
In the face of COVID-19, extreme weather and market competition, the government expanded online shopping channels for peaches last year.
Based on farmers' online experience since 2017, the COVID-19 epidemic did not affect their sales performance last year.
Some 21,250 tons of peaches were sold on different e-commerce channels last year, earning farmers 360 million yuan.
The fast-developing peach industry has lured many young people back to villages.
Yue Qiaoyun, the 30-something chairwoman of a fruit production and marketing cooperative in Pinggu, is one.
The cooperative devotes 200 days a year to training farmers to adjust to smart agricultural techniques like seedling selection, final-period management and online marketing.
Seven years ago, Yue left her well-paid job in the city and returned to Pinggu to plant peaches. She said favorable national policies for rural areas inspired her.
"Opportunities for young people don't exist only in the city, but also in the countryside," she said. "We should shoulder our responsibility, the future is promising."
Those who receive training increase their incomes by an average of nearly 20,000 yuan a year, Yue said.
In addition to peaches, Pinggu has been making efforts to develop other agricultural products.
Wang Yuqi, in his early 50s, now leads his village in planting Chinese toon, a leafy vegetable.
He has studied the history of Chinese toon growing in the region, and has been building a brand name since 2015.
"We are now cooperating with agricultural research institutions to study preservation technology and downstream expansion of Chinese toon, which will bring us to a much wider market," he said.
Feng Xiaojie contributed to this story.