Acupuncture treats post-COVID conditions overseas
Share - WeChat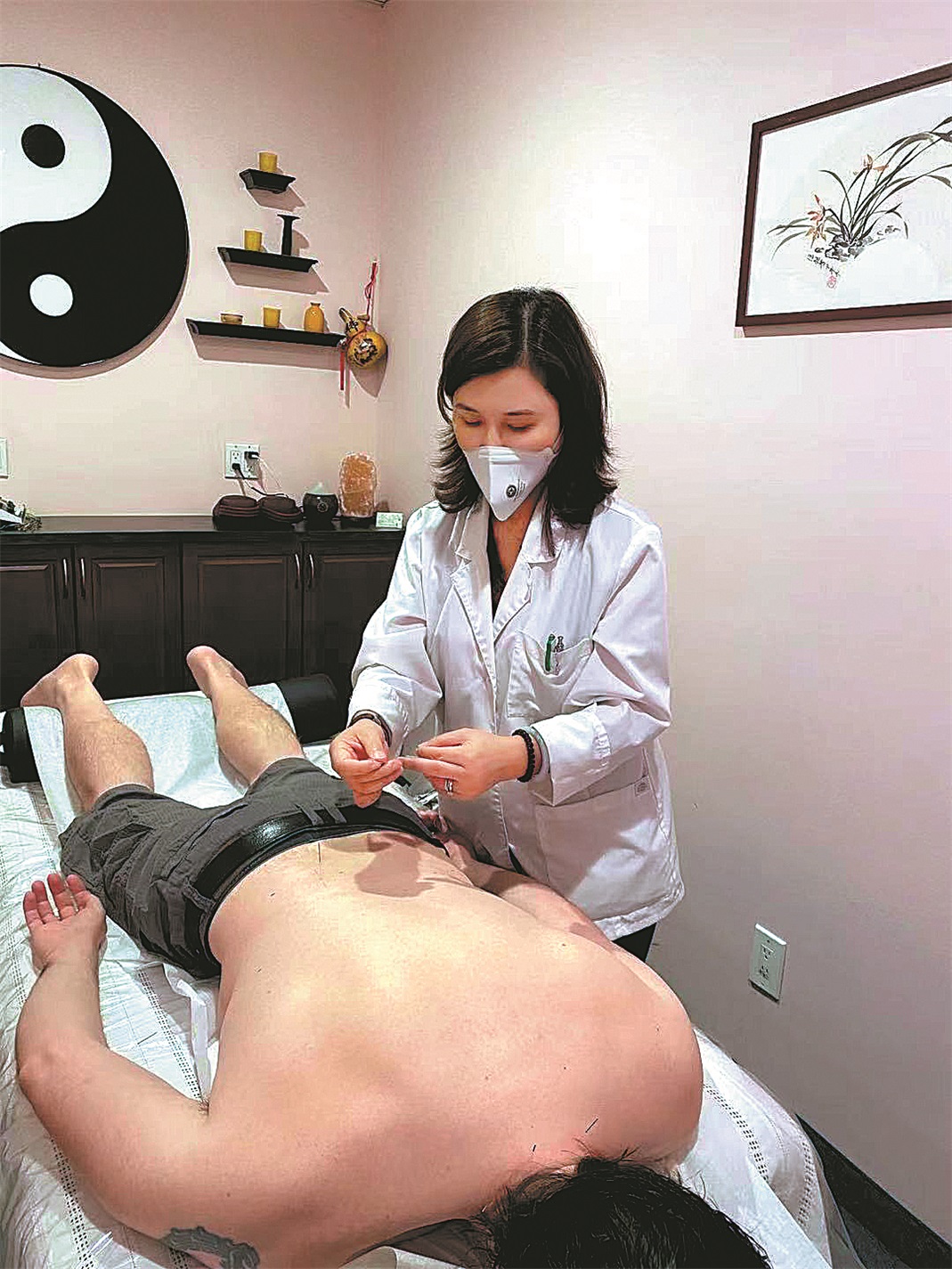 TCM puts patients in United States on road to recovery
When Elvira Figueroa, a 69-year-old hairdresser in New York, found she had COVID-19 in March last year, she thought she was going to die.
"I got every symptom you can imagine," she said. "First, I had a horrible headache for two days, then I started a high fever. Then it went to my lungs. I lost 25 pounds (11.33 kilograms). I was so sick that I don't remember many things."
After Figueroa recovered, she began to experience post-COVID-19 conditions, or long COVID-a term that refers to symptoms that linger for weeks or months beyond infection.
"I had no energy and I was very weak. I was constantly exhausted. I took vitamin E and vitamin C, as my cardiologist advised. I had to retire. My nails were getting black, my feet were bleeding. So many things were wrong," she said.
Her cardiologist recommended that she try acupuncture. "It helped me tremendously. I was very, very happy," Figueroa said.
She added that acupuncture helped relieve bodily inflammation and eased pain in her back.
Treatment for post-COVID-19 conditions among many people in the United States now involves lying in a room with warm lighting, listening to relaxing music and watching dozens of needles inserted into one's body.
Practiced in China for thousands of years, acupuncture traditionally involves inserting thin metal needles into specific points in the ears or other parts of the body to relieve pain and restore energy flow.
Studies have shown that COVID-19 causes what is known as a cytokine storm, leading to inflammation that could kill tissue and damage organs. Last year, a study by Harvard University found that acupuncture reduced the impact of cytokine storms in mice.
The research team applied electroacupuncture-a modern version of the traditional manual approach-to a specific point on the legs of mice with a cytokine storm caused by a bacterial toxin.
Researchers found mice treated that way had lower levels of inflammation-inducing cytokines and greater survival than control mice-60 percent of animals treated with acupuncture survived, compared with 20 percent of untreated animals.
The Harvard researchers also found that animals treated with acupuncture immediately before they developed a cytokine storm experienced lower levels of inflammation during subsequent disease and fared better than those that were not treated.
Chinese experts found that acupuncture treatment for COVID-19 suppressed inflammation caused by stress, improved immunity, regulated nervous system functions and helped cancer patients with COVID.
Help for the body
Kai Zhang, a doctor from Tianjin Gong An Hospital, said, "Acupuncture cannot kill the virus directly, but it can regulate the immune system and inhibit inflammation, helping the body fight the virus."
The Wall Street Journal reported that an estimated 10 percent to 30 percent of COVID-19 patients have symptoms weeks and months after first becoming ill, including many young, previously healthy people who initially had mild cases of the disease.
According to the US Centers for Disease Control and Prevention, the most common lasting symptoms are fatigue, shortness of breath, coughing, joint pain and chest pain. Other issues include cognitive problems, difficulty concentrating, depression, muscle pain, headaches, rapid heartbeat and intermittent fever.
New York resident Naoko Baynes said that after having acupuncture, her life returned to normal. She had dysosmia-a disorder that affects the sense of smell-for a year. Infected with the coronavirus in March last year, she was only able to smell burning tires and rotten bananas when she recovered.
"I tried smell training-using four essential oils twice a day for 10 minutes. The oils are meant to cover the four groups of smell. I did this for months and nothing changed," she said.
"I didn't try acupuncture until December. They started by putting needles in my face near my nose and also in my wrists and the crook of the elbow. It was painful, but once the needles were in and twisted, it was fine.
"I felt no change, but then my senses of smell and taste had major shifts over the course of six months, and now I'm 90 percent back to normal. I still have some difficulty with very delicate smells, but that is also changing," she said.
Jasmine Hong Lai, a licensed acupuncturist and certified herbalist in New York state, said acupuncture is "pretty good" for treating post-COVID conditions such as coughs, changes in smell or taste, fatigue and headaches.
According to the Kaiser Family Foundation, a nonprofit organization based in San Francisco, about four in 10 US adults have reported symptoms of anxiety or depression during the pandemic, a level that has been largely consistent. Such symptoms were reported by one in 10 adults from January to June 2019.
In June, Lai started to treat patients with post-COVID conditions. Most of them were experiencing fatigue and headaches.
When Samantha Scher, a 27-year-old lawyer, recovered from COVID-19, she experienced fainting, severe headaches and dizziness.
"No doctor would see me," said Scher, who felt helpless and became anxious and depressed.
"When I started acupuncture, my body was so bad as a result of COVID and the medicine the hospital gave me when I kept fainting. I felt very tired and nauseous," she said.
After Scher tried acupuncture for a month, she started to feel she was returning to normal.
"I had not had acupuncture before, until COVID. I was afraid of needles, and I had to close my eyes. But as I had very bad anxiety and depression at that time, I didn't really care about the needles. I just needed anything to help," Scher said.
She said her mental issues greatly improved after the acupuncture. Sitting in a massage chair, Scher said her arm felt heavy when she lifted her phone, because she was so relaxed after the treatment.
"The first five minutes, I was just lying there. After 15 minutes, you just melt into the table. You feel so good, your body feels very loose," she said.
According to a study in 2013 on the effects of acupuncture, the body can switch to a resting mode because certain neuropeptides-small proteins-are released in the brain to signal it to go into a state of rest.
Hong Su, a licensed acupuncturist in New York and Connecticut, who is president of the American Traditional Chinese Medicine Society, explained the biggest advantage of using acupuncture to treat post-COVID conditions.