Villagers in Shanxi living better as crops replace coal
Share - WeChat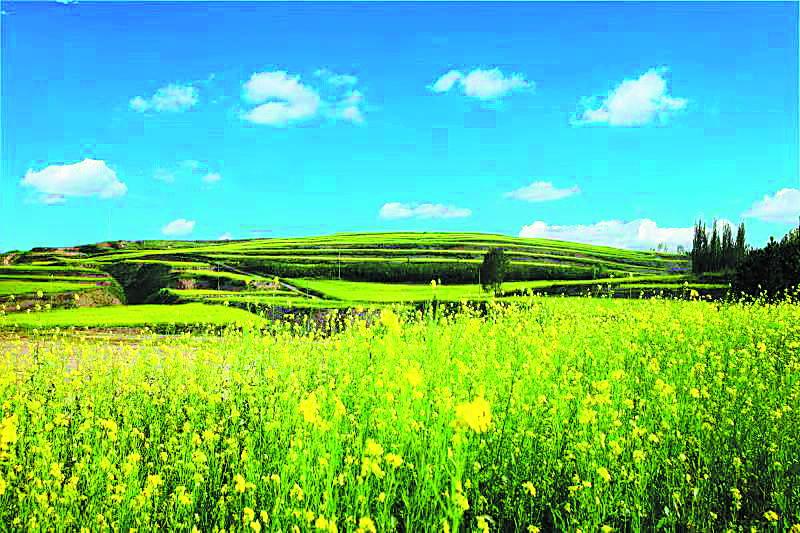 As a result of coal mining in the 1990s, hillsides were devastated and crops were sparsely cultivated in Wangdenggao village in Shuozhou city, Shanxi province.
But in the last three years, the subsidence caused by coal mining has been leveled and planted with yellow rapeseed, thanks to efforts made over the last decade by villagers and the coal mining company.
In the early 2000s, land reclamation began. Within a decade, slopes were cut, terraces were smoothed, grass seeds were planted and drainage was created. In 2018, a terraced area of 422 hectares was reclaimed from the mining site, and villagers began to relocate to nearby places with better living conditions.
Wang Wenjin, Wangdenggao Communist Party of China secretary, said that so far, more than 300 villagers have relocated from the mountainside to a new settlement.
"The government next plans to select a new site near the original village to establish a rural garden community," said Wang, adding that in addition to the crops usually planted, he plans to grow Chinese medicinal herbs to help boost village incomes.
"No matter what the future brings, I hope we can live a life of Arcadian country contentment," he said.
In addition, water from the mine has been turned into drinking water thanks to a three-stage filtration system, said Yan Xuehua, vice-general manager of the Hou'an Coal Mine.
The changes have delighted villagers. Jia Wenliang, a 51-year-old farmer, said that in the past, the young worked in the coal mine and earned a small amount of money, while older people relied on growing potatoes, oats and millet to make a living.
"Because of the effects of coal extraction, we were barely able to raise livestock. Although some grain was planted, yields were low and their quality was poor," Jia said, adding that the area surrounding the village suffered from pollution all year round.
In wintertime, crops and leaves were covered in black coal dust, and even the sheep wore what Jia called "black cassocks". "I had to wash my face three times a day, but it didn't help," he said.
But the lush landscape has given him a new outlook.
"The environment is much better now, and it gives me hope that a better life is just around the corner," he said.